4BR Time Team - September 2007 - This month in history...
1-Sep-2007
More delving into the history books as 4BR looks back to the swinging September sixties in the old brass band world.
---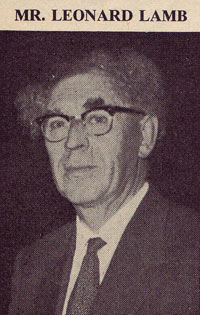 September 1963:
The original 'Triple Crown' was not in fact a hat trick of wins at the European, British Open and National Finals as would be suggested in this day and age, but in 1963, the Edinburgh Festival Contest, British Open and National Championship - according to many observers of the time.
The famous old Scottish Contest started in 1949 and ended in 1992 and despite the National Band of New Zealand in 1953, and Fairey in 1956 and again in 1963 winning two of the three, no band ever won all three contests in the same year.
However, Fairey conducted by Leonard Lamb became British Open hat trick champions by winning at Belle Vue on 'Life Divine' by three clear points from Grimethorpe Colliery – all on the birthday of the conductors wife, Marion (although her exact age was not revealed!).
The adjudicators were immensely impressed by the winners off the number 17 draw: "I am sure I sum up for everyone when I say this performance had authority in every bar", wrote Walter Hargreaves at the end of his remarks.

Lamb is perhaps one of the forgotten men of the British Open even though his record was a good as anyone's during his conducting career. Unfortunatley he was dogged by ill health and didn't conduct at the contest after 1968. He first appeared with the Oldham Band in 1954 but his second appearance only came in 1959 when he took Fairey to 4th place.

Runners up in 1960, winners in 1961/62/63. He took the Lindley Band into 2nd place in 1964, won again with Fairey in 1965, came nowhere in 1966, second again in 1967 and out of the prizes on his last appearance in 1968. He died in 1973.

September 1965:
Progress was being made to transfer the National Registry of Brass Bandsmen to the management of Belle Vue from the National Brass Band Contesting Council.
Doubts arose over the cost of the operation (over £2,000 a year according to Jack Fernley, Assistant Manager at Belle Vue) although it was stated that the registry method, '…is probably the only one which can ensure the effective elimination of the unfair practice of using players who are not registered members of bands."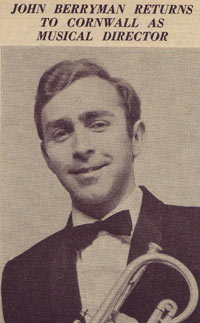 September 1966:
On of the great soothsayers of his time, Dr Harold Hind told readers of British Bandsman newspaper that he recently had to upbraid a Sixth form pupil at a Grammar School who told him she couldn't stand the music of Gilbert & Sullivan.
By all accounts the impressionable lass preferred 'real' music from her favourite pop group, The Rolling Stones to which Dr Hinds was almost apoplectic with disgust. "What a reflection of the present day taste of so many young people!" he declared with almost Anne Widdecombe vitriolic rage. "Will the music of the Rolling Stones be heard in, say, 80 years time?"
41 years later they don't seem to be doing too bad do they now…

Later in the month the second of two young tyro cornet players passed exams to become Associates of the London College of Music.
An angelic and fresh faced John Berryman, principal cornet of the GUS (Footwear) Band gained maximum marks in the theory part of the exam and joined David Read, who passed in 1965, as a holder of the ALCM Diploma.
Whatever became of them we wonder…

September 1968:


Black Dyke 1968: Click for larger version
39 years ago, Black Dyke win the British Open by a point from Wingates Temperance. Conducted by Geoffrey Brand their performance of 'John O' Gaunt' by Gilbert Vinter was described by adjudicator Tom Atkinson as, '…overall has given great satisfaction." Vinter himself described it as, 'Well played, trained and conducted. By all concerned a splendid performance."
Meanwhile a little later in the month the Junior Solo Championships of Great Britain saw victory go to J. Stark of Kirkaldy with someone by the name of Nigel Boddice of Gresley Band in fourth place.
A sign of the times perhaps was seen by the Scotter Band in Lincolnshire who negotiated an agreement with a local cigarette firm to collect 2 million cigarette coupons to exchange for instruments that the company would then buy for them. The band needed a remarkably unhealthy 8 million 'smokes' as they called them to be inhaled for them to achieve their goal.
Whether or not the band had any players with any lungs left in trying to achieve their goal was never reported…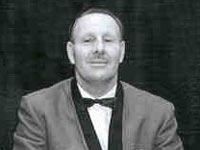 September 1969:
The British Open revealed plans for staging percussion for the first time at the contest with the test piece, Gilbert Vinter's 'Spectrum'.
Jack Fernley, General Manger at Belle Vue revealed that the famous stage had been amended and that the bands would be allowed to use their own percussion instruments. Vinter himself was due to be referee at the event but was unwell and was replaced at short notice by Eric Ball. He died later in the year.
Grimethorpe under George Thompson were declared champion off the number 16 draw with adjudicator John Carr describing their performance as, 'A fine toned band controlled by a fine musician." The other judge Sir Vivian Dunn described it as, 'A real pleasure to listen and praise. It is going to be difficult to differentiate or beat."
The honour of being the first percussionist to play at the contest went to 16 year old Philip Gee of the CWS Manchester Band.