Gizmos and Gadgets - September 2007
1-Sep-2007
From the latest high wonder products to the simplest little bits and bobs and a few that are truely weird and wonderful. 4BR has been out shopping - this is what's on offer at Normans Musical Instruments in September.
---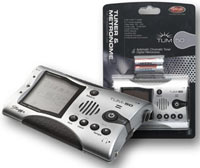 Stagg TUM-50SL: Music Tuner & Metronome
£14.99 inc VAT
For those of you out there who are really into high tech gadgets and would never be seen dead with anything other than a Bang & Olafsen television in the front room, this little beauty will satisfy your needs.
It's got the lot; from a high volume speaker, value and tempo range, earphone input, integrated microphone, LCD display, white backlight and even some pretty LED indicators in orange and green.
All this and more, as it even has a clip so that it can be hung on your clothing, a secret compartment for storing guitar pics (yes, we don't know why as well) and a folding stand.
Weighs 85 grams, looks like a decent mobile phone to fool those who think you are trying to speak to your mum when you use it and it even comes with two AA batteries too.
The ultimate little high tech toy. Will you ever need to buy anything else?
Not to be confused with a Nintendo Wii or IPod phone.

For more information:

http://www.normans.co.uk/Items/TUM-50SL?sck=3165319


---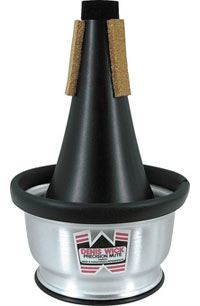 Denis Wick DW5531 Cornet Cup Mute
£29.27 inc VAT
You have got to hand it to Denis Wick. Perhaps more brass players use his range of mouthpieces and mutes than buy replica football tops – and they look better using them too.
Playing their well engineered version of the cornet cup mute won't make you into the brass band equivalent of that potato faced assassin Wayne Rooney though, although your playing will sound pretty good even in the least talented hands.
Comes in black and silver with an adjustable cup that doesn't fall off and can be used to make you sound quieter in just the right places – its as solid as Liverpool's back four and looks as good as Fernando Torres too. It's premiership class.
All that is missing is a health warning not to try and cram it into the bell of your instrument without filing those corks down and a homing device to stop occasional players coming to your band and nicking them because you haven't written your name on the side in felt tip pen.

For more information:

http://www.normans.co.uk/Items/dw5531?
---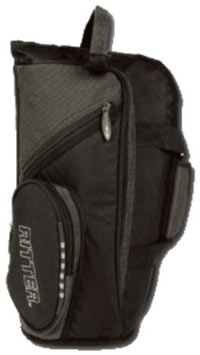 Ritter Cornet Gig bag: Model RCB70006
£35.96 inc VAT
If you want to look cool and sophisticated then never turn up at a band job with a cornet case covered in old stickers and your music in a Tesco plastic bag.
Cool players carry their latest cornet in a gig bag, which makes them look either like surfer dudes or grunge skateboarders carrying a small piece of high tech equipment on their back.
This Ritter gig bag comes in black – but not just any black – 'Night Black', no less with plenty of padding, lots of handles and hooks and extra little cubby holes to stuff your music in too.
You can even carry it on your back like a little back pack – cool or what!
All this and it has dead trendy zip fasteners and the face of an eagle on its badge.
Made by those wonderful little hands in the Republic of China, it cheap and cheerful and should make you look at least half trendy even if you are off to the local park for a bandstand job.
Not actually suitable for surfing or skateboarding.

For more information:

http://www.normans.co.uk/Items/Item.aspx?SKU=rcb7006-co/nbb
---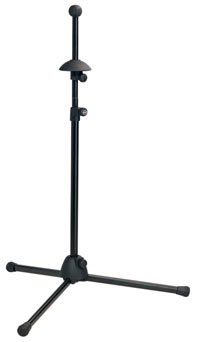 K&M 14985 Trombone stand:
£22.00 inc VAT
Another high class bit of kit from the Germans – this time a very bespoke trombone stand.
Put together like a Mercedes Benz, trombone players will be able to spend hours talking through its precise technical attributes (after they have talked about their mouthpieces of course).
Looks and feels the part with adjustments to satisfy the most pedantic tastes it also comes in a very sinister shade of black with rubber feet and top crown as not to make a mark on the shiny bell of their beloved instruments.
Robust and sturdy too, although it shouldn't be used to attach a paint roller on to try and do the living room ceiling whilst the missus is out.
Strangely satisfying to handle it shouldn't be confused with anything that will make a conversation with a bass trombone player any more interesting.

For more information:

http://www.normans.co.uk/Items/Item.aspx?itemid=4014731
---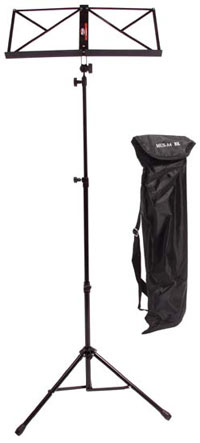 Stagg MUS-A4BK Music Stand
£9.99 inc VAT
Just the thing for all brass players who practice at home sat on the settee with the music propped up in your case on top of the living room coffee table. How come so many people don't use a proper music stand?
If you are to get one then this sturdy but portable piece of high quality metal work is just what you need. Rubber feet so you don't leave dents in your best shagpile carpet and it can even be extended high enough for those well over the six foot barrier in height.
Shouldn't fall part after 3 months use (it comes with a 5 year warranty) and even comes with a neat little black carrying case with strap so you can take it on holidays and band jobs too - as well as being able to put it away and stop it gathering dust in the corner of your living room.
Don't try and kid the neighbours that it's a high tech camera stand when they come to you complaining about the noise you make when you practice. Don't let your kids think it's a Meccano set to dismantle either.

For more information:

http://www.normans.co.uk/Items/MUS-A4BK?