2007 British Open Championships - The Composer
9-Sep-2007
Kenneth Downie is the man who brings us 'Visions of Gerontius' this year.
---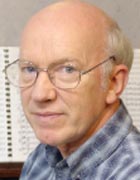 Kenneth Downie
Kenneth Downie was born in Glasgow in 1946 and educated at Greenock High School, the Royal Manchester College of Music and Durham University. He then became a specialist music teacher in schools before finally leaving his position as head of music at Poole Grammar School to go into the jewellery business in 1976.
His published compositions, now numbering over 70, many of which has been recorded and broadcast on national radio, span a period of 30 years and are mainly for brass band or choir. In 1997 and 1999 his 'Purcell Variations' and 'Music for the Common Man' were chosen as section one regional test pieces for the National Brass Band Championships. In 2001 his 'St. Austell Suite' was the section three test piece.
In April 1998 he was appointed Composer in Residence to the Yorkshire Building Society Band and thus began a fruitful relationship involving concerts, broadcasts and recordings.
In July 2001 he was appointed creative music consultant to the Salvation Army, working for three days each week in the Music Ministries Unit of the Evangelism Department. With his wife Patricia he established the music publishing company 'Kantaramusik' in 2001. Kenneth lives in Winchester with his wife Patricia, also a musician who teaches pianoforte and singing, and they are both active in the Salvation Army Church, Kenneth being Bandmaster and Patricia Songster Leader.
Kenneth's involvement in the Salvation Army Music Scene has afforded him the opportunity to travel throughout the world as, along with his wife, he has been involved in music schools and clinics in the USA, Canada, France, Sweden, and Holland.
The Scottish Brass Band Association were delighted when Kenneth accepted the commission of the 2004 European Championship test piece - the result was the exceptional 'St. Magnus' a piece that has now been accepted as one of the most inventive and inspiring test pieces of mdern times - as well as being one of the hardest to play!

It was used as one of the three set works for the 2004 British Open and again as the set work for the 2006 Butlins Mineworkers Championship. It has also been performed by bands as their own choice selection at the European Championship and played all over the world at the highest level.