Frozen in time - YBS Band win the British Open 1997
10-Sep-2007
A decade is a long time in banding, but where are the smiling faces of the YBS Band, winners of the British Open in 1997 now gone...
---
Our 'Frozen in Time' feature for the British Open this year goes back just under a decade to the first win by the Yorkshire Building Society Band conducted by David King.
There celebrating on the stage of Symphony Hall (also the first time that the contest took place there) is a bunch of raucously happy players nearly all of whom had joined what was to become a quite amazing band since the Australian MD had taken over the a few years earlier. Many became household names in the brass band world over the coming years.
In 1997 the band had already won the European Championship for a second successive year and had come 3rd at the Yorkshire Regional contest to miss out on a trip to the National Finals. They had also come 3rd at the All England Masters.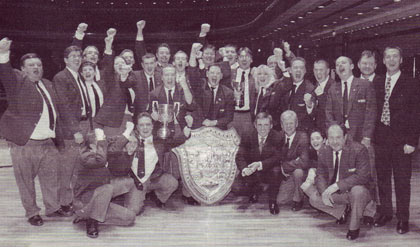 Yorkshire Building Society Band: Click for larger version
The 1997 Open took place in January 1998 due to the death of Diana Princess of Wales and although the band couldn't hold onto its title later in the year, they won the British Open again in 1999, 2001 and 2003. The band lost its sponsorship in 2006 and now competes as the YBS Band. Conductor David King ended his association with the band at the end of 2006 after 13 years at the helm of the band he created.
There are some familiar faces there, many of whom may well be taking to the stage with bands at this year's British Open, whilst bang in the centre of the picture is Morgan Griffiths, principal euphonium in 1997 and still with the band this year. He is now also resident conductor with YBS.
Other well known faces in the picture are Nick Hudson, Ian Porthouse (who won the best soloists prize at the contest), Peter Roberts, Gavin Saynor, Simon Gresswell, Iwan Williams, Sheona White and Margi Antrobus.
Can you identify the rest of the happy bunch and tell 4BR where they are all now?