2007 British Open Championships - The Adjudicator's remarks
20-Sep-2007
Find out just what William Relton, Steven Mead and Geoffrey Whitham thought about the top six performances on the day.
---
These are the written remarks from William Relton, Steven Mead and Geoffrey Whitham for the top six prize winners. If we have been unable to decipher some of the wording in the remarks we have used (?).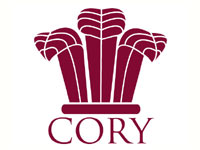 1. Cory Band
Band 16
Opening smooth quality, tempi direction followed closely. Nice dynamics, controlled balance producing a fine texture. D – a cracking pace. Don't forget the accents at E.
J – fine chording and you hold the 'f' back. L – nice glock. M – Beat!!! N – Stylish start. BBb a tad more to prove the point. R – sonorous. S – a great build up here with a continuous musical line of thought running through. Y – Just a nit pick – the high (?) was not quite in unison. CC- A splendid waltz feeling here. GG- Nice cornets, an atmospheric section which you capture 'con dolore' – a useful rubato section allows your players space bar before KK – a touch of intonation difficulties. NN – I admire the restrained percussion! A great finish.
William Relton

Lovely sound and balance a shade over one 'p' to start? So much to commend at the opening, super attention to detail.
D – first class. Bass end is massive into G. – astonishing. Progresses so well, it has elegance and we hear the musical line so clearly. N – so clear – and mezzo dynamics so well observed. R – singing bass sounds, lovely! T – Top quality. V – small split 3rd bar, but I quibble. W – crystal clear runs.
Z – not 100% to open. Tiny errors after AA too, but the style is so elegant. EE – rock solid rhythmic feel. GG – super again – so well prepared and lovely colours throughout the whole of this section. A bold use of rubato, and it works – Enjoying this. Clarity jumping off the score – what a treat.
Spine tingling end – power, clarity and still a musical line. Thank you.
Steven Mead.

Good safe opening. D – effective playing very clean. J – so well directed M – the odd wobble but very good. N - is clean playing throughout. R – so well shaped. Z – the odd splash in cornets.
FF - super cornet playing, you make the whole thing so easy. LL – is good MM – well balanced and a terrific finish.
Geoffrey Whitham
---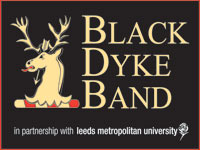 2. Black Dyke
Band 15
Opening smooth, well balanced and well voice. Dynamics great. B – a fine climax, bar before D a little bold (?) and some great technical prowess. I – fine cornets. M – slight catch a 3rd beat. N – starts very well B. Trom also Bb and Eb basses.
Q – mf only please. 3 before T a slight accident. U – keep the mf down. Y – neat. Z – able technical passages. Nice quirky waltz feeling in the rhythm. GG – rich harmonic playing – Exquisite playing 4 before JJ.LL – Troms mf only but a splendid ending.
Tiny slips and over enthusiastic mfs were my only real criticism
William Relton

Lovely opening, clear detail and rich sonority. F/FF well presented. B has vitality and excellent balance.
Upbeat to D not 100%. Semiquavers very clear indeed, all clear, massive when it needs to be and rhythmic too.
I – No problems. Well measured into J. High class stuff this. M – Beautiful sounds and very nearly together! N – High octane and bristling with energy and virtuosic brilliance.Q – super – but troms a little muscular for mf.
R – excellent individual voices. 4 before T - unfortunate moment. V – maybe a touch too strong to start – but majestic, confident playing. W – excellent. X – has poise and so much clarity too. Y – as it should be!
Z – fine individual and section playing – time for everything. EE – well done. GG – well controlled and contrasts are 'stark'. HH – hard to fault. Slight uncertainty into KK, but tiny concen when the playing is such high class.
Triumphant ending to a commanding performance. Thank you.
Steven Mead

Good opening – very musical. D – Exciting music well played. H – the music flows as it should. M – so well done. N – Clean playing to R – here so nice, good sounds. Bar 208 – horns? - but good recovery. X – is good clean playing. Lovely cornet into KK. LL – good playing balance. MM to end tremendous.
Geoffrey Whitham
---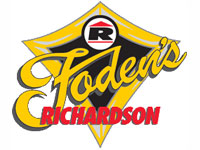 3. Fodens Richardson
Band 3
Opening gentle, fine sound and dynamics so musical. B – so well shaped and fine detail. C – a great feeling – nice timp. N – What a tempo! Clean playing before S (?) – basses so musical. N – a hint of intonation problems in trombones. Z – great start and fine unison.
EE – there is a lightness in the style which is most pleasing. GG – delicate meaningful playing – rubato take more risks (you have the players). LL – careful of the 'mf' starts they all sound a bit 'f' to me. Percussion able and discreet. The ending just a slight mistaken attack 4 from the end.
William Relton

Clean opening and well balanced high quality sounds around the stand. B – brilliant yet sonorous. D – ensemble! I admire the lightness of touch in the allegro. I – convincing. This is most enjoyable quality in moving parts. Dynamic shading is first class. M – magical.
2 before N – not perfect intonation. N – is very quick! Why? It steadies a bit, clean playing, but we miss some details. R – so musical, class comes through here. A gain a bit quick, for 104?
X – nice composure with rhythms – horn sound is majestic. Z – super. Trills well done, careful preparation paying off. EE – lighter style, ensemble moment. FF – perfect!
GG – some loose moments in the ensemble, but sound of band is super. HH – slight spots, but nothing serious. II – the same, and tuning is exposed in cornets. Some magical moments before KK – thank you. LL – controlled tempo. Well done here. Details jumping of fhte page here and majestic, proud ending.
So much to admire throughout. Well done. Well directed and you have such strength around the stands.
Steven Mead

A good opening. Warm sounds throughout the opening section. D – some clean playing, some quality playing so far. M – so delicate. N – fast tempo but clean none the less. R – This too. W – Classy playing. Z – this has a good feel and the playing continues. 360 – Basses and timp not quite together. JJ+ - some super cornet playing.
A very good performance that had so much musical content.
Geoffrey Whitham
---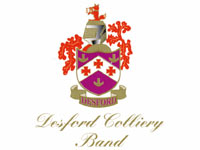 4. Desford
Band 10
Opening smooth, very well balanced, full of character. C – again most musical, fine timp. Well toned band and the fast passages seem to pose no problems – lovely tone, most musical.
M – entries good. N – entries always positive. S – bar 3 a miffed scale. T – nice Euph – great detail. X – slightly bold. Z – starts very well, and a really fine light touch in this charming waltz rhythm. Not all the filigree work is absolutely clean and clear but the feeling is great. GG – very atmospheric. HH – timp too discreet for me. II – sweet – just the right amount of rubato. LL – Careful about the balance, the mf entries must not be obscured – A great finish.

William Relton

Lovely soft start, silky! Instant feeling of musicianship – one of the best so far. Confident feel with quality sounds. Pick up to D not good. Excellent shading of dynamics. I – well judges, bravo. J – also top quality study. K - a few euph scrapes. The musical line is so well thought out. M – super. So well rehearsed and directed. P – slight discomfort. Textures continue to be crystal clear. R – texture/balance is immaculate. Elegant playing with only the tiniest of erros detected. X – so musical, but tiny scrapes still detract!
Z – just right – the score is transparent – bravo. Terrific middle section. GG – at last some magic here. Timp 1 before HH then soloist is top class, harmonies here I'm hearing for the first time – super.
KK – all this is working so well. It makes so much sense now. Fantastic.
Musically satisfying from the beginning to end. Not without small blemishes but here is a band and conductor who had something to say.
Steve Mead

A good opening section. D – this is good clean playing, most enjoyable so far. M – so sensitive. N – so clean and clar. R – the shaping so well done. – again so well played. LL – again clean playing. MM – Balance good and a terrific ending. So well played. Thanks
Geoffrey Whitham
---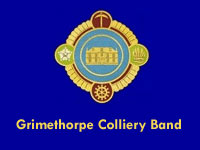 5. Grimethorpe
Band 4
Opening smooth. B – Timp anticipates a few bars – fine toned band. Nice sop before I at I solo cornet not quite in command at the top. L – M – delicate, nice phrasing. N – brisk start, don't turn the 'f' into 'ff'. R – sweet and such well balanced quartet of basses 4 before T.
Glock should listen to the flug and horn. X – soprano rather light, good ending. Z – a neat opening. Some entries 'mf' are rather overdone – such a neat ending. GG – You capture the spirit here – just before HH there is an uncertain moment of tuning. Nice horn into JJ.
A fine finish with lots of detail. 4 before the end the attack was not precise. A very fine band with great direction.
William Relton

Fine sounds to open. Strong moments. Timp in wrong place at B! – was playing C! So clear technique in allegro – massive sounds. I – small problem. This is a very strong band indeed, strength in depth. K – excellent, such confident solo playing.
N – virtuosic approach – sparkling. Breathtaking technique. R – almost perfect. 4 before T not quite togther glock/horns. Super playing follows – so much detail. X –fine build up. Z – Then it simply purrs along! Excellent.
EE – a touch loud for 'mp'! GG – real star quality again – well balanced, and so much control after HH – a few scrapes in high cornets. Not 100% I following bars too. A bit too strong for 1 forte before LL. Wonderful ending to a most enjoyable performance – small but costly errors must impact the final placing.
Well done.
Steven Mead

A good start, timp not correct. D – very clean playing. K+ Some good classy playing. N – good Bass Trom as is the band. Very neat and clean. X – is so well done, the balance is so good. Z – was very neat and clean.
GG – spots of intonation and a bruised high C (bar 375). KK – for the most part was well done.
The whole performance for me was to a very high standard and I liked your grandstand ending.
Geoffrey Whitham
---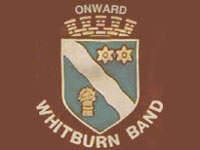 6. Whitburn
Band 17
Opening a blob, nice toned band, good dynamics and tempi alterations observed. B – nice scales. D – brilliant soprano. F – bar 4 the runs are 'fff' the chord only 'ff'. J – well balanced. M – delicate. N – rather heavy start (it's only 'f'). Bar before Q – this wasn't exactly in tune. Before S – nice bass quartet. U – a splendid build up and a good calming down, effective percussion, never too obtrusive. Z – confident start.
DD – Agile Eb bass. FF – neat cornet and also neat tutti cornets 4 before GG. GG – I like the way you convey the 'con dolore' – and afterwards the rubato. Horn solo not perfect. Great climax 5 after JJ. LL – great agility and a full blooded ending with excellent percussion, never overdone.
The tonal quality of this band is great from pp – ff. A pity about the earlier small mistakes.
William Relton

A stray note at the opening? Flows well but a few pitch concerns after A. Some excellent playing here and there is a vibrancy to your playing. G – high powered stuff and very impressive. So too I and F. Watch tuning just before L and 3 before N. Only one forte please bass trombone at N. Fine playing – just watch for harsh tones. Ff yes, accent yes, but keep the quality.
R – Rep/Trom do well, but keep the 'singing' feel. U – again impressive and well judged rall into Adagio before X. Slight imperfection at X itself.
B.274 f sharp or natural!! cornets. AA a few strains. EE – softer bass drum? Ensemble precision is rocking a little. Perhaps a bit more 'space' around GG would give a better effect. HH – nice rubato, but a few tuning issues too, sadly. Some small errors into JJ. 5th bar of JJ wobbled somewhat.
Quality has just dropped off somewhat, but it's still impressive – a fine band indeed.
Strong to the end, well done. Most impressive.
Steven Mead

Uneasy start and some intonation problems. D – lacked some atmosphere, tuning 2 before L. M – could have been more gentle. N – Bass trom OK but quite muscular. P – could have been more define. W – Some good playing. Z – all is not well in cornets. This movement has lost its impact. 'pp' before GG on the loud side for me. B.392, bad luck horn. MM – is very well don to the end.
A very good performance.
Geoffrey Whitham