2007 Lower Section National Finals - Fourth Section introduction and predictions
25-Sep-2007
Could the Fourth Section be the highlight of the Harrogate weekend once more? All the ingredients seem to be in the right place...
---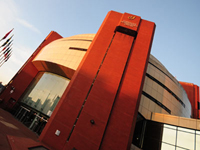 Test Piece: Roman Triptych (Leigh Baker)
Adjudicators: Allan Ramsay & David Hirst
Sunday 30th September: Commences at 9.30am

It's always easy to say that the undoubted highlight of the lower section final weekend is the Fourth Section contest, but given the standard of the playing and the sense of enthusiasm and sheer vibrancy that is on display year after year then its easy, because its true.
This year hopefully shouldn't be any different what with a line up of well matched bands and a fine test piece that should have captured the imaginations of the players and MDs alike.
Leigh Baker is talented chappie (as well as a fine baritone player) and his 'Roman Triptych' which he himself describes as a bit of a musical homage to the 'sword and sandal' epics of yesteryear (as well as the more recent Gladiator film with Russell Crowe) will surely have made the long hours of intense rehearsal pretty enjoyable. It will push the bands a bit both technically and musically, but if they get the basics in place then there is plenty of room for additional togas and 'Maximus' impressions from the trombone section to add that extra bit of gloss.
There is a pretty big field of 20 bands this year, with just the one original qualifier dropping out (Blaenavon replaced by Gwaun Cae Gurwen in Wales) and all of them will surely head to Harrogate confident of at least putting up a decent showing and possibly even coming in the prizes. Six bands ( Bream, Formby, Hungerford, Amington, Newstead Youth and Crosskeys) return this year to try again – a sign that they are in decent fettle.
Last year the contest saw a bit of a heavyweight battle between Dodworth and Oldham (Lees) and if it is as anything as good as that once more then look out.
Yorkshire will therefore be hoping to retain its title and has sent Crofton Silver and Skelmanthorpe into battle to do just that. Both played very well at Bradford to claim their qualification places, but they will know that they will have to be at the very top of their game here to beat off the opposition. Skelmanthopre came way down the field at Buxton earlier in the year so will need to up their form to do well and Crofton too will be seeking to make a real impression.

The Red Rose brigade will come in the form of Uppermill, Ramsay Town and Formby – all three strong challengers. Uppermill perhaps on paper have the best chance with a fine record in 2007 so far. They came 3rd at Pontins late last year and have followed that up by winning the Buxton Contest and coming 3rd at Tameside. Perhaps their time has come to claim the national title?
Ramsay make the trip across the Irish Sea, but at present are something of a mystery band to us at 4BR as we haven't got a great deal of information on them. Perhaps they are keeping something up their sleeve – just as they did at Blackpool where they certainly surprised a few rivals in claiming a qualification place for the finals. Formby is a confident bunch and under their MD Louise Hough have been making excellent progress in the last year or so and will be keen to improve on their hard earned 8th place last year. A top six or better perhaps may well be on the cards.
London & Southern Counties have enjoyed a fair bit of success at this level over the last couple of years and this time it will be up to Chalgrove, Great Yarmouth Brass and Hungerford to see if they can return home with the title. All three did well to get through the arduous qualification process at Stevenage and all three will have certainly benefited from that experience. Hungerford came 10th here last year so if they all play like they did at the regionals they could well press for honours come the results.
Wales sends two ambitious bands to the finals this year and two bands who are certainly moving in the right direction. Cross Keys have had a fine year so far, winning at Swansea as well as picking up 5th place at the early season Gloucester and Weston contests and coming 2nd at Ebbw Vale in the Third Section. Gwaun Cae Gurwen are a proud old band with a great record over their history even at the very highest level. They were a touch unlucky in not gaining an automatic qualification place at Swansea in many people's eyes so they must think justice has been done. They came runners up at the Welsh National Eisteddfod and won the Second Section at the Ebbw Vale contest so look out for them come the results.

The Scots will also be looking to see if they can lay their hands on the Fourth Section title for the first time since 1973 when RNR Dundee won, and it would be very apt if they did it this year as one of the representatives is Dundee Instrumental. They haven't shown tremendous form on the road this year and could only come 9th at the Northern Counties Contest in May, but you never know. So too with the Scottish champion Buckhaven & Methil Miners, who came 10th at that contest.
Making the longest trips will surely be the bands from the West of England, St. Breward Silver, Bream and Pendennis Brass. The Fourth Section contest at Torquay was a real treat in itself this year and the standard was pretty decent from all the bands. These three were the pick of crop though and should be well placed to do well here. Bream return again this year and will be looking improve on their fine 6th place at this contest 12 months ago and have also won at Weston and come 3rd at the Gloucester Contest whilst St. Breward has been successful at Bugle. Pendennis showed plenty of quality in winning the regional title, so all three will pose a real threat.
The North of England did well here last year coming home in 4th and 6th place so expectations will be high for a repeat or better from their two qualifiers, Marske Brass and Flookburgh. The latter took the regional title out of the blue somewhat as they have only been occasional visitors to the regional contest stage in the last few years. With the experienced John Iveson at the helm though you never know and a return to the glory days when they were riding high in the top section may just be starting once more. Marske too seem to be a band that is aiming high and after their qualification they came 4th at the Durham League contest. Both bands could be dark horses.
Finally the strong contingent from the Midlands, who always seem to put up a good account fo themselves here at the finals. This time it is up t champions Cubbington, Newstead Youth and Amington to see if they can wrestle back the title. Cubbington have been enjoying a fine year in 2007 and recently won the Fourth Section at Wychavon and came 4th in the Third Section whilst Amington came 10th here last year and will want to show an improvement on that this time around. Newstead are a band full of talent and spirit as they showed last year and with an additional year's experience under their belt they will be confident of climbing up the results table.

4BR Prediction:
Notoriously difficult to pinpoint this one, but a few bands may just have that little bit extra about them to push their way into the prizes.
Uppermill and Cubbington could be the two that slug it out at the very top, whilst the likes of Formby and Hungerford could well challenge them closely too. Pendennis and Flookburgh should also do well and we Newstead Youth are a good bet as a dark horse – watch out for them!
1. Uppermill
2. Cubbington
3. Formby
4. Hungerford
5. Pendennis
6. Flookburgh
Dark horse: Newstead Youth