2007 Lower Section National Finals - Third Section introduction and predictions
25-Sep-2007
A difficult set work and some cracking bands should make for a memorable contest - as long as they don't come over all Carry on Cleo...
---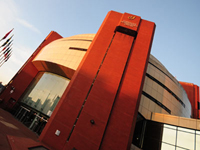 Test Piece: Imperium (Bruce Fraser)
Adjudicators: Alan Hope & Lt Col. Chris Davis OBE
Saturday 29th September: Commences 9.30am

One of the most interesting aspects of the Third Section contest this year will surely be how the bands and their MDs get to grips with a super test piece, 'Imperium' from the pen of composer Bruce Fraser, inspired by the book of the same name by the author Robert Harris.

If the piece is half as good as the book then we are in for a treat, especially if the bands can just capture that feeling of both the glory as well as the dark sinister under belly of ancient Rome and three of its most celebrated characters. If not then it could well be more like 'Carry on Cleo' as it is a piece that will test the bands to the full.
'Infamy, Infamy, - they all got it infamy' as Kenneth William's famously said, may be more appropriate to some performances if they can't capture the right feeling required. Pompey, Cicero and Julius Caesar are the three men in question in the work – all three pretty feisty characters in their time, whilst the two little Caesars to impress in the box who will either give a thumbs up, or down are Alan Hope and Lt Col. Chris Davis. It should make for a cracking contest.
A big old field of 18 bands enter the Coliseum at Harrogate this year, although just the one band, Clifton & Lightcliffe return from 12 months ago. A sign of ambition though surely comes with six bands that competed in the Fourth Section Finals last year, including the top three bands, Dodworth, Oldham and Llwydcoed as Barton who came 6th, Wellington and Thundersley.
Two of the most fancied bands for this years title come from across the Pennine divide in the form of last year's National Fourth Section champion, Dodworth Colliery MW and runners up Oldham (Lees). Both are led by two of the most dynamic young tyros in the business and both are exceptionally ambitious outfits.
Dodworth took the Yorkshire title with a superb performance in Bradford, whilst Oldham did the same in Blackpool. Each time they have come up against each other it has been a battle royal and we are sure we can expect more here too. Oldham got revenge for their defeat here last year at Pontins and have gone on to win at Brass at the Guild Hall. Dodworth meanwhile gained revenge for Pontins by winning at the Tameside Open, so it's going to be another battle to the death here!
Joining Dodworth from Yorkshire will be Clifton & Lightcliffe conducted by a man with immense experience, John Clay. His band returned to the Finals this year after producing another solid well thought out performance at Bradford and they will surely be keen to improve on last years well earned 11th place.
Meanwhile, joining Oldham will be two other strong contenders from the North West in Middleton and Eccleston who booked their places for the finals with two top notch performances at the Winter Gardens. Middleton has had a fine year so far competing in the Second Section at local contests and more than holding their own after coming 13th at Pontins last year. They were 6th at Brass at the Guild Hall and won the Tameside Open, both in the higher section so Chris Whiteoak and his band should be one of the favorites if they can show that form again here. Eccleston are the reigning Pontins champion in the Third Section but didn't quite show that form at Brass at the Guild Hall earlier in the season where they came 7th, so they will be keen to get back on the winning track.
Wales has the two contenders of Porthaethwy Menai Bridge and Llwydcoed both of whom certainly played well in qualifying at Swansea. Llwydcoed are very much a band on the up and after coming 3rd in the Fourth Section here last year will be keen to make yet another mark here this time around, whilst Porthaethwy Menai Bridge put in a decent performance in coming 3rd at the Welsh National Eisteddfod a couple of months back.

The North of England found it hard work here last year with their two bands coming in the bottom three, so both Barton Town and Ripon City will be keen to make sure there is no repeat. Barton could well be a good bet to do just that under the baton of Richard Evans who takes over from Mark Bentham to conduct the band. He will surely bring his touch of magic to the performance and if they can repeat the form they showed in coming runners up at the Buxton contest then who knows? Ripon too, who return to the contest they last played in a couple of years ago are determined to do well. North East banding could do with a bit of a boost and these two bands may well provide it.

The West of England has a proud record of achievement to maintain and sends two very competitive outfits up in Camborne B and Wotton District Silver. To get through from the highly competitive regional contest was an achievement in itself and Camborne will be keen to try and emulate their senior band of 1945 who won the first ever Second Section National title as well as local rivals such as St Keverne and St Dennis both of whom have won nationals in the last couple of years. Camborne took the honours at the recent Bugle contest whilst Wotton will be looking to make their own mark too.
The Midlands has perhaps the most competitive contest of the entire regionals and their representatives will have benefited hugely by getting through a real test of character at Burton upon Trent earlier in the year.

The experienced Roger Thorne and his band at Wem Jubilee have been an impressive contesting outfit for some time now and with the added bonus of being regional champion and now Wychavon winners too will put them in good heart for the weekend ahead. Matlock will surely be a band to look out for and their impressive performance at Butlins in coming runners up early in the year set them up nicely for the regional contest. A repeat of that form may well see them challenge for the title. Wellington (Telford) meanwhile came 11th here last year in the Fourth Section and 8th at Pontins late last year. They have upped their game since the though and were 4th at Buxton to show that they are getting to grips with the higher standard of contesting.
Scotland last had a victory in the Third Section back in 2000 although Tullis Russell came close last year in coming third. This year the task of trying to take the title north of the border falls to Campbeltown Brass who will be making yet another of their epic trips across the waves to take part and Perthshire Brass. Campbeltown took the honours at the Fife contest a few months back to show that they are in pretty good fettle for the weekend and Perthshire came 4th at that contest and 7th at the Northern Counties Contest too.
Finally the bands up from London & Southern Counties, and perhaps a real chance for a strong challenge from Epsom & Ewell and Thundersley Brass. Epsom were good value for their regional win and have shown in the last couple of years in particular that they are a band moving in the right direction, whilst Thundersley have had a fine 2007 so far with a win at the Crawley SCABA Contest and runners up at the SCABA Spring Contest too. A possible dark horse then for a band that has come a long way since being placed 13th here in the Fourth Section last year.
4BR Prediction:
An even more difficult choice to make in this field of strong contenders, but we think that it could well be a battle between those two rivals from across the Pennines in Dodworth and Oldham (Leees) once again. Middleton and Matlock will also be up there for us if they play to form and the final top six places could well see prizes for Thundersley and Wem Jubilee. Our dark horse for this one is Camborne B.
1. Dodworth Colliery MW
2. Oldham (Lees)
3. Matlock
4. Middleton
5. Thundersley
6. Wem Jubilee
Dark Horse: Camborne B