2007 Lower Section National Finals - Second Section introduction and predictions
25-Sep-2007
Expect a real old battle for the title here with bands from all over the country in with a real chance of glory.
---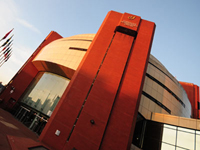 Test Piece: Toccata, Elegy and Scherzo (Darrol Barry)
Adjudciators: Colin Hardy & Philip Harper
Sunday 30th September: Commences after awards ceremeony for Fourth Section

If the First Section promises to be a grand old tussle between ambitious bands then so too the Second Section this year with a deceptively strong line up of bands from around the country.
Darrol Barry's test piece 'Toccata, Elegy and Scherzo' has all the right ingredients to test both the technical and musical talents of the bands to the full in an enjoyable manner. Darrol has the knack of making his test pieces an enjoyable experience for players and listeners alike – no mean feat and this one has more than enough to keep everyone occupied and happy at the same time.
Three bands return this year to see if they can improve on their placings of last year – Newbridge, Blackpool and Wansbeck's Ashington, whilst there is a whole clutch of bands that have had pretty successful years so far around the country.
Scotland will be sending down their representatives of the tartan army in the form of Granite City Brass under the expert direction of former Grimethorpe top man Tom Paulin and champions St. Ronan's Silver under the equally experienced Alex Knox. Both will be keen to improve on the decent showing of last year's representatives who came 4th and 6th respectively and will fancy their chances of becoming the first Scottish Second Section champion since 1997. Granite had a nice boost earlier in the year by winning the Northern Counties Contest, so watch out.
Wales meanwhile last won this contest in 2001 but they send perhaps two of their strongest ever competitors to do battle this year in the form of Newbridge (Celynen) and Beaumaris B. The standard of these two bands at Swansea was perhaps the best in the entire country at the regionals, so they will be short prices favorites in anyone's books to at least come in the prizes. Packed full of experience and very ably led they should be in the mix come the results.
Yorkshire's best may have a thing or two to say about that though with champions Wakefield and runners up at Bradford, Kippax both having fine years on the contesting stage in 2007. Kippax in particular have a clutch of prizes under their belts and will be keen to add another to go with wins at Pontins in 2006, Tameside, Buxton and NEMMBA, whilst Wakefield, who were 3rd at Pontins will also be hot on their tails we are sure.
The Midlands are always well represented at this level and Phoenix WM Brass and Harborough will be keen to show they are bands to fear and repeat the success of Hathern Band in 2004. Phoenix were good value for their victory at Burton which showed that they had improved on their impressive showing at Pontins late last year. A further win at Wychavon in recent months shows them to be coming to the boil just at the right time it seems. Harborough's 5th place at Butlins earlier this year was a fine start to 2007 and that was continued at Burton, so what here we wonder?
The bands making the long trip up from the West of England are Portishead and Ocean Brass, both of whom have built on their qualification to the finals this year with solid performances at other contests. Ocean won the SCABA contest at Crawley and Portishead were winners at Weston so both will be looking to keep that upward spiral of success continuing here.
Making equally long journeys are the two bands from London & Southern Counties, Cawston and Egham both of whom fully deserved their qualification places at Stevenage earlier in the year. Cawston were 14th at Butlins at the start of the year and showed remarkable improvement to pick up the runners up spot at the regional contest a few weeks later. Champions Egham could well be a dark horse and after coming 6th at Butlins they could well be confident of at least sneaking into the prizes.
The North East sends down two strong bands in the shape of Cockerton and Wansbeck's Ashington. Wansbeck's took the regional this year and will be determined to improve on their solid 10th place 12 months ago. 4th place at Butlins showed their talents just about to the full, so a top six place will certainly be on their agenda. Cockerton meanwhile will surely have other more important things on their mind. The death of one of their leading players Mark Nightingale in August has cast a long and sad shadow over the band and they are determined to provide something in his memory this weekend. Contesting is not important in light of this but it won't stop the band going full pelt to do the best they can.
Finally the North West and Blackpool Brass who return for a second successive year and Wardle & District Anderson Brass.
Blackpool were good value for their 9th place here 12 months ago and will be keen to climb into the top 10 once more or even further, whilst Wardle will surely have one of the youngest average ages of all the bands here this weekend. Youthful enthusiasm and plenty of talent are a heady combination and if they can repeat the form they showed in Blackpool at the regionals then look out.
4BR Prediction:
A hard one to call, but the quality of a few bands should stand out if they play to form. Newbridge must be in with a shout this year, although they haven't always done themselves justice here and Kippax have been having a wonderful year so far and must surely fancy their chances of a National title. It could well be between them for the top prize. Hard on their heels we think it could be Beaumaris B and Blackpool with Wakefield Metropolitan and Phoenix pushing them close. Our dark horse this year is Ocean Brass.
1. Newbridge (Celynen)
2. Kippax
3. Beaumaris B
4. Blackpool Brass
5. Wakefield Metropolitan
6. Phoenix WM Brass
Dark horse: Ocean Brass