2007 Lower Section National Finals - First Section introduction and predictions
25-Sep-2007
Can the best First Section bands here get to grips with an intriguing test piece to win the coveted title. Only one will be crowned champion.
---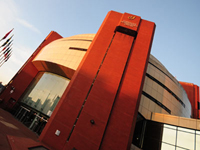 Test Piece: Victorian Snapshots - On Ratcliff Highway (Ray Steadman-Allen)
Adjudicators: C. Brian Buckley & Wing Cmdr. Rob Wiffen OBE
Saturday 29th September: Commences after awards for Third Section

There is a real strong line up of bands here this year to do battle in the First Section, with each of the eight regions sending representatives all of whom are in with a decent chance of being crowed champion on Saturday night. Last year the contest was won in fine style by Kibworth under the direction of John Berryman and it may take a performance of similar stature and musicality to win the day this year too.
'Victorian Snapshots - On Ratcliff Highway' is a quite complex work, almost a sepia tinted piece of musical archeology, which recounts the inspirational work of the Salvation Army in one of London's most notorious areas of social deprivation in the late 19th century. Now it well known that certain bandsmen and women (and every band has them) do like to imbibe and enjoy themselves in less than salubrious surroundings from time to time, so most bands shouldn't have a problem getting to grips with the work, even if it is a little strangely scored in places and is most definitely a concert rather than contest work. It's an enjoyable piece though which should test the bands, but shouldn't get the better of the best of them.
Since its inception in 1992 the First Section has been won by bands from the North West (5 times), Midlands (4 times), Yorkshire (3 times), Wales (2 times) and the North East (once) and it may be a fair bet that this years winners will come from one of these areas once more. That's not writing off the chances of the bands from Scotland, West of England and London & Southern Counties totally, but it is a refection of the current state of First Section banding that the champions are likely to come from the areas that have been more successful than most over the past 14 years.
Yorkshire sends a very strong pairing in area champion Stocksbridge and Pennine Brass. Both bands are experienced and very well led and the standard of their performances at Bradford were perhaps the best of the entire Regional qualifiers. Stocksbridge have the added bonus of having won here before in 2001, but they were a completely different band back then. Under Dave Nesbitt the current vintage have had a wonderful 2007, winning the Senior Trophy at Blackpool to add to their regional crown. They are a band full of experienced performers and hungry for more success.
Pennine too have had a decent year (including racking up a fair bit of prize money) and although they found the Grand Shield a little tougher than expected this year (coming 15th) the reigning Pontins Champion will surely fancy their chances here.
Over the border and the North- West also sends two strong contenders in champions Timperley and Poulton-le- Fylde.

Timperley have come a long way in a short space of time (they were 11th at Pontins, way behind Pennine) but under the baton of David Evans they showed plenty of quality in winning the Tameside Open. A highly ambitious band they have their eyes on making a real impression here for sure. So too Poulton, who were good value for their qualification place at Blackpool after finishing down the field at Brass at the Guild Hall earlier in the season.
Wales last won at this contest back in 1994 when Northop Silver were victorious under the baton of James Scott, and they return once more for a second successive year under the baton of Thomas Wyss. Last year they could count themselves a touch unlucky to have come 10th, but they showed in winning the Welsh Regional contest and the Welsh National Eisteddfod that they have all the ingredients in place this year to become the first band to win this title twice.
They are joined by their South Walian counterparts Treherbert who were a bit of a surprise package in Swansea but who have a team dripping with experience around the stands (possibly dripping with Ralgex liniment too given the ages of a few). It may count for a lot come the contest.
The Midlands meanwhile provides three strong bands, all determined to keep the First Section trophy in the region for another year. The standard of the First Section at the regionals was good and the trio of champions Gresley Colliery, Derwent and Jackfield (Elcock Reisen) will all fancy their chances. Derwent are in decent form this year after their win at the Buxton Contest and runners up place at Brass at the Guild Hall, Gresley too will be looking to build on their continuing good from under the experienced David Hirst and the same too for John Maines and Jackfield after their promising start to the year at Butlins and Burton upon Trent.
Scotland has yet to taste victory at this level, although last year Dalmellington came 4th. This time the Scots are represented by champions Newmilns & Galston and Dunaskin Doon, both of whom made it through from Dundee in a hard fought contest. Dunaskin recently had a poor showing at the Land O' Burns contest coming home way down the field, whilst Newmilns came 5th at the Fife Contest. Both will ant to improve on those showings then.
The West of England sees Hyde and Woodfalls Concet Brass make the long trip north, and they will be keen to return home we think with at least some sort of silverware to their name. The area contest at Torquay was an enjoyable one, even if the result did come as a surprise to many. Hyde though were very cleverly directed on the day by Jonathan Camps and his understated approach may well find favour once more in the box. They will have to up their form though from the Weston contest where they lost out to a band from a lower section, whilst Woodfalls will also know they will have to play to the top of their game to make a real impression.
London & the Southern Counties are represented this year by MK Brass and City of Cambridge, both of whom perhaps represent the best chance the region has had for some time to win the contest. Both are helped by having two experienced MDs at the helm in Paul Fensom and Peter Bassano, so look out. Both are in decent form too although City of Cambridge will have to up the ante from Butlins were they came 12th and MK (Broseley as they were) will have to do the same after coming 4th at Weston Super Mare.
The North East sees Felling return once more after their win at Darlington and keen to improve on last year's 17th place, and Lockwood Brass who are one of the up and coming bands of the region. Felling had an encouraging results at the Land o' Burns and Brass in the Park contests so may be heading in the right direction in time for this contest. Lockwood meanwhile has traveled far and wide this year (including a trip to the French Open) to compete. They were 11th in the Second Section Finals last year so it will be interesting to see how far they have come in 12 months against stronger opposition.
All in all it should make for a great old tussle, with plenty for Brian Buckley and Rob Wiffin to enjoy and ponder over. It could well come down to a question of interpretation – which band really captures that sense of Victorian evangelical zeal in bringing a reformed sense of sobriety to the down trodden masses of London's mean streets. Then again – perhaps not.

4BR Prediction:
Given the form book and the relative strengths of each of the bands we have to go with a battle between Yorkshire, the North West and Wales for the top prize this year. Pennine is a classy band on their day and Stocksbridge is very solid too and we think it will be between them to become champions. Northop are a quality outfit also whilst Timperley and Derwent Brass should be up there come the results. Hyde could well be in the mix if the judges like what they hear and our dark horse is Poulton – le – Fylde.
1. Pennine Brass
2. Stocksbridge
3. Northop Silver
4. Timperley
5. Derwent Brass
6. Hyde
Dark horse: Poulton-le- Fylde