2007 Lower Section National Finals - Postcard from Harrogate
4-Oct-2007
Now we are used to the joys of Harrogate, perhaps the time has come to really make it into a contest weekend to remember.
---
Harrogate and the Lower Section National Finals are here to stay it seems – well for another three years at least.
That may well not please everyone (especially those who had the misfortune to have to shell out a small mortgage on light refreshments at the cafeteria in the Conference Centre) but it does mean the contest has a secure home in the short term at least. That is good news in anyone's book.
Kapitol Promotions now run a slick and professional operation here, backed by some wonderfully committed back room staff and benefiting this year from a selection of quality test pieces. However, it is what they can now do to turn it into a truly vibrant and engaging event that will determine whether or not the Lower Section Finals has a significant long-term future.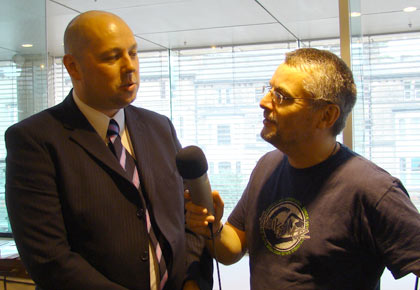 Baker boys: 4BR speaks to composer Leigh Baker

Kapitol has done a great deal of hard work placing the contest on a well laid foundation, but now comes the opportunity to build something of real value and purpose for the benefit of the whole of the brass band movement. If they can do that, then no one would begrudge them making a tidy profit.
The Harrogate experience at the International Conference Centre may now be slick and well organised, but it remains a cold and soulless one at present too. There is though a real opportunity for a significant shift in both emphasis and approach, and to make the whole weekend much more 'user friendly'.
Some changes are beyond Kapitol's grasp – the Hall makes the money from the exorbitant bar and cafeteria prices, but others are not. Some changes need to be structural, others merely cosmetic, whilst some need to be undertaken unilaterally and others with cooperation and discussion. The chance is there to be grasped with a bit of imagination.
The introduction of a new qualification process may be in order, whilst the provision of a pre-draw is certainly an option. A more radical move would be to make the pre-draw for the finals straight after the last of the regional contests. That may even allow some very hard pressed bands to save shelling out for a night's accommodation.
Open adjudication (it works wonderfully well in Norway, and the halls there for the contests are full) and perhaps some events throughout the day in order to keep families with children entertained could also be an option. Why not put on something like brass classes by star players, or a kids adjudication panel, a Saturday night disco and family night, or interactive games etc next to the traders stands? The chance is there to do it and make the whole weekend one of fun and games as well as serious contesting too.
The most popular move however would surely be to allow bandsmen and women a free ticket to be able to go into the hall and listen on the day (or even cheap family tickets). The payoff for this one would be to double the entry fee for each band, but throw in 25 free tickets. It's a compromise deal, but one that might well work.
All this is not a guarantee for packing out the Conference Centre for each band, and to be fair to Kapitol, offer a bandsman the chance to listen to a couple of rival bands or go to the local pub and watch the footy whilst supping a few pints, they do still tend to choose the latter. The emphasis is on the organisers though to provide persuasive argument for staying in the hall all day. If they do not, then it shouldn't come as a surprise that so many players and conductors come to see what 4BR thought of their performance rather then stay in the hall themselves to listen.
This year there was still plenty to enjoy. The music was great (although no more Roman epics please for a few years) and the judges did a pretty good job in all the sections. The overall standard of playing was decent – no more, or less, with some notable highlights in some sections, but still far too many sub standard performances too.
There were also a few memorable sights to behold also, with a couple of MDs sporting trousers that surely belonged far away from a contesting stage. It was also great to report a winning female conductor once again in Louise Hough and her Formby Band, although we do wonder when we will see a female judge in the box.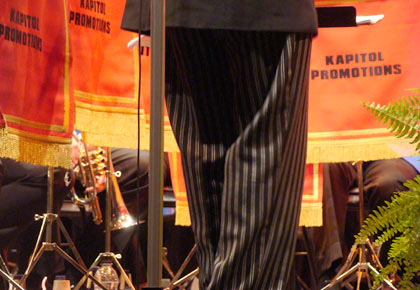 Someone has the wrong trousers? One MD perhaps made the wrong choice?

There was also plenty of brilliant young playing talent on show, some odd hair styles and one rather strange rendition of 'Champagne Charlie' that didn't come from any of the bands in the First Section either. The awards ceremony is a difficult trick to pull off well with the necessary compromise of dignity to entertainment, but some like it the way this one is put on, others not.
All in all though Harrogate 2007 did what it set out to do on the tin (which is a cliché that is fast becoming the norm for many judges in their summing up). It could be so much more though but the good news is that for once we are not talking about how the event can be saved from decline and extinction, but how it can grow and prosper.
Let's hope the organisers and the bands themselves grasp the chance with both hands. If Kapitol can listen then the future of a great contest could be better than anyone could have imagined.