2007 Lower Section National Finals - Third Section retrospective
4-Oct-2007
There was no place like Rome for Middleton on the weekend as under their new leader, promoted from the ranks, they took the Third Section title.
---
It's hard to think what Julius Caesar would have thought of Harrogate and the International Conference Centre. Given that his legions once came this way perhaps he already knew that it wouldn't be a place to his liking. Nonetheless, the great general would surely still have been pleased that there was a battle royal going on partly in his name over the weekend, years after he had left for home.
No actual blood and guts were spilt of course, but it was still an exciting clash of rival clans and tribes from all over the country here in the Third Section.

No place like Rome! Middleton's MD enjoys feeling like Caesar!
Picture: Steve Jack

In the end it was the Middleton Band that came, saw and conquered (although we doubt if their young MD, Matthew Stringer shouted out the words 'Veni, Vidi, Vici' when he managed to grab hold of the National Challenge Cup outside the hall. It was also a victory based on good planning and execution, led by a talented young conductor.
The two judges Alan Hope and Lt Col. Chris Davies had told 4BR that they felt that there were a number of high quality performances in the Third Section on Bruce Fraser's test piece 'Imperium' - and they were not wrong. Seven bands stood out for them on the day, and it was hard to disagree.
There were many who thought that perhaps they missed a chance to reward one band in particular with the prize they deserved (more of Camborne B later), but they knew what they were looking for from the colourful score and stuck to their guns. No complaints there then and we think there could be little cause for complaint from the bands that eventually had to settle for the places down at the other end of the prize table too.
Middleton won't of course worry about that now – or worry whether or not the decision to ask Matthew to conduct the band just five weeks before the contest was the right one or not either. Matthew had come hoping to initially play euphonium, but following the late departure of former MD Carl Whiteoak (so late he was still named as the conductor in the programme) they opted for him to take the band to the contest instead. It must rank as perhaps the best decision the band has ever made in its entire history.
The contest had taken a little while to really get going on the Saturday morning. Perhaps it was the early start (first band on at 9.30am) but it wasn't until Oldham (Lees) band came on at number 4 that we really had a performance that captured the required styles of each of the three sections of the work.
The opening movement was all about Pompey, the great general who preceded Julius Caesar and was written with a touch of pomp and circumstance. Most bands got to grips with it well enough. The second movement was about that old Machiavellian character Cicero and was darker, more sombre, but still with a touch of intrigue and mischief making. The final section recalled old JC and was full of vibrancy and life, with a well placed tarentella that perhaps showed that he wasn't all mouth and no toga trousers.
Most bands played their best in either the first or third sections, but somehow couldn't quite get to grips with the balance, colour and tuning required in the middle movement. The top seven managed all three with varying degrees of success, but those out of the prizes and down the prize list lacked for that key element of consistency.
The first band on stage was Clifton & Lightcliffe who produced a fair marker for the rest to follow. It was a performance that featured some fine solo horn playing from Jane Clay, and although it didn't quite have the depth of sound or the balance of the top bands it was another encouraging outing for a band who are certainly moving in the right direction.
So too Eccleston Brass who followed them on. Theirs was certainly more powerful and just got a touch overblown and scrappy in places, but nonetheless MD Ian Bateson had done his homework on the piece and gave it a fair old showing too. A top ten place in 9th was well deserved.
Wellington (Telford) just had too many nasty little errors sprinkled liberally throughout to have made more of a mark than they eventually did, and 12th place was about par for the course after a performance which was bright and breezy, colourful and certainly full of life.
Much of course was expected of Oldham (Lees) and their MD John Collins, and they didn't disappoint with a powerful rendition of Rome in all it glory. The odd moment of uncertainty and misplaced enthusiasm just robbed the picture at times so that they left the gates of Rome open for a rival or two to pop in and rob them of the title.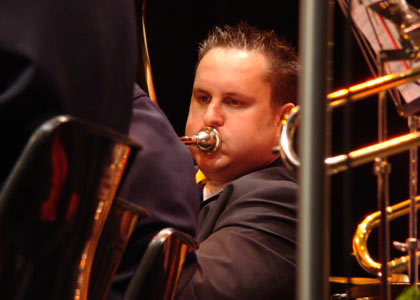 Bass end power: Oldham's bass end play their part in getting them into the prizes

It was very nearly a winner, but those errors proved to be too costly and they had to be content with 3rd place. They will conquer many more contests we are sure though in the months to come.
Wem Jubilee had their fair share of young legionnaires in the ranks and it just started with a bit of a tangle in the togas. It recovered much more poise in the second section, which was one of the best of the day, but a ragged third section cost them more points and they had to head home content with 17th place, although they had much to be proud about.
So too Epsom& Ewell under Ted Howard who were another who found the opening few steps out of Rome just a bit bumpy. By the time they recovered in the second movement things were back on track, but some misplaced enthusiasm in the ranks in the last movement cost them points once more and they had to be content with 15th place. Another band though which had plenty of promise on show.
George Annan certainly made sure everyone knew who was wearing the trousers in his band, with a splendid pair of tartan strides. However, it wasn't enough to quite inspire his troops of Perthshire Brass to the heights although there was plenty of good work on show, especially from his namesake on euphonium who was a solid presence throughout. Just too many unforced errors and mistakes meant they had to head back across Hadrian's Wall in 14th place.
Ripon City will perhaps rue the fact that their second movement wasn't of the same quality of their outer two. A nice swagger gave the opening real presence whilst the final section also had that touch of potential prize winners about it too. It was just when some quite repose was needed that they were found wanting and as a result they claimed 10th place when perhaps something higher was well within their reach.
It was the last band before the comfort break for the judges that made the biggest impression with Middleton giving Alan Hope and Chris Davies just what they wanted.
This was a well thought out performance full of good intentions and solid execution. It was one that was built to last as we said, with plenty of quality playing on show, especially from solo horn Emma Davies. The MD knew exactly just what his troops could and couldn't achieve as well so there was no extra pressure put on them to try and play outside their capabilities. The result was a solid ensemble and well managed solo lines whilst the MD must take a great deal of credit for his sensible approach.
The judges certainly liked it and put it in the lead – one they were never to relinquish. We had them 3rd, but no complaints as they headed home crowned as National Champion.
The comfort break allowed us to try and put things into some sort of perspective and there was little doubt that it was a fight at the time between the controlled account of Middleton against the powerful and exciting rendition of Oldham (Lees). The rest were much of a muchness – pretty good, but nothing more.
The first band after the break were Porthaethwy Menai Bridge under Chris Williams who perhaps could count themselves a touch unlucky that they ended up at the bottom of the pile come the announcement of the results. This wasn't a bad performance at all and given that they had so many youngsters in the ranks it was a pretty admirable effort.
Just the lack of depth to the sound and tiredness that crept in the final movement must have cost them as we had them in a midfield place come the end. Lots of talent to work on though with pint sized Gwyn Owen on solo cornet a star of the future we are sure.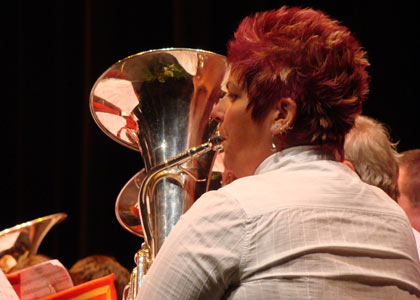 Touch of spice? Matlock make it into the top six

Matlock then produced perhaps the most solid performance of the day under Roger Jepson. Disciplined and workmanlike from start to finish it perhaps just needed a touch of spice and fire in the belly, but overall there was so much to admire with a super bit of horn playing from Jane Baldwin the pick. 5th place may have disappointed them a touch, but a classy band in the making here.
The same may be true of Wotton & District Silver under Dennis Grant, who like Matlock produced an unpretentious performance that just needed a bit more colour and certainly fire in the belly. It was a relaxed old portrait of Rome's three main figures – more a domestic portrait of them at home with their feet up perhaps than on the road to war or the senate.

The pre match favourites were certainly up for the fight and Dodworth Colliery MW certainly started off as if they were determined to blow away the opposition as quickly and effectively as possible.
The trouble was that they took that instruction too literally at times and overblew – a cardinal sin at this level where so much good work can be lost through players trying to hard to impress through sheer volume. The middle section saw error strewn solo and ensemble lines whilst the final movement was back to the blood and guts approach which sometimes can be a recipe for glory but can also head for disaster too. It never quite came to that, but it was a real opportunity lost for the band and their talented MD who should heed the lesson learnt here.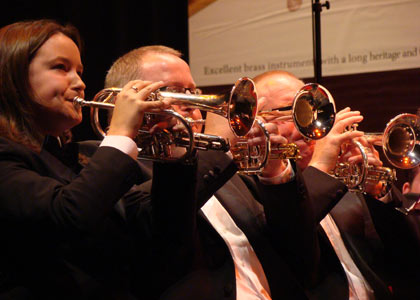 All pointing in the right direction: Dodworth try hard to gain a place in the prizes

This was the best band on the day trying too hard to show just that. All that was needed was a few more cool heads and the victory would have been theirs instead of 6th place.
The Welsh legion from Llwydcoed never had a comfortable day, although they were one of the best bands to perform the testing middle section. It was just that the outer movements saw them lose too many points from unforced errors and nasty little clips, so 16th place was about right. No complaints we feel on the long journey home.
Don't know about that though with Camborne B under Alan Pope.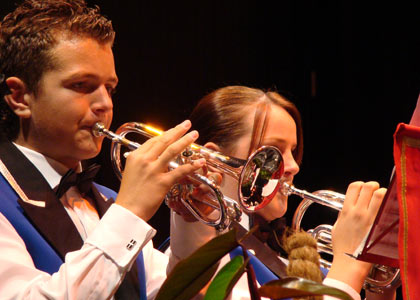 Young stars: Camborne B just miss out, despite a briliant effort

They must have been left scratching their heads somewhat after delivering a superbly rounded, balanced and well executed performance that had the hallmarks of control from start to finish. Perhaps it was the perceived lack of depth and drive that cost them in the final movement, which to be fair was more lightweight than others – although it was also darkly shaped and with a lovely pulsing foundation.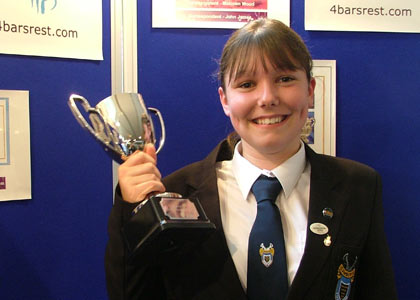 Best Soloist: Rebecca Merrit is a star for the future

We really liked it, and with some super flugel playing from 17 year old Rebecca Merritt the pick of a whole cohort of young talented tyros, we felt it had done more than enough to take the title. Not so in the box and 4th place seemed more than a little unlucky for a band that was so well led and had talented by the bucketful on display. Unlucky indeed although they could take some delight in the best instrumentalist award to Rebecca who won it (and excuse the pun) with real merit.
Thundersley Brass very nearly lived up to their name in coming 8th overall. A solid no nonsense approach from Keith Schroeder and his band meant that the opening movement was disciplined and accurate, whilst the second was also well executed, although there seemed to be little need for all the musical chairs in getting solo players to stand to play their parts.
By the time they topped it off with another well managed third section it was a performance that we had up in the prizes, only to be displaced by bands that just had that touch more finesses about them later in the day. A good show though and one they can take great credit from.
That just left two bands to try and see if they could wrestle the title from the hands of Middleton.
There can be no better person to make an impression on a performance than Richard Evans (or Trickius Dickius) on this occasion. Here he did it again with Barton Town, who were inspired by the great brass band general to produce a cracking show, full of life and colour, even if there was some detail that was well camouflaged too.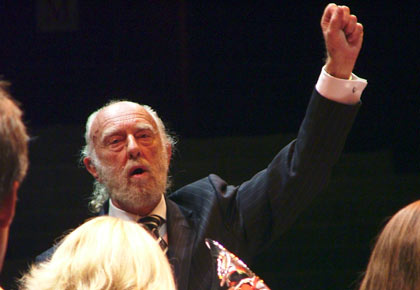 Trickius Dickius in full flow!
Picture: Steve Jack

A real old swagger march out of Rome was followed by a well shaped and atmospheric middle movement that just had a moment or two when it felt insecure. However, with that out of the way it was back to the swagger and chests puffed out as they strode back home with the spoils of war tucked under their arms. It was very nearly enough to win the day too, but that touch of unevenness in the middle section cost them the title, but a great old effort and second place was well deserved.
That just left the band from Campbeltown from Scotland, and the youngsters under the baton of Craig Anderson did themselves proud with a bold and brio filled approach that was just spoilt by a middle movement that was just hampered by a few too many fluffed solo lines and some nasty tuning. They certainly recovered by the time of the last movement, and a great finish rounded off a performance of merit that gained 7th place.
That was that then for another year and although there were a couple of raised eyebrows at the results when Camborne B were announced in fourth place, there general agreement that the judges had got the top six bands where they just about deserved to be.
Iwan Fox.