2007 Lower Section National Finals - First Section retrospective
4-Oct-2007
Pennine Brass were certainly taking the Ratcliff high road on the weekend, with a commanding victory in the First Section.
---
At the conclusion of the First Section of the Yorkshire Regionals in 2006, 4BR had thought that Pennine Brass had done enough to qualify for the National Finals later in the year. The end result was that they came in 6th place, which left us, and many in the audience, scratching their heads wondering what had gone wrong?
Twelve months later and Pennine qualified for the finals from the number one draw and so finally got their chance to compete on the stage and have a crack at taking the National title in Harrogate. When they walked on stage just before 9pm on Saturday evening, they not only took their opportunity to enjoy their finals appearance, they quite literally blew their rivals out of site.
Victory here was as convincing as any sporting result by a huge margin you may recall in recent memory, including Australia's 5-0 whitewash of the English cricket team last winter in the Ashes. Both victories were also achieved with a real touch of class about them too with Pennine taking their title by an unprecedented 4-point margin. For the adjudicators, C Brian Buckley and Rob Wiffin, as well as many in the audience, it was a worthy four points as well.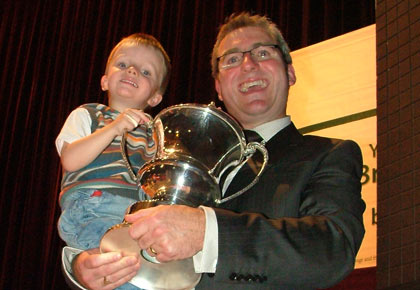 Looking down from on high: Ian Porthouse and son, Harry enjoy that winning feeling
Picture: Steve Jack

The test piece, 'Victorian Snapshots – On Ratcliff Highway' by Ray Steadman-Allen certainly raised a few eyebrows when it was announced, and raised even more when it was played here too.
This wasn't a test piece but it's an excellent piece of concert music described by the composer as a collection of 'sound pictures' inspired by the War Cry sketch of Whitechapel Band marching through the notorious Thameside thoroughfare in the 1880s. This musical snapshot of Victorian London includes many of the old-time songs like 'Champagne Charlie', 'What Shall we do with the drunken sailor?' and 'Genevieve' as well as some quite uplifting and emotional content too.
The end result is a huge test for both bands and conductors, and although not an obvious choice of piece for a contest such as this, it still provided interesting listening as not one band got away unscathed. It was also a work that required enormous thought and detailed preparation from the MDs, and it was good report that there were a number of excellent performances, some very commendable ones and only a few that didn't come off. Overall it was an encouraging overall level of performance for all the competing bands.
Both judges spoke to the audience and shared their thoughts. Rob Wiffin talked about the shape and balances of the piece and how the bands linked the small sections together. In addition he gave a firm message about taking care of extraneous noises made on stage, including mute clumps.
C Brian Buckley also referred to this aspect of the 'stage craft' as he called it as well making the point that he felt the piece had worked well as a test piece. As for the prizewinners? The winners 'picked themselves' he said whilst he also hoped the remarks written for the bands would be used and thought about. Both judges were clear in their thinking and their decision-making.
So what about the winners, Pennine Brass?
For 4BR they were in front by the proverbial 'country mile', but one or two seasoned observers wondered if they had perhaps 'overcooked' their performance in places. It was however an immensely satisfying to listen to and enjoy, full of wonderfully balanced sounds, warm tones and a subtle sense of musicality. It was playing of a high class Championship Section band directed by a high class MD – a combination that was too good for the opposition on the day.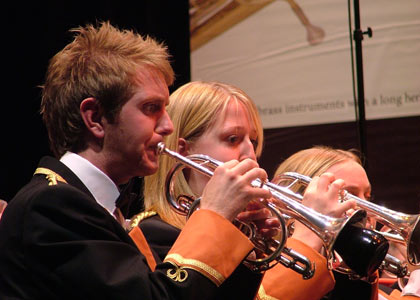 Top man - Pennine's JJ Lees leads his band on the Ratcliff Highway

Ian Porthouse left no stone unturned in his preparation for the contest and he had contacted Professor David King, who Ian had worked extensively with since his days as top man at the YBS Band. His input was an added bonus, as well as showing that the MD is not a man with an ego the size of a Harrogate pensioner's bus.
The result was an opening that pinned the audience back in their seats; so powerfully persuasive and musical with tight ensemble playing and some exceptional playing from the lower end that gave Bb bass Pete Denton, the Best Instrumentalist prize. This was a team effort though. 4BR didn't single out one person as a star player, they all deserved the praise, including the MD who pulled out every ounce of effort from his troops.
Whilst Pennine won with a bit to spare, there was a good battle for the podum places and the rest of the top six.
Thomas Wyss and Northop Silver put their marker down for the judges from the number four draw with a cracking interpretation that fully justified them finishing in the top three.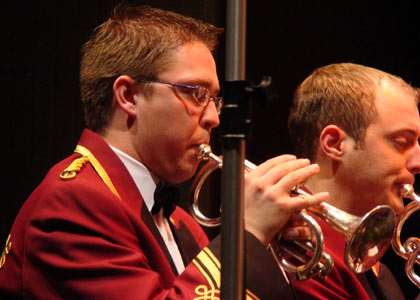 High class impressions of Ratcliff Highway from Northop

The opening was purposeful and intense and the links between the various sections were effective with the tempos and moods never being over the top and plenty of high-class ensemble work too. It was a very confident performance from a very competent band and quality MD.
Poulton-le-Fylde led by Garry Clegg played late in the day (15) and their well managed account eventually gave them 3rd place. It was a very solid and unpretentious performance that benefited from some lovely atmospheric playing, purposeful tempi and excellent links between the sections. It was hard in fact to find any major fault with the performance at all, and was perhaps as good as the band could have played on the day.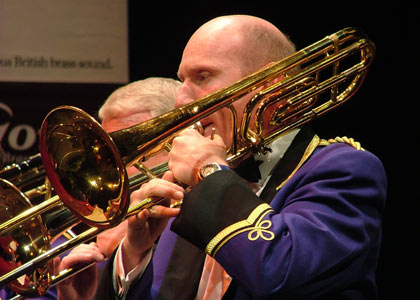 Concentration! Poulton's trombones lead the band into the prize list

Keith Leonard's Derwent Brass can consider themselves unfortunate to have come fourth when many in the hall (4BR included) had them as runners-up and a few even had them in first place. A great deal of credit for their performance goes to the MD who'd clearly directed a very forthright interpretation. The opening was positive with plenty of atmosphere and the music had plenty of colour and vibrancy as well as that all important sense of fun when needed.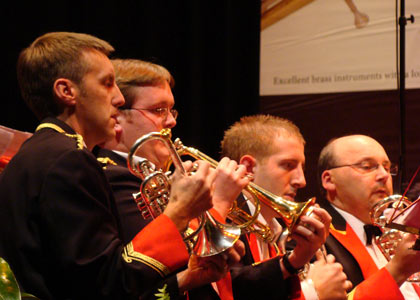 No muted presence: Derwent make it into the prizes

Derwent will have gone home perhaps a touch disappointed at finishing fourth but they couldn't have given more on the day and they can take some comfort from the knowledge that if they can perform like this, the Championship Section holds no perils for them.
Timperley from Cheshire in the North West produced a robust performance under David Evans. Rachael Pavey on solo cornet led the band with distinction and whilst there were clips and wasn't as polished as those that had finished higher up in the order of merit, it was a performance that had plenty to admire about it. Plenty of credit goes to the MD for his thoughtful presentation of the piece too which emphasised the strengths of his band well and tried cleverly to keep weaknesses well camouflaged.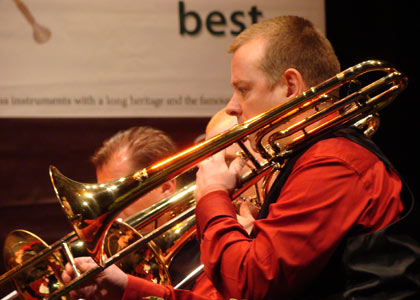 Robust performance: Timperley make it into the top six

4BR's live comments on Woodfall Concert's performance at the close emphasised that we thought it deserved to make a real mark on the contest. In the end they deservedly finished in 6th place after a performance that was never short of confidence or self-belief. There was a real musical flow between the sections that many bands didn't bring to the fore on the day and th tempos were effective and the ensemble work was effective throughout.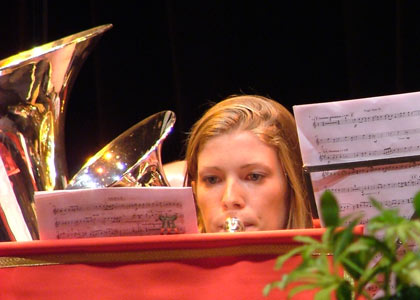 Eyes front: Woodfalls keep their eyes on a prize

Outside of the top six, Felling, Hyde, Stocksbridge and Lockwood were next in prize winning line and with the exception of Stocksbridge, (who'll we'll come too shortly) fully justified their placings.
Graeme Tindall and Felling returned again this year for a crack at the title. When it was good, it was very good, but some of the tempo's were a touch quick for our liking with the more intricate detail not being totally prominent. If it had just settled down a bit at times then perhaps a top six finish may well have been on the cards.
Hyde meanwhile produced a very neat and solid interpretation that was very relaxed at times, although perhaps needed a bit more of a cutting edge to make an impact. There was much to admire in their ensemble playing in particular, although some of the solo lines just sounded a touch nervous. A fine reading of the score also benefited the band too, but in the end the quality and consistency wasn't quite there to push them higher up the prize table.
Stocksbridge can consider themselves more than a touch unlucky to finish not in the top six – we had them fourth. Dave Nesbitt's interpretation was purposeful, excellently shaped and contained some fine links between the sections and some solid ensemble playing. Kevin Donaldson on soprano was an inspiration and the band responded to the MD who wanted to keep things under very tight control. In fact there was very little to criticise so perhaps the forceful interpretation didn't find favour in the box. A touch unlucky.
John Roberts will always pull the music out of any score and any band he is in front of will always give a fully committed performance. That was the case here with Lockwood Brass. The tempo's were a touch brisk at times and it was a shame that some clips and touches of scrappy playing appeared just to rob the musical picture of composure. The close was neat and tidy though unlike the MDs left shirt cuff that was wafting around in the air having come loose.
Treherbert, Milton Keynes Brass and Gresley all showed potential at times but the overall picture that was painted never found favour with the men in the box as consistency again was the key.
Craig Roberts and Treherbert started off well and the music came through with a good atmosphere but then there was too much harshness around the stand and it lost the impetus for us. With a quite a few younger faces to compliment the more experienced campaigners in the ranks though there was real grounds for optimism about their performance with the plus points far outweighing the minus ones.
Milton Keynes Brass didn't play anything like as well as they did at Stevenage in March when they appeared under their old name of Broseley Brass. If they had they would have been close to the top six. The opening wasn't the best and it took far too long to settle by which time it was becoming increasingly unlikely that it would make the required impact. It was disjointed at times and if they had reproduced the form they showed in the final third of the piece then things would have been so very different we are sure.
You know with David Hirst at the helm, you'll be guaranteed a musical interpretation and this was certainly the case for Gresley Colliery. The problems though were with the technical execution which at times was far too error prone to make a real impression on the box. When it was good there was some smashing playing on show, about all too often it was inconsistent and as a result they ended up where they did with no complaints.

That leaft Jackfield (Elcock Reisen), City of Cambridge, Newmilns and Galston and Dunaskin Doon.
Jackfield and City of Cambridge drew numbers one and two respectively and whilst they both had moments of fine playing, they didn't really reveal the most persuasive musical pictures and suffered from poor ensemble precision. Jackfield had their moments and so too Cambridge but with such a draw there was a need to make an immediate impact, and neither quite showed the form on the day to suggest that they could quite do it.
The Scottish pair of Newmilns and Galston and Dunaskin Doon had a contest they'll want to forget as it never happened for either of them on the day. For Newmilns and Galston it was that consistency, that most vital of ingredients for a solid performance that was missing throughout and it was very much the same for Dunaskin Doon. They took far too long to settle into their stride and as a result by the time they found their feet it was too late. Both bands will have heading home with plenty to chew over.
The day though belonged to Pennine Brass and Ian Porthouse for a performance that sets them up nicely for their promotion to the Championship Section. They head there knowing that they are in form and in shape to do very well indeed.
Malcolm Wood