4BR Time Team - October 2007
11-Oct-2007
This month in history is October 1957 and a look back at the National Championship at the Royal Albert Hall. A different world indeed...
---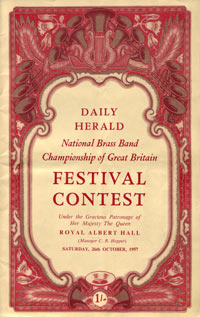 Half a century ago, on Saturday 26th October 1957, 21 bands from all over the country converged on the Royal Albert Hall to take part in the Daily Herald 'Festival Contest' to see which of them would become Champion Band of Great Britain.
Looking back now, Britain and the National Brass Band Championships belonged in a totally different world.
The test piece was something new, Ralph Vaughan Williams O.M, 'Variations for Brass Band', minus percussion and the fabled Celeste part of course. It was a good job the banding movement had nabbed him at this time as within a year he had popped his clogs. He attended the contest to accept a specially bound score.
Frank Wright described the work in his programme notes as "…a new landmark in the history of contesting – perhaps the most significant in the whole history of brass bands." Wow! Do you think someone will write that about any test piece used nowadays?
The sponsors meanwhile were' The Daily Herald'; an ailing left of centre Labour supporting newspaper, later to become, ironically, in 1964, the all conquering 'Sun'.
The bands had qualified from the eight regional championships, although there was no Yorkshire Area at the time, as that was referred to as the North Eastern Area. The regional champions were Morris Motors (London & Southern Counties); CWS (Manchester) (North Western); Clydebank Burgh (Scottish); Carlton Main Frickley Colliery (North Eastern); Munn and Felton's Works (Midlands); Park and Dare (Welsh); SH & WR Wallsend Shipyard (Northern) and Camborne Town (West of England).
The remaining bands were Fodens Motor Works and Fairey Aviation Works from the North West; Brighouse & Rastrick and Hammond's Sauce Works (the only band making its debut that year) from the North East; Lewis Merthyr Workmens Institute and Melingriffith Works from Wales; Hanwell Silver and Luton Band from London & Southern Counties; Creswell Colliery Welfare and Ransome and Marles Works from the Midlands; Crookhall Colliery and Harton Colliery from the Northern Area and Scottish CWS Band from Scotland.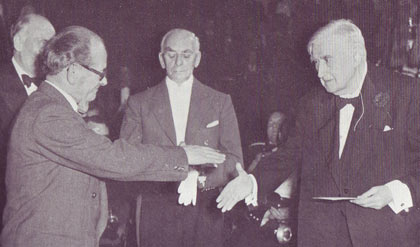 When Ralph met Alex: Vaughan Williams congratulates Alex Mortimer

A sign of the times was that seven had the title 'Works' or 'Workmens' associated with them, four were colliery bands and two came from industries that in many ways today no longer exist as mass employers – shipyards and aviation.
In the box that day were also figures that belonged to a different age too: Henry Geehl, Frank Wright and Major FJ Harris, MBE, ARCM. Psm, whilst the prize money was paid out in Guineas – 200 to the winners, 150 to second, 75 to third and 50 to fourth. The announcer was the imperturbable Frank Phillips Esq, as he was noted in the programme.
Also featured in the programme (costing 1 shilling) was Karl Rankl, the Austrian born chief guest conductor for the evening Festival Concert, who was termed 'a friendly and vital musical personality' even though he had a terrifying stare through his rimless glasses in the programme.
The contest conductors were a mix of the great, good, famous and even obscure. As was the case, some took more than one band (still something of an achievement given that 1958 was the year of the first motorway being opened in the UK). Eric Ball took three bands with Rex Mortimer and Stanley Boddington, two. Other notable names to appear were Major George Willcocks, Jack Atherton, TJ Powell and George Thompson.
Another sign of the times was the advertising that was allowed to appear in the programme that year, especially for alcohol and tobacco – almost unthinkable today.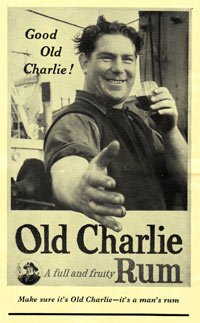 "After the performance come the rewards! And richly appreciated too!" rang out the advert for 'Mackeson! – smooth, yet strong' on the back inside page. All accompanied by a bloke carrying his instrument case to the bar presumably in one hand and his hat in another (also a sure sign of a different age – today it would be a baseball cap).
On the inside cover the delights of 'Old Charlie Rum' – 'Make sure it's Old Charlie – it's a man's rum!" were accompanied by what looked like a half cut stevedore with big hands, knocking back what appeared to be half a pint of the stuff. No wonder he was smiling – it was 70% proof!
Lastly though on the back cover was the advert for Senior Service cigarettes – 'Tobacco at its Best', and earmarked 'The outstanding cigarette of the day – well made and well packed.' How on earth any player could produce any sort of note after smoking a few of these lung busters is beyond us as they could coat a motorway road in tar.
Some of the exhibitors mentioned in the programme also read like a who's who of yeateryear too. Barretts of Manchester; National Brass Band Club; W. Paxton & Co; Besson; Boosey & Hawkes and even the National Association of Brass Band Conductors. Some are still with us today, others sadly, not.
As for the contest itself, the draw saw Melingriffith Works under TJ Powell (he of the famous marches) give the world premiere performance (something that some conductors are apt to add to their CVs nowadays – as if it was a deliberate rather than fortuitous occurrence).
The first three prizes went to bands that played 20, 17 and 21 (no change there then); Munn & Felton's conducted by Stanley Boddington, CWS (Manchester) directed by Alex Mortimer and Carlton Main, under the direction of Jack Atherton. Fodens came fourth, Ransome, fifth and Morris Motors, sixth.
So what happened to everyone from 50 years ago then?
The composer as we said died within a year, Geehl in 1961, FJ Harris (who later became a Lt Col) in 1964 and Karl Rankl (who was subsequently Music Director of the Scottish National Orchestra) in 1968.
Frank Wright went onto become a leading brass band personality was awarded the MBE in 1970 just months before his death back in Australia. The winning conductor Stanley Boddington, who went on to win the National again in 1960, 1964 and 1966 left for the great bandstand in the sky in 1986, assured of his place in the pantheon of the great brass band conductors of his age.
Of the bands Brighouse, Fodens and Hammonds (now YBS) play at this year's contest, whilst others such as Camborne, Carlton Main, Fairey, Munn & Felton (now GUS), Ransome and Scottish CWS (now Scottish Co-op) are still competing at a high level in the Championship Section. Others are still battling away in the lower sections such as Creswell, Clydebank Burgh, Lewis Merthyr, Melingriffith and St Dennis. The others are either defunct such as CWS (Manchester) or merged to form new bands under a totally different name.
The National Brass Band Club had over 4000 members at its peak, but by the 1970's it had waned and by the late 1980s had just about ceased to exist, whilst the history of both Besson and Boosey & Hawkes is well known. The NABBC is till going strong but many of the other companies that displayed that year are no longer with us.
Meanwhile, Senior Service cigarettes are still being made in Cyprus of all places, and Mackeson stout is still going strong, even if both are now not so popular as they were 50 years ago. As for Charlie's Rum? The Wood's Company still produces rum from the Caribbean, but Old Charlie seems to have bitten the dust – as most probably has the chap in the advert, pickled like a herring no doubt.
One person who is till at the helm, even though she has yet to make an appearance at the National Finals in the role she was born to is Her Majesty the Queen. – Patron of the National Brass Band Festival. She did appear in 1949 before she was crowned, and has given us a miss ever since, so perhaps this year then? Don't hold your breath.
Iwan Fox