2007 National Championships of Great Britain - Test Piece review
18-Oct-2007
It could well be last man standing on this one as Philip Sparke conjurs up a cracker for us to enjoy once more.
---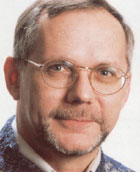 Now this is a difficult test piece.
If they were to give out medals as they used to do for winning the Nationals all those years ago then the players of all the bands that have to perform 'Music for Battle Creek' this weekend should deserve to wear more gongs on their band tunics than Herman Goering used to show off.
Solo cornet and principal euphonium players in particular could well be in line for Congressional Medals of Honour if they can escape unscathed from this particular 'Battle', whilst trombonists, horn, baritone, and soprano players could well end up with a Purple Heart or two – some possible posthumously. There could be more musical victims on this one than a particularly gruesome episode of American television programme CSI.
The man responsible is of course a Brit - Philip Sparke, who has done it again with a wonderfully exciting and colourful test piece, which just happens to have more pyrotechnical hoops in it than a Chinese fireworks circus act – Americana style.
Written for the Michigan based professional Brass Band of Battle Creek - hence the title (although the publishers have been a touch disingenuous in the study score notes by using the past tense to describe the date of a future premiere performance - what happens if someone else decides to play the piece before Xmas this year? ) it is certainly a showcase work for a band that contains a whole platoon full of star performers on any instrument you may care to mention.
As a result it is geared towards their particular brand of professional expertise, technical virtuosity and intuitive appreciation of musical style. It's everything you could imagine you would like to hear world class American performers play in 15 minutes of music – all wrapped up in a musical Star Spangled Banner.
Excitement, bravado and virtuosity was the stated aim of Philip Sparke with the piece, and excitement, bravado and virtuosity is what you get by the bucketful.
It should not therefore come as a surprise that it is heavily scored, with just about something for everyone to do in just about every bar of the piece. Why waste an opportunity to allow brilliant players the chance to show off – anyone old Tom, Dick or Bubba can count bars rest.
The three main sections of the work (there is a small connecting Interlude between the first and second sections) are played continuously, but are easily identifiable.
The opening fanfares give way very quickly to the first major hurdle – a stunningly difficult unison duet cadenza between the solo cornet and euphonium which stretches technique and nerve like a piece of Wrigley's gum. You will be able to identify any principal cornet or euphonium at the hall on the day by their deathly pallor, for all of them would have had sleepless nights about the bars 13 – 28, with bar 24 in particular an absolute nightmare.
Get over this and things get a little easier – but what a start: nail it and glory may beckon; get out of synch or clip a few and you could possibly say goodbye to having any hope of making an impression early doors.
All through the band ensemble is required to perform at a very high level with detailed filling and precision motifs allied to very specific dynamics. It's a corkscrewing roller coaster at times, but a roller coaster that could just leave the track with horrendous consequences if a band opts for too much speed and very little subtlety – the depth of the scoring at times is bewildering.
Amid it all though class will surely out, with the opportunity for the very best players on the day to make significant impressions even in the tiniest of places. Keep an ear cocked for any soprano player who can ping out top E's at one point and percussion teams who can add colour and clarity – those who just whack it thinking they are adding to the excitement will surely be taken out with a well placed snipers bullet of a handful of lost marks from the judges box.
The short interlude finishes off the opening third of the piece and by then you should be able to recognize whether you are hearing a band that can play the test piece and are capable of showcasing their talents to the full, or those who think they can and are using more camouflage make up than Joan Collins in an old Dynasty episode.
The Elegy that follows allows the best bands to also reveal their ability to perform at the other extreme – this time in dynamics and controlled musicality. Small declamatory solo episodes will certainly test the baritone, trombone, flugel and horn, but once again it will be the solo cornet and euphonium that will bear the brunt of front line battle.
The key elements will surely be the expressive Tranquillo (which again asks so much of the main soloists in unison) and the ethereal Luminoso, which of course means bright, but bright in an almost unworldly way – magical if it comes off.
Marked ppp, despite the complexity of the scoring it is a quite sublime moment of brass writing. Soprano players who cannot play very, very quietly without the aid of a mute will hold the key. How many will take the safety option we wonder and chicken out?
The following Estatico will also take some playing too – almost Wagnerian in its glory (and again so intricate in construction) before a final moment of tranquil repose before the finale.
Now comes the tricky bit. The Rondo Finale is marked minim = 120, but that may be a touch elastic in the hands of the best bands. The best bands will also be the only ones to capture the style of the jazz inspired writing.
Brass Band of Battle Creek has plenty of players who can do this stuff brilliantly in their sleep of course, but British bands don't and it could result in some efforts sounding pretty dire – perhaps technically secure but musically as stiff as a half eaten buger bap from McDonalds. This should jink and twitch as if run on an electric current – although crucially it should be as one with precise detail in the various ensembles that take the leading lines. If not, it will just sound a complete Horlicks of a mess (or the American equivalent if there is such a thing) – the devil on this one is in the detail.
It all hits top dollar of course in true Sparke style – thrillingly so with even a hint of Purcell(?) making a fleeting appearance (just perhaps to subtly inform the Americans that our British musical heritage didn't quite start with Sousa or Jelly Roll Morton). The ending though may come as a bit of a surprise to start with – a last test of composure for the solo cornet and Eb tuba before a final bar that ends as abruptly as a crack from a cowboy's whip.
Very, very, difficult indeed – but a piece that should keep the punters happy even if the players will know that they have been in a 'Battle' to remember. The medal giving ceremonies could well resemble the final roll call at Rourke's Drift.

Iwan Fox