2007 National Championships of Great Britain - Introduction and prediction
15-Oct-2007
A little bit of Uncle Sam comes to the Royal Albert Hall on Saturday, but who will be flying the star spangled banner of victory after the results?
---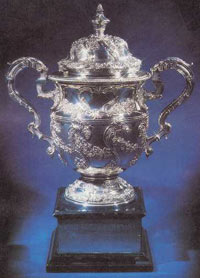 The British have a rather strange relationship with America. For all that we admire about them as a people and as a country there is also a sense that we don't in fact understand anything much about them at all either.
We admire their tolerance and adherence to personal freedoms, yet find it incomprehensible that at times that view doesn't apply to their relationship to the rest of the world. We enjoy the spectacle of their sports, yet find it hard to fathom out why only they can call a game based on the non descript knock-about that is rounders, a World Series. We love their trash food and slick comedy, yet find it puzzling why they eat turkey in November and can't understand why 'Dad's Army' is a simply funnier than 'Sienfeld'. Then of course, there is the way in which they have misappropriated the English language…
Still, it was only a matter of time before they started to enjoy brass bands – and by heck, they really are enjoying them now. There is a growing banding community in the US that is a joy to visit and listen to, and as is the case with America – if they are to do something then they try to make damn sure they do it the biggest and the best. That's why this weekend the good brass band folk of Great Britain (Americans never refer to it as the United Kingdom) will be able to sit back and enjoy a piece of music written in honour of their very own finest brass band – Brass Band of Battle Creek. Our 'special relationship' with America is complete.
And there will be plenty to admire and enjoy about it too, even if there is little likelihood of the winners playing the 'Stars and Stripes' as an encore or running up the star spangled banner outside their bandroom when they get back home.
This year 20 bands will get to grips with 'Music for Battle Creek' by Philip Sparke, and it should prove to be one heck of a test. It could well make it a day to remember. 11 of the top 14 bands in the world are on show, with all but 2 in the top 28 in the world rankings. The number 1 ranked band, Cory come looking for their second 'Double' since the turn of the Millennium after their thrilling win at the British Open, whilst the bands who filled the remaining top six places at Symphony Hall are here to try and stop them, plus seven others from that day.
There are also five bands from Yorkshire, perhaps indicative of the overall strength of the region and three from Wales, so getting into the top four brings it rewards too.
Given the nature of the piece much will depend on the strengths of the bands 'cornermen' – especially the principal cornet and euphonium. The hurdles to overcome are very high indeed (and the highest of all comes very early in the piece for the duo), so it should come as little surprise that the smart money has been placed on the bands that have the recognised star performers in those positions.
That may well mean that we will not be in for a shock result this year (although not even the very best players are immune to slips on the Royal Albert Hall stage), and the bookies in Kensington will surely be shortening the odds on the big five that filled the places at Symphony Hall just a month ago – Cory, Black Dyke, Fodens, Desford and Grimethorpe. Others may fancy their chances, but for many people it is hard to see a winner emerging from outside this nap hand of bands.
There are of course high class performers and quality bands apart from these five contenders, with the likes of Hepworth, Brighouse and Leyland in particular all with their backers. But when really was the last time an outsider took the title here from under the big boys noses? Leyland in 2005 perhaps, but they were not a real outsider. CWS Glasgow in 1990 then? A shock doesn't come around very often here.
No. This one has the look of being a battle of the big guns – the bands with the real performers who can produce fantastic playing under the most intense of pressure.
The Big Guns

Cory come looking for that 'Double' victory and should be full of confidence after their win at the British Open. They have some wonderful solo players too, especially on cornet and euphonium, so that massive obstacle that appears at bar 13 and reaches such an immensely difficult climax ten bars later should be overcome without too many difficulties. If they are firing on all cylinders then they could be hard to beat.
So too Black Dyke who are still smarting after missing out on an historic hat-trick at Birmingham. They certainly have the personnel as well as the drive to 'Live the Dream' as they like to say (very American that). If it clicks then they too should be confident of regaining the title they last won in 2004.
Grimethorpe too. Who can overlook their team of talents and the magic man in the middle here? The force was very nearly with them at Birmingham, but you feel they are looking forward to this one even more. Mr Withington also has the habit of winning Nationals in pairs, so it would be foolish to bet against them doing just that this weekend.
Fodens Richardson were back to their best at Symphony Hall and with their line up of solo performers this piece could be right up their street. They have all the ingredients in place you sense – all they need now is a pinch of good luck and to play to top form and they could be crowned champions once again.
Desford are back – although perhaps not quite with the forcefulness that so marked them out here in the glory days of James Watson. They are some band now and with such cultured solo players backed with a formidable ensemble they could well be right up there come the results.
So too Hepworth (Crookson Homes) – if they play to their strengths and don't try to mimic the leviathans. What they do best may not seem to be the right thing to do at the Albert Hall, but if they can control the urge to try and blow their way to glory and instead concentrate on producing another high class, immensely detailed and precise performance then they could well feature highly.
Brighouse may be better off doing the opposite – for when they blow they really can thrill the pants off you. Much will depend on their young soloists really hitting their peak but if they do then they have the basic ingredients in place to more than make a significant mark on the prizes.
Leyland will also fancy their chances of doing well (and they have shown in the last couple of appearances here just how well they can do). Again, much will depend on them harnessing the talents of their soloists to their undoubted ability to make the music flow. If the two elements come together they could well be another band capable of taking the title back home with them once more.
These are the bands for us that should be capable of producing the type of performance that will overcome the technical as well as musical obstacles put in place by Philip Sparke's score and make a real impression in the box. However there are plenty of others that could well spring a surprise or two.

Surprise winners?
Whitburn perhaps rode their luck a little in coming 6th at the British Open but they have a fine ensemble sound and solid soloists. Add to that the presence of Steven Mead (who knows a thing or two about Battle Creek itself) and you may have a dark horse on your hands. The other Scottish contender is Kirkintilloch, and they will surely be looking for a better return than Birmingham when they ended up rather unluckily bottom of the pile. Plenty of talented players in the ranks and at the helm - this test piece may suit them a lot better.
PolySteel found out in Birmingham that there is a great difference between thinking you have played a good show to actually doing one. They are a very solid outfit though and the experience may well have done them good. This could also be a piece that favours the almost American bravura of the band and their MD, so watch out.
YBS showed a great deal of character at Birmingham and if they can couple that with a bit of Barnum big top showmanship from the MD then they could feature. The quality soloists are in place in the key positions too, so it would be wrong to right off their chances this year.
The two Welsh contenders, Tredegar and BTM have show in the past that they are strong and competitive outfits, but the former is still very much on the building curve whilst the latter can blow hot and cold, but not quite red hot enough at present to push into the prizes. Both should be confident of holding their own though.
The same goes for the Londoners of Aveley & Newham and Redbridge. Aveley showed a welcome return to decent form at Birmingham and will be looking for more of the same whilst Rebridge return to the scene of the finest performance in 2005 when they came home in 7th place. A top 10 place may be beyond both on this occasion but both bands could have enough about them to take a few scalps at least – and who knows?
Staffordshire are a band very much on the up and have shown this year that they are well prepared under Michael Fowles. Whether that will be enough here may be debateable but there is quality in the ranks. So too Mount Charles who worked their socks off to make it to the finals and have a superb attitude to match their desire to make the most of their resources. This could be a test for both bands, but they could well surprise a few.
Finally, Reg Vardy and EYMS from the North East. A few years ago Reg Vardy were close to winning the contest here, but are now in need of a good performance, let along a good result to boost their fragile confidence. Birmingham was an encouraging start and if they can add to that here then a top 10 place is not beyond them at all. EYMS should be enjoy the occasion and have the wily experience of Jim Davies at the helm. Talented players fill the main seats too so they could shock more than a few rivals if they really hit top form.

4BR Prediction:
With all the bands accounted for then, whom do we fancy to take the title? As we have said, it is hard to see further than one of the top five from Birmingham doing it here, with Cory, Black Dyke and Grimethorpe the clear favourites once more.
After such a long wait we think Cory may well be on a roll and we opt for them to take the title by the shortest of heads from Black Dyke and Grimethorpe. After that Fodens, Hepworth and Leyland should have the quality about them to battle it out for the rest of the top six places with YBS a dark horse. Brighouse, Desford and PolySteel should fill up the rest of the top 10 if they play to form.

1. Cory
2. Black Dyke
3. Grimethorpe Colliery
4. Fodens Richardson
5. Hepworth (Crookson Homes)
6. Leyland

Dark Horse: YBS

Top 10 finishes: Brighouse & Rastrick, Desford, PolySteel.