2007 National Championships of Great Britain - Retrospective
24-Oct-2007
Grimethorpe take the National for a second year running - and by quite a margin too. Anyone disagree?
---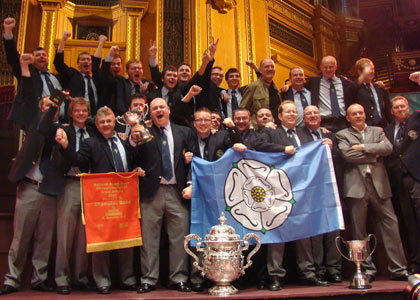 Celebrating a comprehensive victory: Grimethorpe enjoy the double

It's not often you can say something with just about complete confidence that you are not going to be contradicted in anyway (especially after a brass band contest): Grimethorpe won the 2007 National Championships of Great Britain by a margin.
Up until they took to the stage as band number 18, Fodens Richardson and Cory were battling it out for the title after delivering two high quality performances. Then came Grimethorpe and made them both sound prosaic in comparison. That they won by two clear points perhaps didn't quite do them enough justice, although 198 points ain't bad in anyone's book: This was a comprehensive victory.
Earlier in the day the anticipation levels were high as people milled around the old Kensington cake tin awaiting the draw. Many bands reported that they were playing well and that the piece held few problems. How wrong that turned out to be.
Hepworth on their debut at the contest drew the shortest straw of all (although they can now say that they gave the world premiere of Philip Sparke's fine test piece). The rest of the fancied pre-match favourites were spread out throughout the day with Fodens at 6, Cory at 11, Dyke at 13, Grimethorpe at 18 and Brighouse at 20. With a break coming at the halfway point for a cup of tea and a quick natter there was enough to keep people happy from start to finish.
The contest however took until the halfway point to finally burst into some sort of life.
Hepworth (Cookson Homes) opened up proceedings with performance of 'Music for Battle Creek' that had enough quality about it to make it a good marker. That was about it though and as the day wore on it was overtaken by performances that displayed a little bit more verve, precision and dynamic contrast.
16th place was a touch harsh perhaps (we had them in 13th) but they will now know exactly what they will need to do here in future – and they will be back we are sure about that.
EYMS meanwhile were the first of a number of less fancied pre-contest bands that certainly played above themselves. Jim Davies had certainly worked his players hard in preparation that was for certain, and they responded with a performance of character.
It may have lacked consistency at times (the Elegy just fell away in terms of quality) but overall it was the best we have heard from them in a very long while and held a great deal of promise for the future. They must have been delighted with 12th place overall (we had them 14th) but there were real signs that they are now becoming a force once more.
YBS were the first band to really make an impression with a high quality performance that fully deserved its eventual reward of 5th place (same as 4BR). No praise high enough for the MD Richard Evans who for the second successive major contest sacrificed any crowd pleasing showmanship and concentrated on the nuts and bolts of putting together a performance of merit.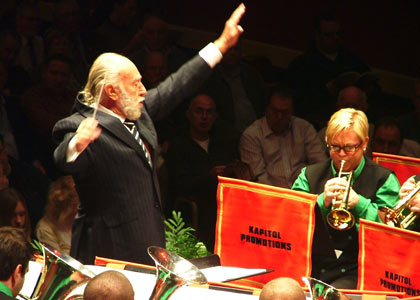 Evans above: Richard Evans leadds YBS into a well deserved 5th place
Picture: Steve Jack

Solid soloists (Morgan Griffiths was outstanding) and compact ensemble worked well until the last third of the piece when fatigue and possible inexperience just took the gloss off a little. YBS are certainly on the road to recovery if this was anything to go by.
Much had been expected of Desford Colliery, but late in house problems in respect to the solo cornet seat must surely have cost them valuable preparation time.
MD Nigel Seaman once more produced a cultured reading of the score, but whereas in Birmingham it was so musically satisfying here it just sounded a touch over controlled and lacked the necessary sense of American verve and 'can do' bravura that the composer so tried to portray in the score. The end result was a performance that had quality aplenty but also just needed a touch more star spangled razzmatazz. 10th place was what it got and what it deserved.
Following their encouraging performance at the British Open Aveley & Newham once again showed that they are slowly but surely approaching much more consistent form under Nigel Taken.
Overall it lacked the quality found in the bands that finished above them in precision and detail, but they battled through all the way to the end, occasionally showing glimpses of class (best timp player of the day) and generating true excitement in the Rondo Finale. They will be pleased with 14th we think (we had them 16th) and they are another band who are slowly returning back to their best after a difficult year.
With that came the first outstanding performance of the day.
Garry Cutt and Fodens Richardson laid out a real top notch performance, full of life, colour, and texture – all made possible because they adhered to the tempi and the dynamic markings in the score and had a fistful of solo performers on the top of their game to go with a bass led ensemble of the highest quality.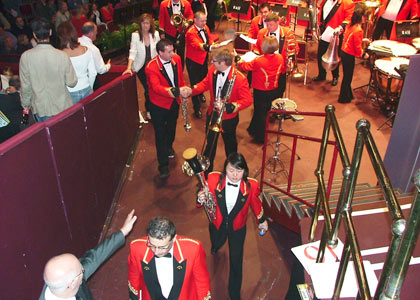 Well done! Fodens leave the stage and in the lead
Picture: Steve Jack

The opening Prelude and Toccata had it just about all in spades, whilst the Elegy contained some wonderful quiet playing and solo lines (Glyn Williams and Mark Wilkinson on particularly fine form throughout). The Rondo Finale had lashings of excitement and quality playing and although they had some noticeable slips throughout it was in a different league to anything that had gone before – and nearly all that were to come. 2nd place was fully merited.
Listening to Reg Vardy is at present listening to a band that seems to have had all its self-confidence drained out of them. It says a great deal of their character that they were still able to produce one of the best Elegy sections of the day, but the two outer movements were nowhere near the same quality in comparison and that cost them dearly.
It remains a mystery to why they are seemingly incapable at present to be able to play with any sort of extended consistency, but something is wrong and needs sorting out as they can't carry on gaining results like this. 19th place may seem harsh (we had them 17th) but no real complaints. The year can't end soon enough.
The same goes for Kirkintilloch. What promised to be a year to remember after their fine Regional win has turned sour after another lack lustre performance. A terrible opening took time to recover but the quality of execution was uneven throughout and somehow it never quite sounded at ease in the ensemble or in some solo lines. There were hints of true quality at times in the Elegy but a messy Rondo capped off a pretty underwhelming performance from the Scots. They had no complaints we feel with 17th place (we had them 19th).
Mount Charles then delivered the third poor performance in a row which struggled just about from the word go and never sounded as if it was going to do anything other than come in the bottom three, and eventually came 20th (same as 4BR).
Andy Duncan worked hard to try and coax quality playing out of the band and there were hints in the Elegy that they were finding it, but the outer movements showed up the inherent structural weaknesses and they fell away badly towards the end. Mount Charles sounded a band in transition here, so perhaps next year will hold out plenty of hope as they were quite a way off the pace on the day.
That just left BTM to round off the first half of what was proving to be a slightly disappointing contest so far. Fodens were top class no doubt and YBS very good, but the rest were varying degrees of average and below.
The Welsh outfit certainly played above themselves and delivered a performance of real merit under Jason Katsikaris. A poor opening statement didn't perhaps promise much but a well worked duet cadenza led into a Toccata that was full of brio and verve and with one of the very few soprano players in Meirion Davis who nailed two top E's like shelling peas in pod.
The following Elegy also contained plenty of quality playing too and by the time they had whipped through the Rondo with more bravura execution (especially Jonathan Pippen on trombone, who was perhaps the best of the day) they had certainly made people sit up and think.
The overall quality of tone at the extremes of the dynamic range still lacked the depth and quality of the bands who eventually finished above them and there was a little bit of camouflage work going on at times, but it was an enjoyable performance that made the music come to life. 7th place was well deserved (we had them 9th) and there is rich promise here for future success, perhaps at Pontins in a fortnight's time if they play like this again.
The 15 minute break gave time to take stock. The piece was certainly sifting out the best from the rest (although there were at least 6 'rest' performances in the first 10 we heard). The fiendishly difficult unison duet cadenza was proving to be just that too and as the day developed not one combination from any of the bands completely nailed it in terms of symmetry. The Elegy was also taking more than a few prisoners (again, many overplayed it) and the finale only came to life when the tempo was strictly adhered to – anything over minim = 125 lacked clarity, even from the best bands.
At the halfway point we had Fodens by a margin in the lead from YBS and then BTM a furlong or two behind them.
Back to the contest and Cory. The British Open Champions delivered yet another high class performance full of trademark detail and precision in the outer movements, and an Elegy that really had the time and space required for the music to unfold with calmness. The central luminoso section also had that ethereal brightness that so many rivals lacked on the day, so how come they didn't ever quite sound as if they had done enough to win the contest?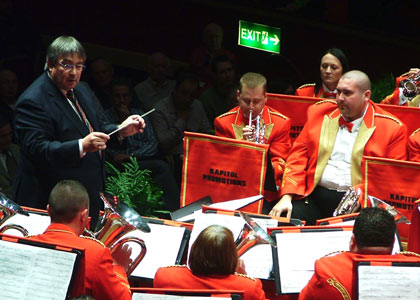 Not quite a winning exit for Bob Childs and Cory on this one.
Picture: Steve Jack

Perhaps the answer lay in the fact that their usual impeccable team of soloists didn't all quite play to form – not even David Childs who perhaps over phrased the euphonium solo in the Elegy and made a simple line sound slightly too complex. Add to that an opening cadenza that was workmanlike rather than stunning and later solo motifs that just didn't quite come off and they had left the door open to be beaten –and beaten they were. No complaints we feel in coming 3rd (same as 4BR), but this was not Cory quite at their stunning best.
PolySteel had the task of following on Cory and for the most part delivered a well worked out performance that was heading for a top 10 finish until they lost focus and quality of execution in the Rondo finale.
Up until then MD Philip Harper kept a tight rein on the over exuberance that proved so costly at Birmingham and was rewarded with solid ensemble and solo lines, (another great sop too) whilst the musical approach to the Elegy was persuasive if not always 100 % secure. The Rondo though just unravelled too much to keep the standard up and although it was exciting the consistency was lost and it faded away somewhat. 11th place was what it got and what it deserved we feel (we had them 12th).
If ever you want to know how comments about a performance can get out of hand then you only had to listen to some of the responses to Black Dyke's show. There were too many we heard who felt it was rubbish just because they had noticeable major individual errors, and totally ignored the fact that for 95% of the time the playing was just about good as you could have heard all day.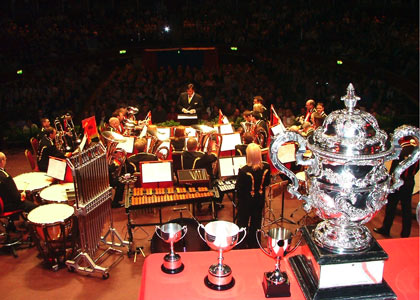 As close as they got: Black Dyke miss out on the silverware
Picture: Steve Jack

Richard Marshall didn't have the best of days on principal cornet (and fair play to the man he made no excuses either). There was no sticky valve or 'frozen' trigger as some suggested. He just didn't feel comfortable and took time to get things back on track. He was disappointed of course (although he was not alone in the Dyke performance which was blighted by too many nasty individual errors in solo lines) and overall these cost them any chance of victory or a podium place.
Take away those though and the ensemble work at times thrilled your pants off with a lovely Elegy and a Rondo that was perhaps the best of the entire day. 4th place was a touch fortunate perhaps (we had them 7th) but suggestions that it deserved to come outside the top 10 were ludicrous. There was still too much class about it and we still felt that it was a real dark horse to come the results – and so it proved.
With the audience still chattering away about what they had just heard Redbridge came and went without really making any sort of impression either on the hall or the box in coming 15th (we had them 18th).
As with nearly all the bands in the bottom third of the results they had too many structural problems in each of the movement to have made anymore of an impression than they eventually did, and a distinctly average performance got just about what it deserved.
Leyland and Russell Gray certainly tried to make an immediate impression with an over stylised opening statement that sounded as if the whole cornet section was playing a different rhythm to that written on the score. They couldn't have leant on it more if they had played it off the Leaning Tower of Pisa.
The experiment of getting principal cornet Andy Lord to sit over with Brenden Wheeler never came off either and so by the time they did find their feet the band had too much ground to make up both musically and technically. A typical musical Elegy brought things back on track but a variable Rondo meant the end of any chance of Leyland coming home higher than they eventually did. 13th from the judges 11th from us, but a lesson learnt we think – there was no need to over complicate an already complicated score.
That left the final quarter of the contest. Fodens were still out on front, closely followed Cory but neither had quite done enough to close the doors on their rivals. Could any of the remaining five beat them?
Not Staffordshire under Michael Fowles, who delivered a workmanlike performance that certainly made the most of the resources available to the MD, but never suggested that it was destined for anything more than a midfield placing.
The high tempo at the beginning may have cost them a few too many points but they could count themselves a touch unlucky to still have ended up in 18th place (we had them 15th) after a performance that had more plus points than minus ones for sure.
Whitburn on the other hand really did set out their stall with real intent from the start (with Steven Mead in shirtsleeves too). A cracking opening movement was perhaps one of the best of the day, and despite some noticeable flaws in some of the solo lines (which perhaps cost valuable points in context) in the Elegy there was a real sense of musicality to the picture created.
The Rondo finale also had control and clarity too (and was bang on the metronome mark from start to finish) and so by the time they rounded it off with a fine close we felt they had more than done enough to claim a top six place (we had them 6th eventually to the judges 9th). It was not to be though and they can count themselves a touch unlucky after delivering a high class show that deserved a bit more reward than it got.
Grimethorpe came, delivered and won – and in some considerable style. All day we had been waiting for a performance such as this, and we got it – in spades.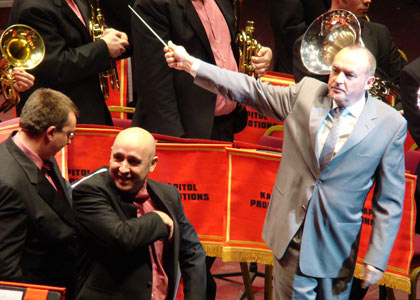 Now where's my wallet? Roger Webster gets ready to splash out on some celebratory drinks

A classy opening led into a high quality duet cadenza and then the wow stuff. It was virtuoso playing. The Elegy was sublime. Michael Dodd played out of his skin whilst the control of the dynamics was breathtaking with the tranquillo and subsequent luminoso simply stunning. By the time they whipped through the Rondo with such clarity of purpose, breathtaking verve and sumptuous style it was all over bar the prolonged shouting from the hall.
No praise high enough for the MD who kept everything under such control, or the solo players who performed with rare class, or the ensemble which at times just bewildered the senses. This was playing of the very highest class and was unbeatable on the day – or most probably any other day for that matter. They won by a veritable furlong or two.
Tredegar had the unenviable task of following Grimethorpe on, and to be fair did themselves proud. A solid start was followed by more purposeful and committed playing in the opening Toccata before they really shone in the Elegy with some of the best playing of the day. Euphonium player Darren Morris was up there with the very best and the quiet stuff in the Tranquillo and Luminoso was very nearly of the same quality too.
A slightly tired Rondo when the need for a stronger bass led foundation was evident just cost them the chance of coming higher than 8th (we had them 8th too), but given the transition they have had to go through in the past year or so this was a most encouraging result. The Welsh regional next year will be a contest to savour if both BTM and Tredegar improve even further on this form.
That just left Brighouse & Rastrick under Alan Morrison and a performance very unlike anything we have hard from them here in recent years. This was a high class show, perhaps strangely for a Brighouse performance, a touch bland and lacking in raw verve and excitement at times – but all the better for it too.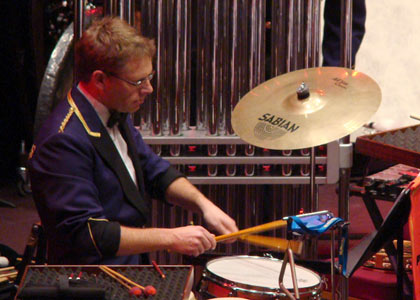 Roll up, roll up: Brighouse bear arms to come home in 6th place.

Lots of confident playing from start to finish, but nothing overdone (despite the pointless standing up of the trombones at the end). The MD kept an admirable tight rein on tempi and dynamics and as a result there was a glossy feel to the ensemble sound and the chance for his talented soloists to really show off their wares without having to blow the roof off.
The finale Rondo perhaps robbed them of any chance of coming higher (we had them 4th to the judges 6th though) as it lost focus and clarity but this was a performance that had so much to admire about it that you could have been forgiven that you were actually hearing Brighouse at the Albert Hall at all.
It was an intelligent performance from an intelligent MD and fully deserved its reward.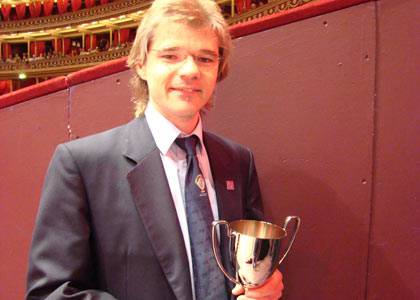 Star Soloist: Michael Dodd holds onto his personal trophy

That was that then and 40 minutes later, after Dyke had delivered an enjoyable little mini concert came the results. No real gasps for Brighouse or YBS (although there was a squeal or two from a few YBS supporters in the hall – just like the old days), before Dyke's fourth place did see a collective intake of breath.
Cory in third place was received with a quiet acceptance and so too was Fodens in runners up – everyone knew by the that they wanted to hear the name of Grimethorpe announced as winners. A bit of a wait for the Coldstream Guards to pump out the fanfare and for Michael Dodds to receive his well deserved Soloist Prize (he must have been sitting in the top tier of the gods) before the inevitable – and Grimey as champions once again.
As we said – we don't think anyone would have disagreed that they were worthy champions and champions by a fair old margin too.
Iwan Fox.