2007 Pontins Championships - Fourth Section
29-Oct-2007
The Fourth Section is always a bit of a delight and with a Welsh flavour to the music this year promises to be a cracking contest.
---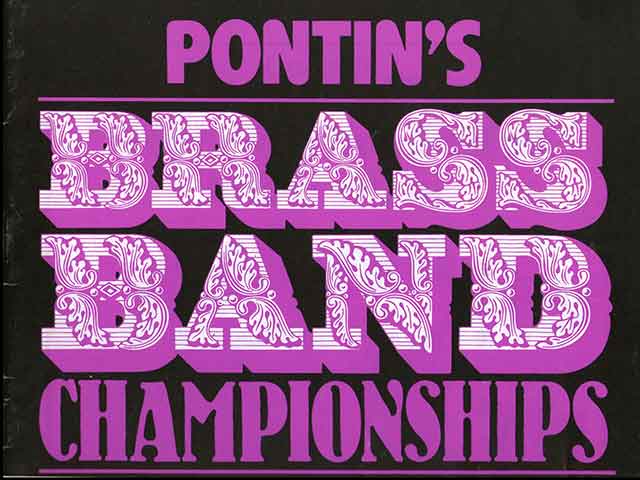 Saturday 3rd November
Venue: Lunars Hall
Draw: Pre-drawn
Commence: 9.00 am
Test Piece: A Cambrian Suite - Michael Ball
Adjudicators: Geoffrey Whitham & Rob Wiffin
First Prize: £1,750 + Commemorative Cup
Second Prize: £900 + Commemorative Cup
Third Prize: £650 + Commemorative Cup
Fourth Prize: £450
Special Award: Youngest Player in Section
Controller: Colin Morrison
---
The whole Pontins weekend commences with the Fourth Section. Always an enjoyable affair it is helped once again this year by a fine choice of set work in Michael Ball's 'A Cambrian Suite'.
Lasting around eight and a half minutes, it was commissioned jointly by Black Dyke and the Brass Band Heritage Trust, receiving its world premiere at the RNCM Festival of Brass in 2002. Not long afterwards, the work was used at the National Youth Championships and then as the 4th Section Finals piece in Torquay.
The music comprises of three sections: "Gwyr Harlech" (Men of Harlech), "Suo Gan" (Cradle Song, a delightful lullaby movement) and "Codiad Yr Hedydd" (The Rising of the Lark) all skilfully put together to provide a testing but not over demanding technical and musical challenge.
There are 14 bands who will take to the stage in Lunar's Bar on Saturday morning with Uppermill the only contender to recently compete at the National Finals at Harrogate.
With the exception of Newport Borough Brass from Wales and Arnfield Brass and Croft Silver (Midlands) the entries are entirely from the North of England with ten coming from the North West alone. 10 bands also took part here last year with the bands that came 3rd, 4th, 5th and 6th all back to see if they can claim the top honours.
Uppermill will have no doubt licked its wounds and dusted itself down from finishing 12th at Harrogate – unluckily it must be said. The one thing that won't have changed is Alan Widdop's self belief though and they'll go to Pontins looking to finish the contesting season with a win. Given that until Harrogate they have had a fine year with a win at Buxton, 3rd at Tameside and 7th at the Guild Hall (both in the Third Section) they should start as one of the favourites here.
Joining them from the North West is a group of bands some of whom have faired better on the contesting stage than others this year.
Besses Boys – a name very much linked to the past and now containing some fine female players didn't sparkle at Blackpool or Buxton earlier in the year but did take the honours at Tameside. They came 12th here last year so they will be keen to improve on that we are sure.
Blackley from north Manchester have had a settling in year if you like under Aidan Smith but they have had encouraging results at Brass at the Guild Hall (4th) and Tameside too (3rd). Meanwhile Denton Brass has been rebuilding solidly under the direction of under Jonathan P Davies. They came a lowly 17th here last year but since then have posted a fine second place at Fleetwood to go with solid returns at both Buxton and Tameside. They seem to be coming into form just at the right time.
Coppull and Standish will fancy their chances of doing well having come 6th last year. They have really improved their form in the past season, coming runners-up at both Brass at the Guild Hall and Tameside and putting in a solid performance to come 8th at Fleetwood in the Third Section.
Eaton Farnworth and Walkden under Peter Ashley will be looking for a good finish at Prestatyn after they came 11th here last year. They were 12th at the regionals but showed real improvement at Preston where they came 3rd. More of the same then hopefully for them.
Eccles Borough under Les Webb could also be a band to look out for too. Les has done a fine job in rejuvenating the contesting fortunes of the band and they just missed out on a trip to Harrogate and despite a poor return at the Guild Hall they came 4th at Tameside and then put in a fine performance to come 4th again at Fleetwood all in the Third Section.
Golborne came 4th here last year but didn't fair too well at the Regionals where they came a lowly 14th. They did show a timely return to form at Fleetwood though in coming 6th in the Third Section, so they may be back on track for another top six place.
Saddleworth based Greenfield came 7th at the regional contest in Blackpool earlier in the year and also showed ecent form in coming 3rd at Buxton. They were 13th here last year, so they will also be keen to post at least a top 10 result or better. Parr (Richardson) Ltd from St Helens didn't compete here last year and they've not done too much contesting of late, coming 15th at Blackpool and 7th at Buxton. Hopefully a decent result is on the cards here for them.
Arnfield Brass from Tintwistle in Derbyshire is a friendly community band that doesn't compete at too many contests but when they do, they have the ability to give a good account of themselves as they showed in coming 4th at Tameside earlier in the year. Also up from the Midlands are Croft Silver who came 5th last year but who didn't really show themselves off at the regional championship in Burton on Trent where they came13th.
Lofthouse 2000 represents Yorkshire and the Guild Hall winners will be looking to round off their year in style with a good result here. Lastly Newport Borough who are flying the flag for Wales. 14th here last year they came 10th at the regional contest in Swansea. 4th place at the recent Wychavon contest will have surely given them a timely boost of confidence though, so perhaps they may be celebrating a decent result on the weekend.
4BR Prediction:
With a field of well matched bands all keen as mustard to round off their contesting year in style, it should be a cracking contest. If things do go to form though then Uppermill may well put the disappointment of Harrogate firmly behind them and take the title. Others though may have a word or two to say about that, with Denton, Eccles, Besses, Coppull and Standish and Golborne and Croft all in with a real shout.
1. Uppermill
2. Denton
3. Croft Silver
4. Golborne
5. Coppull and Standish
6. Besses Boys
Dark Horses: Eccles