2007 Pontins Championships - Third Section
29-Oct-2007
Peter Graham's 'Northern Landscapes' is set to test 14 well matched bands on Saturday afternoon.
---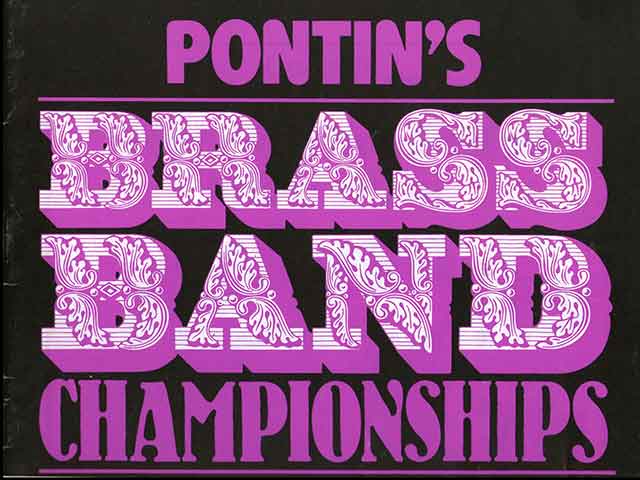 Saturday 3rd November
Venue: Lunars Hall
Draw: Pre-drawn
Commence: 2.00pm approx
Test Piece: Northern Landscapes - Peter Graham
Adjudicators: Jim Davies & Lloyd Landry
First Prize: £1,750 + Commemorative Cup
Second Prize: £900 + Commemorative Cup
Third Prize: £650 + Commemorative Cup
Fourth Prize: £450
Special Award: Youngest Player in Section
Controller: Colin Morrison
---
14 bands take to the stage in the Third Section on Saturday afternoon and there are some pretty good ensembles on show here to make this into a contest to savour.
Hopefully, the bands have enjoyed rehearsing 'Northern Landscapes' by Peter Graham, which was the Regional set work for this section in 2003. The four movements portray musical pictures of the 'North' and there's plenty in the work for soloists and ensemble. Flugel and euphonium players will have earned themselves a well earned drink in the bar afterwards. It's an enjoyable piece to play and to listen to and is well within the capabilities of these bands we are sure.
Eight bands compete from the North West headed by last year's Fourth Section champion Oldham Band (Lees) who were strong contenders for the Third Section National title in Harrogate not so long ago. John Collins and his band came close (as they did last year) to taking the National title (they came 3rd) and the one thing that you can guarantee is that the work will have gone in beforehand. With wins at the Guild Hall and regional championship at Blackpool, as well as a runners–up spot at Tameside they could well be the band to beat.
Joining them are another strong contender and form band of 2007, Flixton who've gained a reputation as a very solid contesting outfit in the last few years. Iain McKnight has recently taken over the reins of the band taken over and they got off to an excellent start at Fleetwood in early October taking the honours in the Second Section to back up another fine win earlier in the year at Buxton. 3rd here last year, they should be in the mix once again we feel.
Flixton's old conductor (although not in age we hasten to add) Kevin Gibbs has now taken over the reigns at BMP Goodshaw so it'll be interesting to see how things are settling down there after a pretty average year of results so far, including 7th place at the recent Fleetwood contest.
Pemberton Old JJB Wigan under Peter Ashley meanwhile are another band who are more than capable of giving the judges something to think about having come 4th at the regionals in Blackpool. They also came 3rd at Brass at the Guild Hall and 6th recently in the Second Section at the Fleetwood Contest. 6th last time out here they will be keen to head for the podium places at least.
Whitworth Vale and Healey is another band that wasn't too far off the mark at Blackpool coming 7th and the did very well at Butlins earlier in the year when they came 3rd. 2nd at Brass at the Guild Hall and runners-up here last year shows theirs quality, so another high finish may be on the cards of they play to form.
Completing the line of bands from the North West are City of Chester and Hawk Green. City of Chester is a busy band on the concert front, but not so on the contesting stage this year and they came 10th at the Regionals. Meanwhile Hawk Green came 6th in the Second Section here at Pontins last year and 9th at the regionals, although they did show some decent form in coming 3rd at Buxton.
It's terrific to see Littleport making the long rip up from London & Southern Counties and discount them at your peril. They are a capable outfit as 3rd place at Stevenage in March demonstrated. So too Coalburn who are flying the flag for the Scots and who came 10th not so long ago at the Land O' Burns Contest where they beat three First Section bands in the process in a field of bands that included championship outfits too.
Barton may well be the other 2007 form band to look out for here after they produced a wonderful performance at Harrogate to take the runners-up spot in this section under Richard Evans. Richard isn't at the helm this weekend but 2nd place at Buxton shows that there is something about them at the present time that could well prove exciting come the announcement of the results.
That leaves Skelmersdale and Emley from Yorkshire. Emley are led by the excellent Gary Hallas who have had a bit of a quiet year on the contesting scene so far, so should be champing at the bit here whilst Skelmersdale came 8th here 12 months ago and 11th at the regionals so both will be looking for some confidence boosting results here. .
Lastly Newhall and Wellington (Telford) from the Midlands. Wellington (Telford) played well enough at the Nationals in Harrogate but could only come home in 12th place, although they were pretty good in qualifying in Burton on Trent, whilst Newhall were 18th here last year, but had an encouraging result at the NEMBBA Contest earlier in the year where they came 4th.
4BR Prediction:

An interesting contest to look forward to here with a real handful of bands more than capable of taking home with them the title. Oldham have shown fine form all year and will surely want to round off the year in style, whilst Barton, if they show the form they did in Harrogate will surely push them all the way.
Flixton are too good a band to ignore as well whilst Pemberton, Whitworth Vale and Wellington should fill the top six paces if they are on top of their form. Our dark horse is Coalburn from Scotland, who could surprise more than a few.
1. Oldham Band (Lees)
2. Barton
3. Flixton
4. Pemberton
5. Whitworth Vale and Healey
6. Wellington (Telford)
Dark Horse: Coalburn