2007 Pontins Championships - Second Section
29-Oct-2007
Lots of well matched bands in the Second Section all hoping to become 2007 champions.
---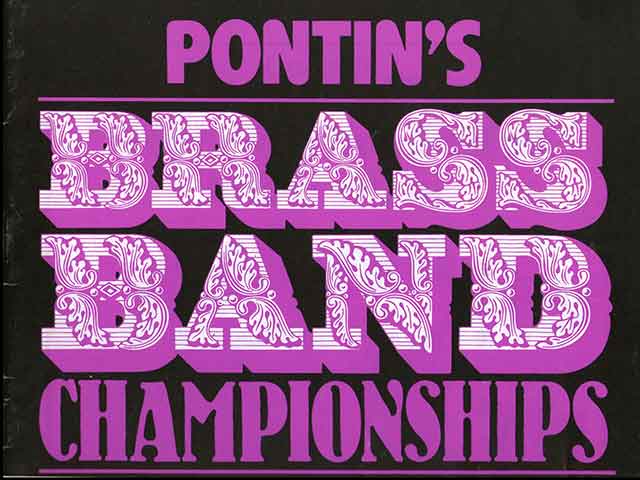 Sunday 4th November
Venue: Lunars Bar
Draw: Pre-drawn
Commence: 9.00am
Test Piece: Chorale - Ray Steadman-Allen
Adjudicators: Stan Lippeatt & Kevin Wadsworth
First Prize: £1,750 + Commemorative Cup
Second Prize: £900 + Commemorative Cup
Third Prize: £650 + Commemorative Cup
Fouth Prize: £450
Special Award: Youngest Player in Section
Controller: Colin Morrison
---
There will be plenty of quality bands on show bright and early on Sunday morning to tackle Dr Ray Steadman-Allen's 'Chorale'. Two years ago 26 bands competed in this section but last year saw just 14 compete and it's the same number again this time.
Why that is we don't really know as the prize money is great and the piece is well within the capabilities of the bands here. Perhaps the pre-draw has put a few off? Who knows?
There are three National finalists from Harrogate who will compete against one another and its the three bands who finished top of the pile in this contest last year: Kippax, Phoenix West Midlands Brass and Wakefield Metropolitan.
In terms of National honours, there wasn't an awful lot to choose between them with Phoenix 3rd, Wakefield, 4th and Kippax in 5th. If they all play to form again here then it will be cracking contest as all three are solid bands, excellently directed and all ambitiously on the up.
Kippax have had a great year so far with plenty of wins on their travels and are hell bent on defending this title we are sure, whilst Phoenix recently took the Wychavon title in fine style and will be looking to overturn last years second place here. Wakefield are one of the most consistent bands around too and with the experienced Norman Law at the helm they will be confident of moving up two places from last year and taking the title.

Outside of those three, five bands come to Prestatyn from the stronghold of the North West. Boarshurst, Greenalls, Old Hall Brass, Rainford and United Co-op 2000 Brass, know each other inside out when it comes to contesting and so there will be some pretty intense local rivalry to go with the claims for a Pontins title on the weekend.
It was Old Hall Brass and United Co-op who faired best out of the four at Blackpool in March. Boarshurst who didn't have their best day at Blackpool will be led on this occasion by soprano star Alan Hobbins and have a decent track record of results this year with top three places at Buxton and Tameside. Rainford warmed up for Pontins with a solid show at Fleetwood in early October finishing runners –up using this test piece.
Greenalls and John Ludden can never be discounted either on their day and have shown decent form from Brass at the Guild Hall where they came 4th to Tameside and Buxton, although they came 6th at the recent Fleetwood Contest.
Phoenix West Midlands aside, the Midlands region is also represented by City of Coventry and Oddfellows Brass. There wasn't much between them at the Regionals when they were paired beside one another in 4th and 5th places and that was the case earlier in the year at Butlins as well where they were 11th and 12th. Oddfellows used to be known as Unity Brass but their sponsor requested its name to appear in the bands title and as a result it is the name by which they now go under. City of Coventry recently came runner-up at Wychavon so that may be a timely boost to the old confidence.
Meanwhile, Holywell, Tylorstown Arriva Trains and Lewis Merthyr make the various tortuous trips across the winding roads of Wales to reach Prestatyn. No real impression off all three at the Welsh Regional this year where they came 7th, 8th and 10th respectively, but Holywell took the Guild Hall title earlier in the season, Tylorstown came runners–up at the Welsh National Eisteddfod and Lewis Merthyr took an encouraging 4th place at Wychavon recently.
That just leaves North East contingent, Dearham who is another band who if they play as they can, could easily find their way in the prizes at the end, especially if they can reprise their French Open form where they came a very well merited 3rd.
4BR Prediction:
We sort of hinted at who was our bet right at the beginning didn't we? For us, it will be a major surprise if Kippax, Phoenix West Midland Brass and Wakefield are not in the top three or four let alone the top six. They have shown good form all season and will be keen to round the year off in some style.
Rainford shouldn't be too far away and nor should Oddfellows Brass, United Co-op and Boarshurst. But lets wait and see what judges Stan Lippeatt and Kevin Wadsworth go for.
1. Kippax
2. Phoenix West Midlands Brass
3. Wakefield
4. Rainford
5. United Co-op 2000 Brass
6. Oddfellows
Dark Horse: Boarshurst