2007 Pontins Championships - First Section
29-Oct-2007
A competitive field lines up in the First Section all hoping to take away with them the title.
---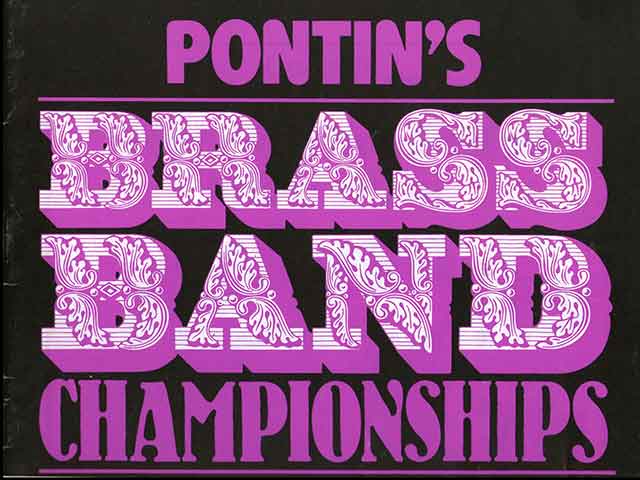 Saturday 3rd November
Venue: Fun Factory Ballroom.
Draw: Pre-drawn
Commence: 10.00 am
Test Piece: Sinfonietta For Brass Band - James Curnow
Adjudicators: Stan Lippeatt & Kevin Wadsworth
First Prize: £1,750 + Commemorative Cup
Second Prize: £900 + Commemorative Cup
Fourth Prize: £450
Special Award: Youngest Player in the Section
Controller: Frank Hodges

---
The First Section on Saturday morning will see the competing band's tackle James Curnow's challenging three movement work, 'Sinfonietta for Brass Band', that was the set work for First Section bands at the National Finals in Symphony Hall, a decade ago.
It could be a good litmus test to see if the overall standard of First Section banding has improved or not in the past ten years, for back then it proved to be an enjoyable but testing piece.
Adjudicators Stan Lippeatt and Kevin Wadsworth will have their work cut out with 18 bands to cast their ears over. There are plenty of decent bands here on paper with a number already booked into the Championship Section next year. The standard could be very high indeed if they all play to form.
Three of the bands here will renew their rivalries after competing at the Lower Section National Finals at Harrogate.
Jackfield Elcock Reisen from the Midlands will be hoping for better fortune than they had at Harrogate where they came 14th under the direction of John Maines, as will the much fancied Stocksbridge from Yorkshire conducted by Dave Nesbitt who had to settle for 9th place on the day. Perhaps only Northop Silver who delivered a fine account of themselves under Thomas Wyss to come runners up behind the impressive Pennine Brass played to form that day, so it will be interesting to see which of these three strong and well led bands comes out on top here.
Meanwhile, Chalford return as defending champions and having surprised a few at taking the title last year (4BR included) Steve Tubb and his band will surely be up for the challenge of making it two in a row. Didn't have the best of days at Torquay earlier in the year, but that was then and this is now.
In addition to Stocksbridge, Yorkshire's strong contingent comprises a four of Grange Moor led by Brighouse's euphonium star, Michael Howley, Hade Edge under the talented Simon Wood, Skelmanthorpe directed by John Roberts and South Yorkshire Police led by Andrew Dennis. All have had pretty decent years so far with Skelmanthorpe showing that they like the sea air (although it is hard to actually see the sea at both Skegness and Prestatyn when the tides out) by already taking the Butlins title.
Hade Edge are always a well prepared band and more than capable of pushing their way to the top of the pile and Grange Moor, although they didn't compete at the Regionals this year, have shown in the past that they are a very solid contesting outfit.

Meanwhile South Yorkshire Police has been promoted from the Second Section and whilst they didn't have the greatest of results in Bradford in March, they'll be looking to put on a solid show on Saturday. The White Rose county is enjoying a great deal of contesting success lately and this weekend could well see more.
For the North West, it's a bit surprising that only three bands are represented - Haslingden and Helmshore, Longridge along with Tyldesley, all of whom will be hoping for glory. Haslingden and Helmshaw have come back into the contesting arena over the past couple of years and have given very credible accounts of themselves on their travels. They played very well at Butlins in January finishing 8th and although they were placed in the bottom half at Blackpool in March they've enough about them to impress on the day.
Longridge has tasted good and bad times of late, but are now firmly back on the up slope it seems under the direction of the experienced Mike Cotter. Solid enough at Blackpool, they will be looking to make an impression here, especially after an encouraging show at Fleetwood recently. Tyldesley like Haslingden didn't fair too well at Blackpool either but led here by Faireys stalwart Brian Taylor you can be sure they will be well prepared and up for the fight.
The Midlands sends the largest contingent of bands across Offa's Dyke to do battle, with six strong contenders in attendance. As well as Jackfield, Bedworth, Ibstock Brick Brass, Shirley and near Derbyshire 'neighbours' Glossop and Tintwistle are all hoping to return home with at least a bit of silverware to their name. Bedworth competed at Butlins in January coming 9th and recently at Wychavon coming 5th, whilst the bragging rights at Burton on Trent went to Glossop who came 5th, ahead of Shirley (7th), Ibstock (8th), Bedworth (12th) and Tintwistle (13th).
All of them will have to be on the top of their game though against this field of competitors if they are to make a significant mark on the top end of the results table.
It's great to see Jersey Premier Brass making the long trip up to Pontins again. Jersey has had a meteoric rise through the sections in the past couple of years including a National title to their name, and although they are continually losing players to university life from the Channel Islands they continuing also to propagate a new generation of replacements almost as quick as the next crop of potatoes from their homeland.
That just leaves the one other band from the Principality. Thomas Coaches Mid Rhondda narrowly missed out on a trip to Harrogate and have had a reasonably impressive year with 4th place at Ebbw Vale and Porthcawl and a recent decent showing at Wychavon. They could fancy their chances of a top six place at least.
4BR Prediction:
We've told you who is involved, but whom do we think will be crowned winners on Saturday?
This is going to be a close old contest to call. Lots of the bands here can more than take this piece by the scruff of the neck and shake a winning performance out of it, but a lot of them may just shake the living daylights out of it and find themselves out of the reckoning.
Still, form and quality should tell with the top three perhaps a length or two ahead of the rest. It could be an intriguing battle for glory.
4BR Prediction:
1. Northop
2. Skelmanthorpe
3. Stocksbridge
4. Chalford
5. Glossop Old
6. Ibstock Brick Brass
Dark Horses: Hade Edge