2007 Pontins Championships - Harry & Margaret Mortimer Championship
29-Oct-2007
With a new winner guaranteed this year in the Harry and Margaret Mortimer Championship who will be partying on Sunday night after claiming victory on Philip Sparke's Partita?
---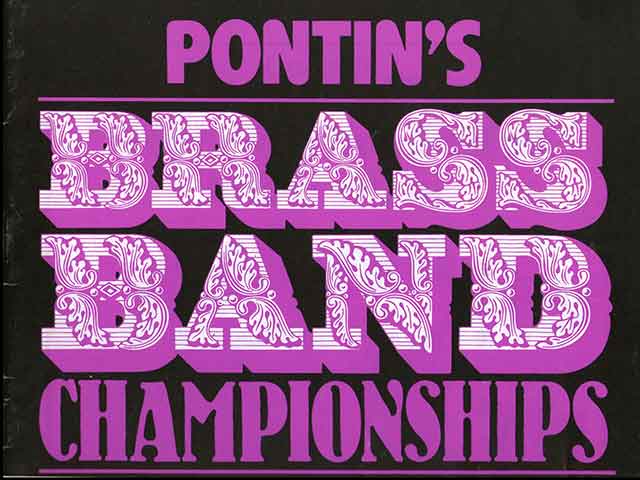 With the National Finals now out of the way the Championship Section focus falls on the Fun Factory Ballroom here at Prestatyn. Not perhaps the most appropriate name for a brass band contesting venue perhaps as the Pontins stage has always been one of the most difficult to play on over the years, but it does mean that the judges and the audience get to hear the performances in all their glory (or not as the case maybe).
No booming acoustic of the Albert Hall this to camouflage weaknesses and hide technical problems, but a good old fashioned dead as a Dodo hall with nowhere to hide. Good bands tend to sound good bands here and bad bands tend to sound – well – just that. It has a lot going for it.

It would therefore be great if the contest could attract the very best bands as it once did, and despite there being much to enjoy at this 34th running of the event it still has the feeling of being a bit like the brass band equivalent of the Football League Cup. Perhaps then the bigger bands should give it a second glance – especially as so many are pleading degrees of financial hardship these days. £2,500 for winning is a monkey more than you get in London, and you don't have to play against Grimethorpe, Cory, Fodens or Black Dyke. Do the maths.

Two of the bands who did have to compete at that level, BTM and Staffordshire have a quick turnaround in their preparation having competed at London, but you would be wrong to think that they would both come here under prepared after the exertions of Kensington. Reputations don't win contests – hard work does. Both will have done just that we are sure on this piece well before this weekend as they know both are more than capable of taking home the first prize.
There is not one British Open contender in attendance but there are a majority of bands on display who featured at the Spring Festival in May. Six bands competed at the Grand Shield, five in the Senior Cup and another six in the Senior Trophy. The only three competing here but not in the Spring Festival are Langley, Raunds Temperance and Wrexham.

Picking the winner is never easy and along with the Grand Shield this contest is still one of the toughest to call. Last year Staffordshire came to North Wales intent on achieving a hat-trick of wins. They came 6th on the day and so for another three years at least, Jones and Crossland remains the last band to do three on the trot here between 1983 and 1985. Interestingly the contest has also seen a number of top-notch conductors enjoy the Pontins experience and add this title to their CV.
David King won here back in 1988, and so too have Nicholas Childs, Garry Cutt, Richard Evans and Denzil Stephens – all winners of the British Open, Nationals or European titles. This year the daddy of them all conducts – Major Peter Parkes, so what odds that he will add this title to his CV?
The only certainty this year though is that there will be a new name on the winner's trophy on Sunday evening with last year's winners, Pennine Brass not returning to defend its title.

As we have said, BTM and Staffordshire put London behind them and make the trek here – with perhaps that little doubt about them retaining enough in the fuel tanks to push themselves ahead of the rest of the field. The quality is there, but is the stamina? That may be the only thing that stops either of them from winning.

Three other bands from Wales and the Midlands may have a thing or two to say about that though with Tongwynlais, Burry Port and Sovereign Brass more than capable of taking the title if they really hit top form.
Both Welsh bands are consistent outfits with Tongwynlais in particular showing on occasions this year that they can mix it in high class company. Burry Port are going through a little period of transition but are a fine band in the making whilst Sovereign can also punch well above their weight at times and have that added bonus of the Major to assist them in doing just that.

Fellow Midlanders Jaguar (Coventry), Langley, Raunds Temperance and Thoresby are all well directed solid outfits with plenty of ambition too. All should be more than capable of doing well on this work and could fancy their chances of podium places at least. Thoresby in particular could well be a real force here this year if they can hit top form.

Dalmellington, Lindley and Pemberton Old JJB have all had decent enough years so far contesting wise without really setting the world on fire but have shown on occasions that they can provide a strong challenge for the prizes whilst Bactiguard Wire Brass, Marsden Silver and Powerfuel Hatfield Colliery are three bands that have now found their feet in the top section and could be ready to make the next move up in class.
Fishburn meanwhile are an experienced band at this level and with Russell Gray at the helm (and after having time to work on this piece after failing to make it to London) could be a band to watch out for, whilst fellow North East rivals Tavistock could well be another too, with the talented Ian Robinson at the helm.

Parc & Dare and Wrexham have all shown in the past few years that they can more than hold their own and will fancy their chances of making a mark come the results, whilst Friary Guildford could also push their way further up the prize list than many would expect too.

Just before we give you our predictions, (or as some of you see it, the kiss of death) mention has to be given to the test-piece itself, 'Partita'. Credit must go to James Scott once again for picking a work that will certainly test the bands.

'Partita' was written by Sparke in 1989 on request of Eikanger-Bjorsvik Musikklag who at that time was the European Champion. There is more than enough in the three movements to sort out the best from the rest from the precision and detail required in the opening section to the real tour de force lip sapping work required by the main soloists in the second section and the vibrant fun of the third. It's a difficult work, but one that can be overcome in style – and that's what it is all about. Most of the bands will be able to pay the notes on this one – but only the ones with a touch of class will play them with the required style.
The best bands here should have that little bit extra about them in terms of quality and we think that should shine through.
4BR Prediction:

No real out and out pre contest favourite, but recent form may be a good guide and the one band that does stand out on that is BTM, who were very good in London.
If they can repeat that type of form once more (and they have had a run out on this work in the past few weeks) then the title could well be theirs for a third time. Running them close should be the likes of Marsden, Tongwynlais, Fishburn, Staffordshire and Thoresby with Sovereign as our dark horse.

1. BTM
2. Staffordshire
3. Fishburn
4. Thoresby
5. Tongwynlais
6. Marsden

Dark Horse: Sovereign