2007 Pontins Championships - Fourth Section retrospective
8-Nov-2007
One band stood out from the rest in the Fourth Section on a day when the basics were not always in evidence.
---
Thirteen bands competed for the Fourth Section title this year, and apart from two or three performances it must be said the overall standard was disappointing.
This was due to the fact that tuning, intonation and the inability to phrase more than a couple of bars together led to some disjointed playing which had not been adequately addressed prior to the bands taking to the stage here. You were in fact reminded that basic hymn tune and slow melody playing is a lost art form on much of the evidence of offering from this section. There were a lot of youngsters in these bands who needed direction from their MD's to start addressing this problem. Playing the notes is one thing – playing them in a coherent musical fashion is quite another.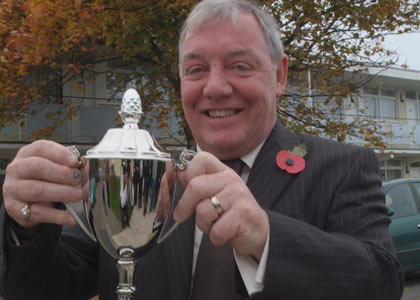 Cup Winner: Uppermill's Alan Widdop get his hands on the Pontins silverware
Picture: John Stirzaker

Having got that out of the way it has to be said the winners Uppermill were a country mile in front of the others, both in sound, technique and the ability to make the music come alive. On the evidence of this performance they are in the wrong section and they put the obvious disappointment of their recent trip to Harrogate well and truly behind them with a confident and competent display to take the title. It was richly deserved.

The contest itself got underway with Croft Silver who at times promised much, especially in the 'Cradle Song', displaying some nice contrasts, but overall it was too scrappy and 9th place was fair enough. Following them on Eaton Farnworth & Walkden for the most part gave a decent performance that was well directed. The first movement 'Men Of Harlech' was confident, but some loose playing in the last movement 'The Rising Of The Lark' spoilt it somewhat and 4th place was about right. Consistency once more was the crucial key here.

Meanwhile Coppull & Standish playing from the number 3 draw a good opening, but thereafter that it lacked conviction. Although the last movement had plenty of excitement it was scrappy and left the opinion that it really did not know where the music was going. 10th place was about par for the course.
Blackley came next but massive intonation problems throughout robbed their chances as at times the dynamics were carefully observed. Overall it was a performance that just had too many structural problems to have come any higher than it eventually did.
Eccles Borough however gave a performance that at times made you really sit up and listen. The playing was well balanced, but again just suffered with some poor intonation. The band recovered though to feature some fine playing from the trombone section, which enhanced the performance and 2nd place, was the result.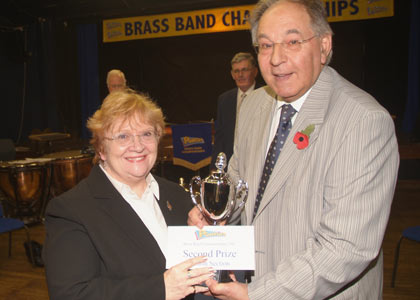 Eccles delight: Eccles take the runners up spot
Picture: John Stirzaker

This was a performance rich in promise if not always 100% accurate in execution, but one that showed that the basics were in place – something not too many others on the day could say with hand on heart.

Besses Boys followed and they too gave a performance of real merit in trying to create the musical picture. It was only really let down by a few lapses in concentration. This young band will surely overcome these errors in future as they gain in experience, but on this occasion 5th place was a fair result.
Meanwhile Arnfield Brass was like so many on the day, a mixed bag, good in the loud passages but weak in the quieter sections where problems with intonation meant that they had to be content with 8th place. There was evidence of good foundations in place though, even if on this occasion a few of the footings were a bit loose under foot.

Parr Richardson Band came next with a performance that summed up the overall standard of the contest - inconsistent intonation and variable dynamic contrast offset with some notable individual contributions – this time from a fine euphonium player who played very well indeed throughout. Once more the consistency, or lack of it was the key and they can't have had too many complaints with 12th place. Another band that just needs to get the basics under control and the progress will come, and come quickly we are sure.

Newport Borough Brass gave perhaps the most musical account of the day and fully deserved its eventual podium finish in 3rd place. There were many fine moments in the playing but lapses in tuning at times blighted a promising and well directed account.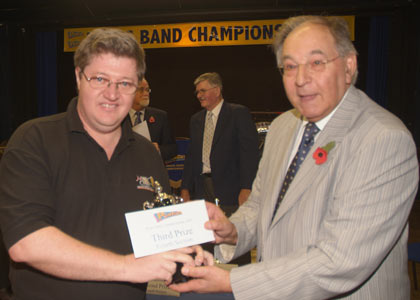 Promising result: Newport Borough take the final podium place
Picture: John Stirzaker

Then came what turned out to be the winning performance from Uppermill. This it has to be said was a performance well above Fourth Section standard for us on the day. Well shaped with the musical line always to the fore it was a performance that was well clear of the rest of the field. It was in a nutshell a different piece of music, sensitive when required and full of drive and feeling for the music. If points had been awarded then a four or even five point margin would have been most appropriate for Allan Widdopp and his band.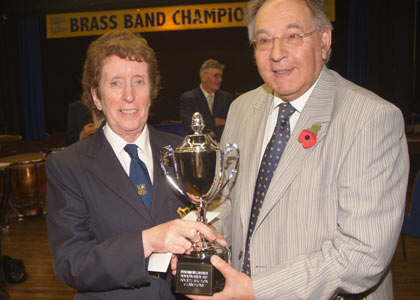 Winners! Uppermill take the first prize
Picture: John Stirzaker

Denton Brass had to follow on and to be fair they gave it a real go. Yes, they had some loose playing but the conviction to make music was also on show throughout with a well managed account that remained faithful to the dynamics from start to finish. A band on the up here we felt and 6th place could well be the start of better things ahead if they can keep playing like this.

Greenfield followed and although the band had a decent sound the overall performance was a touch bland and failed to create the required musical picture. A little more adventure would have helped as the potential was there to be heard. 11th place was the result – it could have been higher.

The last band to play Golborne also had some nice moments but did not quite have the conviction to push the performance to a higher plane. 7th place was fair enough on the day but this was another example of a band just in need of consistency. If they can capture that then there was plenty of evidence on show that there was a good band in the making here.

The award to the youngest player went to 10 year old Calum Jones from the Arnfield Band who told 4BR he started playing when he was 7 on cornet and really himself o the day. A great lad with a great future ahead we hope. Adjudicator Rob Wiffin presented the trophy to him and said without players like him the band movement would have no future.

Summing up the day the piece was enjoyable but apart from the winners it found most bands and musical directors out. Why some just bury their heads in the score and don't direct is beyond us though. They just seem content to beat time and don't try to bring the music out. When you have people unable to sustain two bar phrases you do wonder what and how the players are being directed by the conductors. Hymn tunes and slow melodies – an age old remedy to an age old problem. The evidence here showed that without them no band can ever hope to play any test piece.

David Tinker