2007 Pontins Championships - First Section retrospective
9-Nov-2007
Some wonderful performances in the First Section, but it was Skelmanthorpe who once again showed that they enjoy the sea air better than their rivals.
---
Saturday's First Section contest was certainly an enjoyable listen with a number of bands playing well and delivering some very musical performances. As adjudicator Kevin Wadsworth said afterwards, there were some wonderful performances and some interesting interpretations. He wasn't wrong.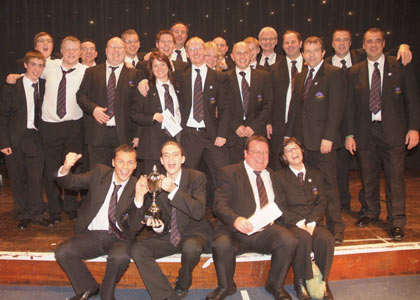 Oh we do like to be beside the seaside: Skelmanthorpe celebrate their win
Picture: John Stirzaker

The test piece 'Sinfonietta for Brass Band' was originally written for the US Army Band. The three movement work opened in majestic style followed by a delightful 'Sciliano' and final section marked 'Spiritoso' – enough said. Interestingly, there seemed to be references to Mussorgsky's 'Pictures at an Exhibition' and Gregson's 'Connotations' within the music – although it could just be 4BR and our thoughts, but some of the musical lines brought these composers to mind.
The bands that featured in the prizes were thoroughly worthy of being up there. Skelmanthorpe, Stockbridge and Northop Silver were the three who battled it out for the title, and although two eventually went away disappointed it was a very close run thing between them. On another day it could have gone another way.
For the judges Skelmanthorpe was the one they were most impressed by. Kevin Wadsworth gave some excellent stage comments about the piece and listening to him, you got an inkling that the title was destined for a Yorkshire or Welsh outfit.
Skelmanthorpe's victory here means that John Roberts' band has completed the 2007 'holiday camp double' after their early season victory at Butlins and the Mineworkers Contest. John Roberts is a cracking band trainer and conductor and he is creating a fine band under his command. The energy, the enthusiasm and the musical interpretations produced are certainly worth listening too – even at venues far removed from the seaside delights of Skegness and Prestatyn.
The band had drawn ten and the contest at that stage was certainly up for grabs. The opening was so bold, with excellent control and ensemble playing whilst the second section featured well rounded bass playing, percussion that blended in and some fine cornet work. There was a bit of an argument to say that the bass end may have been a touch heavy at times, but the music won the day here and by the time they fairly romped through the finale it was obvious this was going to be right up there come the results..
Was it beatable though? Of course it was and in fact, Stocksbridge and David Nesbitt came very close to doing just that. Eliot Darwin, the former Sellers International Principal Cornet, was a quality presence in the cornet ranks, whilst Kevin Donaldson on soprano just enjoyed himself, lifting the band when required.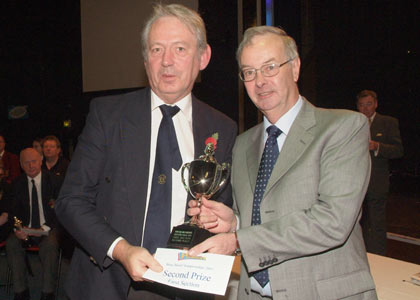 Nearly a winning smile: Stocksbridge take the runners up spot
Picture: John Stirzaker

Stocksbridge delivered with a tight ensemble throughout and the MD deserves credit for keeping a tight reign on the dynamics. This result once again reinforces the point that the South Yorkshire outfit are capable of mixing it amongst some excellent bands and their future looks very bright indeed.
Northop Silver and Thomas Wyss could consider themselves perhaps unfortunate not to have finished in either first or second place after a very impressive show that followed on from a cracking performance at Harrogate.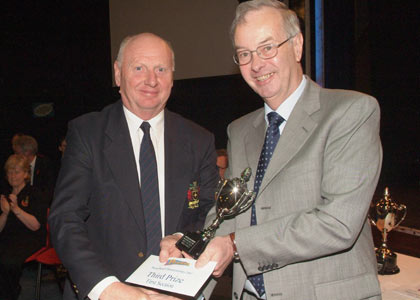 Home in third: Northoptake the final podium spot
Picture: John Stirzaker

Thomas Wyss gave the music so much time and space and nothing felt rushed or over the top in terms of tempo's or dynamics. The ensemble was tight and so musical and the closing section was bright and purposeful. If they had played a little later in the day their fresh approach may well have just pipped it, but it wasn't to be. A fine band in the making though.
Simon Wood's Hade Edge Band will surely have been elated to have finished fourth in this company. This is a young band - not that it never really showed on stage.
Simon had obviously given plenty of thought to the percussion parts and he positioned one of his percussionists at the side of the cornets, front of stage to have greater impact. Did it work? Yes it did and gave the performance a real zing at times. There were a few clips and slips but in the main, the ensemble was good and the balance of sound was controlled. After a couple of quiet years Hade Edge are moving back in the right direction.
Jackfield and John Maines was another band that put on an excellent show, although it didn't quite have the shine of the top three. Nothing was really over done and it was a tasteful reading of the score from the MD that eventually brought it into the top six frame.
Defending champion, Chalford finished sixth but it took them far to long to get into gear to make a serious impression in defence of their title. When they did in the final section, the chance of retaining their title had gone but they'll just have to put it down to one of those days at the office where it didn't happen when it mattered.
The final two bands really to make any sort of impression before the standard dropped were Thomas Coaches Mid Rhondda and Jersey Premier Brass. Both of them lacked that elusive level of consistency (how many times have we said that about the playing on the weekend?) to challenge the top three but they were rewarding performances nonetheless.
Ibstock Brick Brass played last on the day and from a bold start, the dynamics just became a little overdone and it needed to be dropped down a notch or two to have made more of an impression than it did in coming 10th. A great deal of the obvious good work was lost at times in the misplaced approach to the volume control button. The same could also be said of Tintwistle too - just lacking in overall consistency to have come any higher than 9th. Decent shows though from both bands.
Haslingden and Helmshore, Longridge and Shirley all played very early on in the draw (3, 5, 4) respectively and whilst all three showed they had the potential to deliver good musical readings they weren't able to knit it all together. None could be too disappointed with their overall result.
Brighouse and Rastrick's Michael Howley led Grange Moor's challenge and congratulations go to the MD for keeping things simple and not over-stretching the band. It never quite revealed enough of itself to come higher than it eventually did on the day, but the potential was there to hear for certain.
That just left, Bedworth, Tyldesley and South Yorkshire Police who all found the piece a little tough going. The First Section is new territory for South Yorkshire Police this year and they found it hard work as did Bedworth. Well done to Brian Taylor though, who like Michael Howley worked very hard to make sure his band played within its capabilities.
It was not an easy decision for the judges to pick out the winner in the end with those three bands we mentioned all putting a persuasive case for taking the top prize and the Pontins title. In the end though John Roberts knew the secret of what was required to win and his band responded in kind. It must have been something in the sea air.
Malcolm Wood