2007 Pontins Championships - Harry & Margaret Mortimer Contest retrospective
9-Nov-2007
Perhaps all eyes were on others, but it was Graham O'Connor and Powerfuel Hatfield that stole the show in the top section from under their noses.
---
Sunday's Harry and Margaret Mortimer Championships once again served up a feast of excellent music making. Philip Sparke's 'Partita', originally written almost 20 years ago for Eikanger-Bjorsvik Musiklaag proved to have lost none of its potency over the intervening years - it's still a cracking piece that tested the bands here to their limits and beyond.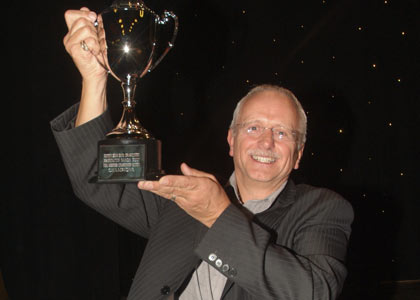 Three times a champion: Graham O' Connor does it again
Picture: John Stirzaker

The work is split into three movements with the last two being linked with no break. As always some faired better than others with the demands of the piece but all of the 20 contenders (it should have been 23 but three withdrew) gave it their best in a contest that last seven and a half hours.
Speaking from the stage and on behalf of his fellow adjudicator, Geoffrey Whitham, Rob Wiffin not only congratulated the bands for their efforts but made the point that they were looking for faithful interpretations without distorting the facts such as tempo's. The musical flow was vital in the second movement and for the third bands needed to be controlled when playing loud. Linking everything together with a musical appreciation of the composer's intentions was essential and they both duly noted any inconsistency in approach and execution. That perhaps explained quite clearly why they chose the bands that they did.
The Ballroom here is not very generous acoustically and some of the bands did go OTT with the dynamics. Some could be heard on the other side of town let alone the other side of the Fun Factory. Quite a lot of the loud playing verged on the brainless, and again, may explain why the judges plumbed for the bands that they did.
The overall result was an interesting one. The pre-draw had ensured that there was a number of quality outfits in the opening half of the draw and although there were some impressive performances, only two finished in the top six. Meanwhile in the latter stages enough bands had plenty of quality to give the judges something to ponder when they came to making their decisions. Mind you, some bands and their conductors were still mystified by their placing, others elated. That's band contesting for you though.
Take the eventual winners, Powerfuel Hatfield Colliery. Not perhaps the band on everyone's lips comes the results to take home the £2,500 top prize but a podium place without a doubt.
Four bands stood out for many in the 'top draw' category. In draw order these were Marsden, BTM, Sovereign and Powerfuel Hatfield Colliery. For 'very good' many listeners in the hall had (again in draw order: Staffordshire, Thoresby, Parc and Dare, Tongwynlais, Pemberton Old JJB and Bactiguard Wire Brass.
Lindley, Fishburn, Burry Port and Jaguar Cars and Friary Guildford were 'midfielders' whilst Wrexham, Langley, Tavistock Chester-le-Street Riverside and Raunds all gave commendable efforts but couldn't have complained abou coming in the bottom quarter of the results.
Powerfuel Hatfield Colliery were the declared victors though and fair play to Graham O'Connor and his band they produced a very musical show from the number 15 draw that certainly made a mark - there hadn't been too many performances before them with the consistency of quality on show here.
For those that read our previews we said before a note had been blown 'The one thing you'll always get with a band led by Graham O'Connor is a thoroughly prepared and musical performance. If they can play to form then they won't be too far away at the end of the results'. OK – we may be covering our backsides a bit after the contest, but we did say that before a note was blown. Perhaps we should have heeded our own advice then!
Graham O'Connor did exactly as we'd said in our preview. This was thoroughly prepared and very musical with tight ensemble, accurate tempi and in particular, a cracking middle movement that the MD admitted afterwards he'd been telling the band was key to the performance.
Trevor Kendall on principal cornet was excellent and so were the other soloists. What stood out overall though was the controlled dynamics particularly in the final movement – if you overdo it in the Fun Factory Ballroom it sounds horrendously loud but Graham and the band didn't and benefited accordingly in the box. You couldn't blame Graham for enjoying telling 4BR - 'Thanks for not tipping us' - the smile on his face said it all.
What a cracking way to spend a Sunday morning is what adjudicator Geoffrey Whitham has said previously in 4BR's presence at contests he's adjudicated at, and 'what a cracking way to open a contest' is the most apt way to describe Marsden performance right from the start. It was a most impressive marker and they couldn't have done anymore on the day.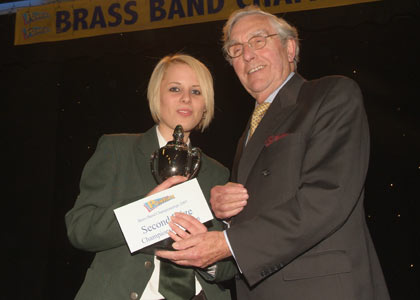 Nearly number 1 off number 1: Marsden take the runners up prize
Picture: John Stirzaker

It was an absolute cracker of a show - in fact, it practically left scorch marks on the ceiling such was the impact. The tightness of the ensemble, the dynamics, the musical thought that had gone into the performance beforehand all came to the fore and Marsden can consider themselves a touch unlucky not to have taken the title on the day. Jason Evans on solo cornet took the Arthur Bedwell Memorial Trophy as the Best Soloist, whilst Glyn Williams continued to show just what an impressive talent he is becoming with the baton in his hand.

Similarly, we could say the same sought of things about Sovereign Brass under the 'Major' – Peter Parkes.
Here he rolled back the years with a brilliant interpretation that just did one thing – let the music flood out. 4BR had heard that the band was 'up for it' (when collating the preview information) and they certainly delivered here. The overall sound was stunning, ensemble tight and precise great, the dynamics effective and space was given to the music particularly in the second movement which was the best of the day for us.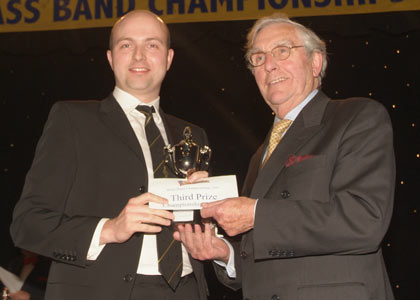 Nearly a bag of gold sovereigns: Sovereign Brass take third place
Picture: John Stirzaker

Claire Hutchinson was superb in the second movement as was Phil Green on Eb Bass who was one of the very few who nailed the difficult bass part. The band was rightly delighted with third place and it had a great deal to do with the man in the middle – age has not diminished his musical prowess in any way.
Friary Guildford under Chris King didn't make an impression on 4BR as potential top six material and we had them safely ensconced in our 'midfield' category. In retrospect though when it was good though it was excellent and this was evident towards the climax of the piece when the MD kept things pretty simple – he never stretched the band beyond its limits. On a day when plenty of others tried a bit too hard to impress with sheer volume this must have delighted the men in the box – it was intelligent direction from the middle.
Tongwynlais and Pemberton Old JJB both played very late in the day and both got just reward for their efforts. Tongwynlais under Gareth Pritchard gave the broadest interpretation of the day (perhaps a touch too broad at times as the music nearly lost its sense of flow). However, the ensemble was tight, the soloists on good form (Gavin Saynor on Eb Bass was superb) and the middle movement was effective on the ear. A quality end meant another top six finish here for an improving band.
Pemberton Old JJB was a 'very good' show for us that just suffered from a few nasty errors around the stand. However, it was well shaped by the MD Mark Peacock and the ensemble playing, tempi and dynamics were all effective.
Parc and Dare and Richard Evans put on a fine show that just suffered from nasty errors early. When it got into the middle and final movements there was plenty of quality to be heard with Richard coercing every ounce of effort out of the band. In fact Richard Evans' energetic movements caught the eyes of some ladies not too far away from where 4BR was sat and it certainly put a smile on their faces. You don't ever lose it do you now?
Paul Andrews opted for a slightly different stage layout for his Bactiguard Wire Brass troops with one row of the cornets in front of the trombones with the horns, baritones and euphoniums all compacted tightly together. It certainly had an effect with the precise ensemble work and effective tempi but the odd nasty error had an impact. Eighth for a band in their first full year in the Championship Section though was a very encouraging result.
Ian McElligott led Thoresby's challenge. Once again, credit goes to the MD for his interpretation and although it wasn't error free it was pushing for a top four or five place for the most part. Just as you thought it may turn into something notable though it just lacked that final layer of polish and it ended up as a fair half way marker.
Jason Katsikaris and BTM finishing tenth was a bit of a mystery to us. Full of confidence, aided no doubt by their recent performance at the Nationals this was a 'top draw' performance that won many admirers.
The ensemble playing was of a high class, whilst the tempo's, although a touch on the quick side energised the band. There was also some superb solo playing all around the stand from Katie James on bass to Jonathan Pippen on trombone - but it wasn't to be. Perhaps that insistence of a slightly 'bright' pace at times just didn't find favour in the box (and to be fair the judges did say they would be harsh on those who didn't adhere to the markings). Hard luck though.
Lindley, Dalmellington, Fishburn, Burry Port and Jaguar (Coventry) all produced pretty safe performances with each of them showing quality at times. As with other bands in other section all weekend though it was the little matter of consistency that did for them – either in execution or in tempi in particular. Sometimes there seemed a lack of coherent flow in some of the readings.
Lindley didn't always appear comfortable with the music but when they did, they were excellent, but Neil Jowett knew full well that pushing the band harder than he did wouldn't pay off. Russell Gray and Fishburn were steady as you go tempo wise right the way through and whilst there was some good work from around the stand, it wasn't always 100% and it needed to be much more secure in execution to have an impact. Caution is a fine enough approach, but it can sound a touch bland if the players don't realise that it allows a little more freedom for expression. That was certainly the case with Dalmellington as they promised much but didn't quite have either the confidence or the consistency to really make more of their chances.
Michael Thorne and Burry Port Town started off very cautiously too. True, the had to follow Marsden but the uncertain opening movement meant that it took time to settle although they got better as they went along with a cracking closing section. It was a little too late by then though.
Due to a couple of withdrawals the next band Staffordshire meant that the two London finalists here (Staffs and BTM) played next to one another. Michael Fowles produced a well directed performance that had lots to admire. Good solo and ensemble work, effective tempo's, a few clips granted, but even at that early stage in the day, it seemed to have enough quality about it to have comfortably come in the top six or so. 15th then was a little bit unlucky as there wasn't anything for us that was so seriously wrong.
Jaguar (Coventry) was very similar to Fishburn with a steady interpretation that never really caught fire. The slower more reflective episodes were well handled, but errors, some quite nasty, cost them a higher place.
That left Wrexham, Langley, Tavistock Chester-le-Street Riverside and Raunds who all gave commendable performances but the work a touch out of their comfort zone and a big ask.
Wrexham's to be fairy gave it everything, so much so that they looked whacked at the end. Credit to Wayne Ruston because he kept things as simple as they could be in terms of musical approach and his players tried manfully to respond. They can walk away with their heads held high despite the result.
The same goes for Langley and Tavistock Chester-le-Street Riverside. Both gave it their best on the day and again, the men in the middle knew they couldn't push the boat out tempo wise and opted for a sensible almost damage limitation approach. That may seem a touch harsh, but it was an intelligent approach nonetheless and just about worked too.
It was great to see Raunds Temperance from the Midlands Region making their debut here. They've gone up into the Championship Section this year and its early days, but they too gave it everything (and we mean everything) and they surely have benefited from the experience despite the result. They now know just what it takes to succeed at this level of competition.
It was Powerfuel Hatfield Colliery and Graham O'Connor's day though. They put in a quality show which was just what the judges in the box were looking for. Credit must go to the MD.
Graham O'Connor has been winning contests at this level now for more years than he may care to mention – this was his third title in 20 years and his record is as good as anyone's is bringing the best out of hard working bands. Give him the raw material and he invariably comes up with the goods – he is a much underrated contesting conductor and you can sense his delight at proving people wrong – time and time again.
Hatfield are the 2007 Pontins Champion – and they will feel that there was nothing wrong with that at all.
Malcolm Wood