2007 Pontins Championships - Postcard from Prestatyn
9-Nov-2007
The White Rose County is now flexing its musical muscle it seems as Yorkshire bands enjoyed their outing to North Wales.
---
Is there anything to stop Yorkshire's dominance on the banding scene at the moment? Grimethorpe in London, Pennine Brass at Harrogate and three bands from the White Rose County, Powerfuel Hatfield Colliery, Skelmanthorpe and Wakefield Metropolitan sealing victory in North Wales at the weekend. They will want to claim independence next.
And if that wasn't enough, Marsden (Ossett Brewery) finished runners up in the Harry and Margaret Mortimer Championship, Stocksbridge and Hade Edge came in the top four in the First Section and Kippax finishing third in the Second Section. It's enough to make any Lancastrian weep into their pint of Boddingtons.
Flixton and Uppermill restored some sense of pride for the North West region with their wins in the Third and Fourth Sections but there was no denying that Yorkshire bands flexed their muscles on the weekend – Fred Trueman would have been insufferable, let alone anyone from the county where they are never shy in telling you straight just where they believe the best bands in the world come from. There is no denying that the region is enjoying something of a purple patch though.
Despite (or possible because of that) Pontins was once again great fun at the weekend though with many of the bands taking the opportunity to socialise with friends and family. Pontins is a huge social occasion - in fact, the playing is only a small part of the weekend for many.
The bars were full of folk enjoying the late night antics of Karaoke and the Bavarian Stompers whilst many people settled back and listened to the debut on Saturday night of the British Army Brass Band under the direction of Dave Barringer and Chris King.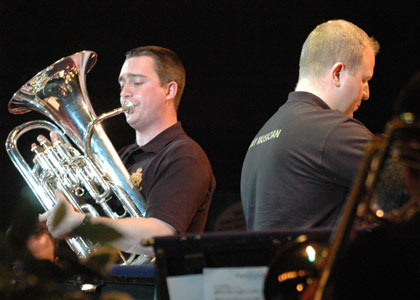 Cracking performers: The Army Band goes through its musical paces
Picture: John Stirzaker

What a cracking set of professional musicians this band was. Brought together from various parts of the army on the previous Wednesday for the first time they put together a programme that brought the house down on Saturday night and then again on Sunday evening before the announcement of the results in the Championship Section. These players can play and they know it.
The programme ranged from Paul Lovatt-Cooper's 'Where Eagles Sing' (surely there is no one left in the banding world who hasn't played this piece!) to 'Post Horn Gallop' and 'Birdland'. It was top-notch entertainment and whilst many of them are already associated with various bands, it'd be very interesting to hear this particular outfit rub shoulders with some of the big boys on the contesting stage. They've a formal launch concert in Aldershot in just over a week's time but look out for them and if you get the chance to hear them in action, just go and enjoy it.
Musical Advisor James Scott deserves another huge pat on the back for coming up with another set of test pieces that both tested the bands and were enjoyable to listen too. The audiences were healthy (in numbers that is, as a few looked a bit green around the gills after the Saturday night shenanigans) and it was noticeable that many players took the chance to listen to rival bands both before and after they had played.
The Harry and Margaret Mortimer Championship had a great test in Philip Sparke's somewhat underrated 'Partita' that meant it was an enjoyable seven and a half hour session with some quality performances on show. There was of course the usual debate afterwards about the result, but Graham O'Connor had a chuckle that 4BR hadn't predicted them to win and you can bet, he's still smiling even now. Nothing ever quite goes to pre match predictions here now does it?
If you took a look round the sections the array of talented conductors on show was impressive. Iain McKnight with Flixton impressed many but a potential star of the future was undoubtably 18 year old Jonathan P Davies who has revived Denton Brass's fortunes in recent months and they finished sixth here. Keep an eye out for him in the coming months.
Brighouse euphonium star Michael Howley was another to catch the eye too whilst at the other end of the age (and experience) was 'Major' Peter Parkes who was a class act rolling back the years to the days of Black Dyke and Fairey with as musically as satisfying performance as you'd wish to hear. You can also add Richard Evans who took Parc and Dare and got some new female admirers as well with those swinging hips.
Congratulations to the judges too for taking the time to give the audiences and players a chance to hear their thoughts on the pieces of music and the playing. They said what they thought and it gave everyone an insight into the way the results were going to go. It was appreciated by everyone.
Further congratulations should also go to contest controllers Frank Hodges and Colin Morrison and their army of stewards who made sure everything ran like clockwork. In fact, the Sections in the Lunars Bar on the Saturday and Sunday morning were done and dusted by lunchtime.
One little niggle however comes with the pre-draw, which is a fine idea which deserves to work and work well. There is a feeling though that it is being abused by some bands who may feel that their chances of success are sunk before a note has been blown if they get an early pre-draw out of the hat and then decide to drop out. Across the five sections, eleven bands withdrew from those advertised in the programme, so maybe this could be fine tuned a touch by making the pre-draw in sections such as they do at the All England Masters rather than prescribed numerical order.
There are times when genuine reasons force bands to withdraw but (and with apologies for any cynicism) once the draw is known, it helps with planning, but how many bands wonder if it really will be their day when drawn say number three? Pontins has done much to help bands over the years and perhaps the bands should recognize this more.
4BR's correspondents, Malcolm Wood, John James and David Tinker once again took the plunge in putting together an alternative podcast and our thanks to all those who contributed – it should make for interesting listen as always.
For next year though, Pontins celebrates its 35th anniversary and don't be surprised if the organisers do something to celebrate the occasion. The organisation's commitment to the brass band movement is terrific with plenty of money on offer at the weekend.
The good news for next year as well is that the event reverts back to the end of October and it will run from Friday 24th until Monday 27th October – two weeks after the National finals in London and an extra hour's drinking in the bars as the clocks go back. You can't ask for anything more can you now?
Malcolm Wood