2007 British Open Solo & Quartet Championships - retrospective
15-Nov-2007
Dave Tinker was in Dukinfield on the weekend to enjoy some great playing from the competitors. The only pity was that there wasn't too many others there to enjoy it with him...
---
23 players competed for the six sought after places in the Senior British Open Final this year. There, the reigning champion, Katrina Marzella, the Australian champion, Mark Howcroft and the Scottish champion, Graham Fraser, joined those battling it out for the ultimate prize in what was a very high standard event.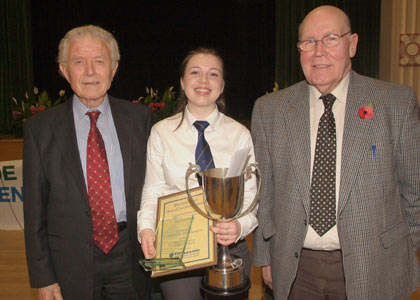 Winning smile: Katrina Marzella retains her title
Picture: John Stirzaker

Stan Lippeatt and Alan Morrison adjudicated and there was plenty of fine playing to be heard throughout the day – not just in the senior event. After the preliminary round, the six players who went through were Ben Thompson - Eb bass, Martyn Patterson - euphonium, Mike Howley - euphonium, Edward Leach - Eb bass, Kim Thorpe - euphonium and Mark Glover -euphonium.

It must be said however that there were many fine performances that did not get through, with Mark Bousie - euphonium, Brendan Wheeler – euphonium and Stephanie Barrett - cornet to name but three. Before the final the individual awards were made and these went to cornet champion Stephanie Barrett, tenor horn, Murray Borthwick, euphonium Mike Howley, trombone, Rebbeca Stead, and tuba, Ben Thompson. With such a high standard on show before the final even started much was expected of the pick of the bunch later in the day.

Senior Final

Adjudicators Major Peter Parkes and Geoff Whitham had much to enjoy here. Mike Howley was first on and gave a sound performance of 'Slavishe Fantasy' that featured forensic attention to detail and a splendid dynamic range. The technique was never in doubt although the odd clip here and there just left the door open for it to be beaten. The eventual runners up spot was well deserved however.

The second euphonium player Mark Glover also delivered a fine account with 'Song of the Brother' by Eric Leizden. This was very lyrical playing that just tired towards the end, but there was evidence here of a very fine talent in the making. Ben Thompson may only be a young man, but he has already carved for himself a worthy reputation as a fine performer. He delivered a nicely structured account of 'Capriccio' by Rodney Newton to once more show just what a future he has ahead of him.

Reigning British Champion Katrina Marzella on baritone was simply superb. Her performance of 'Concerto Per Flicorno De Basso' by Ponchielli was rich in timbre and lyrical playing you will not hear bettered in many a day. It was no great surprise to anyone that she retained her crown as British champion and book herself another crack at the Ern Keller International Brass Soloist of the Year title in Australia next year. She was a worthy winner.

Edward Leach on Eb bass had the unenviable task of following Katrina on and produced a spirited show of Ellerby 'Tuba Concerto'. Here was another young player with a sparkling future ahead, and although at times he appeared to be rushing his overall performance, he emerged with a great deal of credit.

Martyn Patterson was the third euphonium player to make it through to the final, and the Welshman gave a sparkling account of 'Pantomime' by Philip Sparke. This was a very consistent performance, enhanced by the way he always gave the music time to breathe. It just sounded tired towards the end as stamina perhaps waned but third place was a result he could be very proud of.
The fourth euphonium player Kim Thorpe chose music by Howard Snell, and his evocative 'Gypsy Airs', and she emerged with great credit with a performance that very nearly captured the essence of the wild and furious to a tee. Meanwhile, Mark Howcroft from Australia delivered a powerful and confident rendition of 'Anastasia' by Helen Johnston. A big broad sound was evident and his playing had conviction throughout, but perhaps it just lacked that sense of composed style so clearly defined by the winner in particular.

The last contender was Scottish champion Graham Fraser who also played Rodney Newton's 'Capriccio' although not as cleanly as perhaps he would have liked. It was however a very creditable performance of this difficult music.

Both adjudicators spoke to the audience and said it had been a pleasure to hear such fine playing, but there was little doubt in their mind that there was a clear winner – nobody could disagree.

Speaking to 4BR Katrina Marzella was full of praise for all the finalists and also all those in the preliminary section, and said she felt it harder to win this time as defending champion. She was happy of course but so too should be the rest of the competitors both in the final and the preliminary rounds. It was a very high standard of contest this year, although the only pity was there were not many people in the hall to witness it. They missed a treat.

Senior Quartet Final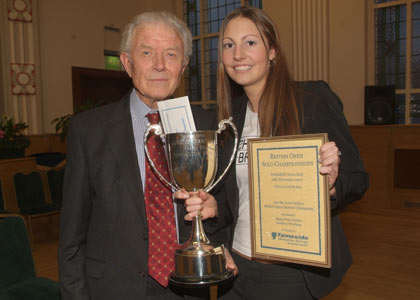 One out of four: RNCM Scherzo take the Quartet title
Picture: John Stirzaker

With only three entries this year it was something of a disappointment in terms of numbers for sure, but there was still much to enjoy for adjudicators Peter Parkes and Geoff Whitham.
In the end it was Scherzo Brass from the Royal Northern College of Music who took the honours with their performance of 'Timepiece' by Peter Graham. Just behind them came the second quartet from the RNCM, whilst Enfield & Potters Bar came third.
The judges had enjoyed all three performances and said quartet playing is where you learn to listen to each other. Perhaps it is therefore even more disappointing that younger players today seem to think of it as a forgotten art form. Hopefully next year more entrants will come forward, for there is nothing quite like hearing a drilled and balanced quartet playing well constructed music. If it was good enough for Gilbert Vinter to write for the genre then that should tell you all you need to know. It was the only real disappointment of an otherwise excellent day.

Intermediate Slow Melody Final
After an excellent preliminary round adjudicated by Peter Roberts & Mark Wilkinson the six finalists were chosen to perform for adjudicators Peter Parkes and Geoff Whitham.

The winner, Steven Sykes on trombone, gave a performance of the 'Adagio' from the 'Trombone Concerto No 2' by Reike that was mature well above his tender years. The phrasing was lovingly shaped and delivered and he had a nice relaxed delivery with warm and well centered sound. As soon as you heard him play you sensed that the title was heading in his direction.

In second place came Jamie Smith on cornet from the Sellers International Youth Band with a sensitive performance of 'Softly Awakes My Heart'. A lovely sound and the dynamics were well observed, it just became a little strained towards the end, but it was a fine performance nonetheless.

The same could be said about the third place winner Glen Van Loy on euphonium from Festival Brass in Belgium. Lovely articulation and a feel for the music were his most evident strengths and he can return home with a great deal of satisfaction for his fine efforts.

The other three finalists Emma Walton on flugel horn, her brother Daniel on cornet and Jonathan Bates on tenor horn all gave splendid accounts of themselves and were worthy finalists. All three have exciting futures ahead of them on this evidence as they showed remarkable maturity and a keen ear for the lyrical qualities demanded by their solos.
Speaking to 4BR, the winner Steven Sykes, said he was pleased to have won and was overall happy with his performance. But he also said, he thought he could have played better! A modest young man indeed and on this evidence one who has got his feet firmly on the ground. A player to look out for though.

Junior Slow Melody
The Junior title was won in splendid fashion by Jodie Marsh on cornet from the Oldham (Lees) Band. This super young player delivered a fine performance to head off her six rivals and take the honours from Andrew Ashworth, also from the Oldham (Lees) Band in second place, with Kate Malcolm on cornet from Felling in third.
Although there was only a small field this year, the standard was pretty good and adjudicators Peter Roberts and Mark Wilkinson had much to enjoy.

Junior Quartet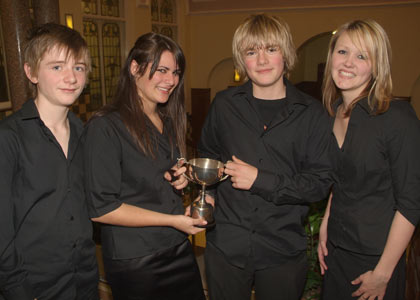 Fab Four: Shirland Welfare Taining take the Junior Quartet title
Picture: John Stirzaker

Finally, the Junior Quartet title was won by Shirland Welfare Training who produced a fine account of themselves to impress adjudicators Paul Andrews and Helen Fox and take the title ahead of Shaw Youth A and Shirland Girls.
Summing up the day, the one disappointment was the size of the audience, with less than one hundred people in to listen to a high standard of music making at any one time. The organisers deserve better and when such distinguished people like Professor David King can turn up it doesn't say much for the rest who don't seem to care.
They missed some fine playing and some fine piano accompaniment from the likes of Roderick Barrand and David Jones amongst others. A long day, but a very satisfying one. All the competitors deserve the utmost praise even if they require a bit more support from the rest of the brass band fraternity.
Dave Tinker.