2007 Brass in Concert Championship - Postcard from Gateshead
21-Nov-2007
From Tricky Dicky to the man who invented the lightbulb - Gateshead had it all this year - even if the Austrians couldn't understand the lingo...
---
Once again Brass in Concert provided everyone with a weekend to enjoy and savour, even if there wasn't as much innovation as we have come to expect from the competing bands in recent years.
Still, who worries when Richard Evans is on this type of form. He may be 73 years of age now, but he has a spring in his step and a wiggle in his hips that many a younger man would love to have as part of their armoury to wow the opposite sex. He also has a quite brilliant feel for humour – Jane Jones and her delightful girlfriends from the Tullis Russell Mills Band in Scotland were close to wetting themselves at times next to us. Who said the Scots had no sense of humour!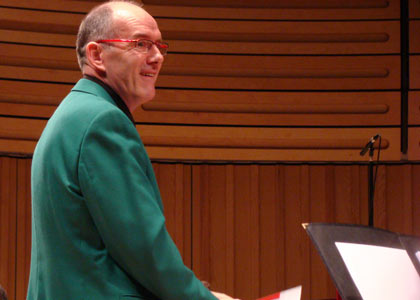 How much Frank? Philip McCann sees red through his glasses...

Why other MDs can't quite work off a compere or an audience for that matter with the same sense of easy feel for what is right and what is not is perhaps down to the personality (or lack of it) from the conductors themselves. Some of them were as stiff as a corpse on stage with smiles as cheerful as the nameplate on a coffin lid. Set in almost in permanent rictus they failed miserably to look as if they were enjoying the experience of conducting here. It was painful to watch at times.
If the conductor has little outgoing personality then it is always going to be difficult o try and project any sense of humour through a band. Some of the rather lame efforts to try and raise smile this year from the audience made you wonder if some MDs really have a life outside banding at all – although the Austrian Hannes Buchegger may earn a few bob as a stunt double for Dick Van Dyke or Des Lynam.
There were some grumbles from some quarters to suggest that Frank Renton perhaps came across as an integral part of the Brighouse performance and therefore gave the band an unfair advantage. That was however a nonsense. Frank may love the spotlight, but he is a gregarious and generous compere, always willing to help the bands, even if it is to act either as the comedy link or straight man. Too many MD's chose to ignore the chance to use his full potential and they paid the penalty.
Once more he also made the day flow along too. He is worth every penny of his fee (which we are sure is substantial – and why not he's a class act) and without him the contest would be all the poorer.
As for the humour stakes this year, only Brighouse really mastered it, whilst Fodens showed that they have the potential to do it well when they put their minds to it. Elsewhere it was pretty dire stuff. The Europeans can be excused perhaps, but not the Brits – if you are to use a stage microphone, make sure you check it works properly – it sounded as if Officer Krupke had been shot by one of the punks before he sang a word in the YBS performance!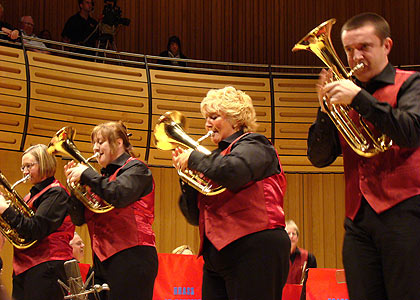 Ups and downs - Reg Vardy opt for a bit of choreography

The same goes for choreography – Brighouse, Fodens, Eikanger and Fairey were the exceptions, but why is it that bands think just getting people to stand up, then sit down equates to anything that may look good – especially when the players are still unable to play their parts without looking at the music in front of them – some of the shapes some players contorted into would have made a Chinese gymnast wince.
So too soloists – nothing looks so unprofessional as a soloist you can't see let along hear because they have a music stand right in front of them. As for cornet players who think they can play the trumpet – get a reality check.
As for the repertoire – it was a little disappointing to hear so many bands opt for the safety net approach of repeating items from past programmes. Great pieces remain great pieces only if they are played as well as they were when they first made such an impact. Repeats and reprises are all well and good, but they can only sound fresh if the bands really play them in such a manner – dusting them off like old relics from a bygone age is no use at all.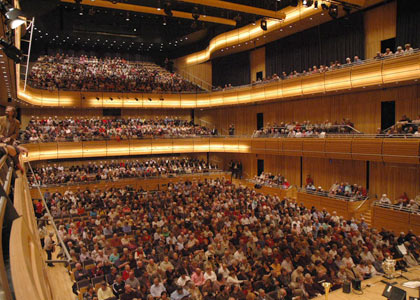 Packed out - The Sage in all its glory
Picture: Steve Jack

The Gala Concert this year was a great success – sold out. The audience was treated however to one half of pretty non descript playing from Grimethorpe that made you wonder if we were listening to the right band. What a disappointment they were, especially as they were completely blown off stage by an electrifying performance by Eikanger. Despite the result on the Sunday, lets hope the Norwegians can be persuaded to return next year.
That may be hard to do at present, as it will take a bit of understanding how such fine ensemble playing was so ignored by the judges. That said the results between the bands coming 6th and 10th were separated by just 3.5 marks – on another day it could have been different. Overall the judges did a fine job, although asking James Gourlay to judge the soloist award was a bit of a waste of his talents – a long day just to pick a clear cut winner nearly everyone in the hall would have voted for?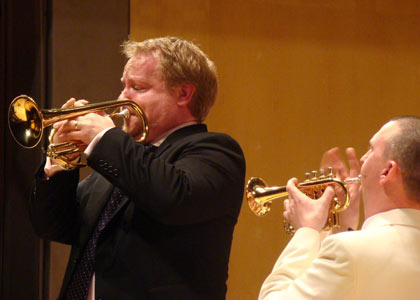 The tall and short of it? Russell Gray tries to add a bit of humour into proceedings

As to the fringe events this year – they were a bit of a let down due to the fact that something had gone astray in communication between the organisers and the management of the hall that meant that the percussion and brass workshops were shunted into downstairs rooms instead of being on the main concourse throughout the Saturday. That was a real pity as Alan Hope and Michael Garasi did splendid jobs. Hopefully the situation can be rectified for next year, as it's a great idea supported by the Shaw Trust.
It was also great to see Michael J. Garasi once more. This wonderful musician was under utilised however on the weekend (judging the entertainment prize was great, but if you are to fly such a talented musician over then why not use him as one of the premier music judges). He has so much to offer the banding world here – top bands take note.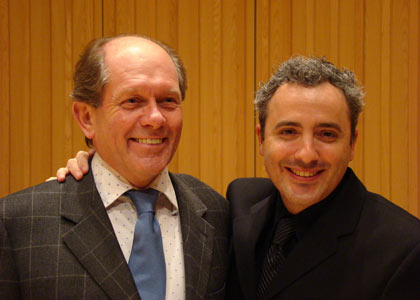 All smiles - Michael Garasi and Frank Renton smile for the camera

However, the organisers treated both him and his delightful wife Cherry shamefully by not inviting them to go to the Gala Concert. Whoever thought that was the right thing to do should be hung by their toenails from the Tyne Bridge. How amateurish is that? What did they think he was going to do? Enjoy himself maybe?
It was a slur on his integrity too – and an apology should be forthcoming immediately. We need the likes of Michael Garasi more than he needs us.
The Sage continues to provide this contest with a quite wonderful venue, whilst the organisers Paul and Jackie Beere continue to do a wonderful job too – despite the odd hiccup this year. It was also a nice touch for the European bands to be invited to the Council Chambers for lunch and to use rooms as practice facilities, although we wonder how the Austrians in particular made sense of the wonderful Geordie accent from the Deputy Mayor! At least they now know the electric lightbulb was invented in Gateshead by Mr Swann and not in the USA by Mr Edison!
As for the future of the contest – it looks rosy indeed although there is a need to reduce the number of bands to 10 though – 12 bands starting at 9.30am and finishing at around 7.30pm makes for a long day in anyone's book.
Still, who can ask for more? Next year it all takes place once again on the weekend of the 15th and 16th of November. Book your tickets now as it is sure to be sold out well in advance.
Iwan Fox