2007 Brass in Concert Championship - retrospective
21-Nov-2007
The King of Entertainment was crowned for the eighth time on the weekend - and the bad news for his rivals is that he doesn't intend abdicating just yet...
---
It was all over bar the shouting on the stroke of 5.30pm, as soon as the beechwood doors swung open at the side of the stage of the main hall at The Sage complex and a bloke dressed in kilt walked out to meet the rapturous applause. Dicky had done it again.
Eight times he has won here now – the last four in a row. The Sage belongs to Richard VIII.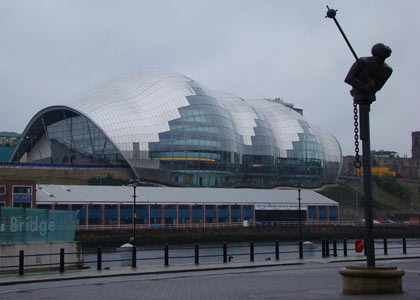 The Kingdom of Richard VIII - The Sage awaits King Dicky on the Sunday morning

In what was overall a slightly disappointing contest – there were more reruns and repeats from the bands this year than could be found in a days viewing of UK TV Gold – Richard Evans and Brighouse & Rastrick delivered a sparkling set of variations on a tried and tested theme. Others may have thought they had the same idea, but none of them brushed them off and buffed them up like the lads from West Riding and the man in the Argyll tartan skirt.
We have got used to bands bringing new and wondrous pleasures to our ears here over the years, but a combination of too many high profile contests, indecisive planning and preparation (rumours of some bands not even agreeing on their programmes until a few days to go were rife), late MD changes and some poor playing led to a feeling of anti climax right up to the point when 'Dick the Stick' came bouncing onto the stage like a young spring lamb. Then the place bubbled like an old variety hall welcoming the top of the bill act into its collective bosom. It was electric.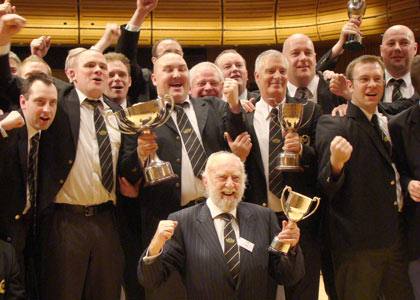 That's what it all adds up to: Brighouse and their MD celebrate victory

How he does it we may never know, but without him, it is doubtful even Brighouse would have won in the manner they did. Richard Evans is the fulcrum, the centre point, the heartbeat of any concert performance, never mind a contest one such as this. Here he didn't miss a beat.
No other conductor on the day had the wit or the gold plated Pawnbroker sign appendages (and no, he wasn't going commando under the kilt either) about themselves to work so cleverly with Frank Renton as if to make it almost into a comedy double act, crucially buying his band time to recharge its batteries. No other conductor could get away with the little nods and winks, the playful banter with the audience either. This was a class act, on the very top of his form.
It had all started early Sunday morning as the grey morning mist rose up from the Tyne and the audience milled warmly about in heavy coats on the concourse of this wonderful hall.
Reg Vardy opened – the first of a number of bands to be conducted by a debutant in the form of Stephen Malcolm. Previous incumbent Ray Farr was conspicuous by his musical absence – although the Ricky Martin 'Cup of Life' finale as the band left the auditorium was an old arrangement of his.
With Stephen taking up the baton just a week before the contest both he and the band did well given the circumstances. A few of the items had archaeology stamps on them for sure, but they were well played with Joanne Winspear in particular delivering a fine impression of Barbara Streisand in 'Evergreen'. Overall though it was a solid, if uninspiring start to a very long day. 10th place was about par for the course (we had them 11th) – a result that somehow sums up their contesting year.
Following them on was Whitburn – with Allan Ramsay at the helm after they too had conducting musical chairs a week or so before the contest.
As a result they chose a programme that emphasised their playing rather than comedy credentials (a smart move given their track record in the belly laugh stakes) and which perhaps deserved slightly better than coming 11th overall (we had them 9th).
The highlights were a cracking performance of their march and the cleverly realised Polka, whilst there was also lots of quality in their finisher too. Some of the other items though didn't quite come off as well as hoped (annoying little clips took the gloss off), but what really cost them was the absence of anything likely to put even a wry smile on the face. It was like listening to a Gordon Brown speech – prudent and serious and strictly Presbyterian Scottish – no laughs on a Sunday.
Surprisingly the same could also be said of Grimethorpe. The one time kings of the genre are now starting to sound like Archie Rice as the washed up, end of pier stand up in 'The Entertainer' play. The smiles may well be on display and the lines delivered with the same slick professionalism, but something, something essential come to that matter, was missing.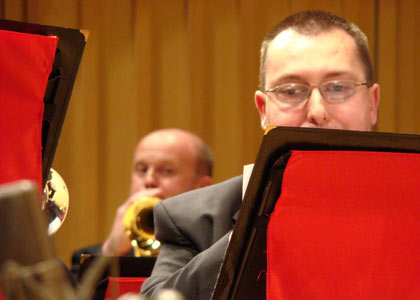 Eyes in the back of your head: Ian Shires has someone to watch over him...

The chosen programme just wasn't good enough, despite a cracking opener that buzzed just like the Green Hornet and some wonderful understated solo playing from both Michael Dodd and Roger Webster in their feature items. 'Pirates of the Caribbean' though? Come off it – that was the music from 'Gladiator' with a few eye patches and the odd parrot on the shoulder whilst 'Crouching Tiger, Hidden Dragon' was a revamp of Grasshopper meets the Karate Kid.
Yes, it was slick and classy in places, but also ever so slightly boring and certainly lacking that pizzazz and sparkle that we have come to expect. They will need to do some serious thinking about how they are to reclaim their once invincible crown here. They can count themselves pleased they came 3rd (we had them 4th).
Hepworth (Crookston Homes) were late replacements for Sellers this year and so could be forgiven for eventually ending up in 12th and last place on the day (same as 4BR).
An varied mix of pieces never came off, although it always kept you interested from the word go. James Fieldhouse was an excellent soloist with some sublime playing in 'On the Seashore', whilst the opening fanfare from the ballet 'La Peri' was neatly executed.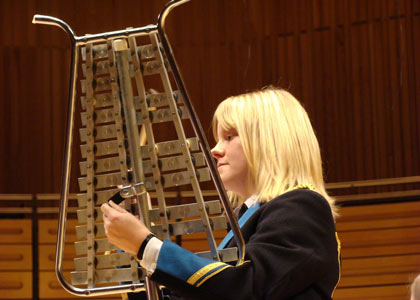 A few missing notes? Hepworth's percussionist holds her own

The Achilles heels (and there was more than just the one) were the arrangement of 'Adagio for Strings' which had metamorphosed into 'Adagio for Brass' and still didn't work (it was like painting a moustache on the Mona Lisa – it just doesn't look right even if you do call it the Mona Brian) and some weak solo features in 'Scarborough Fair' and the march 'The Gladiator' where the marching glocks sounded like a ice cream van with a dodgy loudspeaker system.
Hats off though for their efforts – coming in at such late notice was a brave thing to do, and we hope they are given the chance next year to really show just how good a band they really are.
The last band before the break was Desford – and yes, you guessed it, they too were directed by a late replacement in the shape of Kevin Steward – a lucky break (excuse the puns) as regular MD Nigel Seaman was in hospital with a broken foot .
They really turned the clock back with a piece of time travel Doctor Who would have been proud of with a homage of sorts to the genius that was (and is, we are sure) Howard Snell.
Despite a number of the items being close on 25 years old or more they still retain a freshness and vibrancy about them that can still thrill the pants off. Not that Desford quite managed to do just that on the day though – too many slips, unforced errors and uneven execution cost them any chance of coming higher than 8th place (we had them 5th) but there was enough evidence to show that the band's recent renaissance has a real sense of permanency about it now.
The highlights were a bravura 'Dapnis and Chloe' to end and a slick bit of humour with the Dresden Figures, whilst David Smith was very nearly red hot with his trumpet in his solo spot. Elsewhere it was just a little sloppy and heavy handed, but Desford can be pleased with their efforts nonetheless.
With the audience well fed and watered (there were more packed lunches eaten than on a school trip to Longleat Safari park) it was back to the action and another trip back in time (although not so far back) with Fodens Richardson.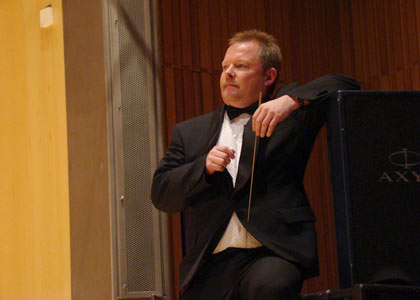 Taking a well earned rest: Garry Cutt puts his feet up

This really was a new variation on an old theme, but for the most part they polished it up rather well in the hands of Garry Cutt. This was cleverly packaged stuff, with some superb solo work enhanced by some equally fine ensemble playing throughout.
Fodens make a wonderful sound at present and this was shown to great effect in a cracking swagger march and brilliant opening fanfare. Les Neish and Helen Fox were classy solo features (although 'Carnival for Bass' hasn't dated well even in the hands of such a wonderful exponent of the instrument). Garry Cutt sat like an errant school kid at the edge of the stage as Fodens just about kept things together with a whip through 'Lezghinka', whilst the 'Finale' from 'Checkmate' was more like computer speed chess at times.
The audience loved Glyn Williams doing his impression of Roy Castle by playing every instrument known to a brass band plus the kitchen sink. You did feel however that this was a bit of re-badging, revamping and reproducing of a brilliant idea a bit too soon after the original hadn't left the memory banks.
It all added up to another high class performance from Fodens which has shown them to be the most consistent band of the year at any form of the contesting genre.
On the Saturday night in the Gala Concert Eikanger Bjorsvik played Grimethorpe off the stage with a performance of such high quality playing that it was almost cruel to compare them against each other. Much was expected of them on the Sunday then, so it came as something of an anti climax that they couldn't quite reproduce that form once again.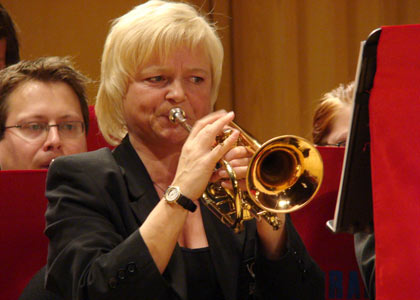 A bit too serious perhaps? Jane Westervick leads Eikanger

It was still an immensely satisfying experience to listen to though – especially as it was so intelligently delivered. But in doing so it also left many in the hall slightly bemused.
The free flowing jazz inspired opener was a cracker, yet still lost its impact and focus, whilst the sublime 'Graceful Ghost' just lingered too long in the shadows waiting for Derek Ancora to free them of their troubles before it too disappeared into the miasma.
Both were so well played that you could forgive the band for wanting to showcase their talents to the full, but that wasn't the case with either the uneven euphonium solo or the weak effect laden music from the film 'The Incredibles' which never sounded remotely incredible at all – just bubble gum music for the pop corn munchers in the local Bergen branch of the Odeon Cinema. The finale was brilliant though – a real corker as King Cnut went haywire trying to chop the whatsists off the chap who bedded his wife behind his back.
By then though it was too late and although Eikanger can feel aggrieved at not coming in the top six at least (we had them 2nd) they may well want to think about just chopping a few of their items into more easily digestible chunks for a British audience to enjoy - a bit like their 'Seaside Rendezvous' by Queen, which was just perfect. Some band though despite the result.
As for Brass Band Oberosterreich? What an experience.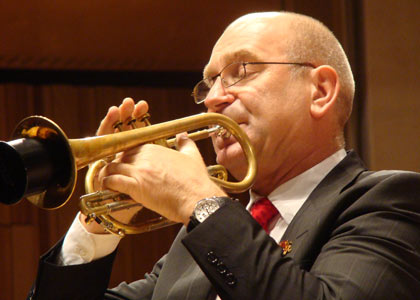 Song & Dance: Hans Gansch - superstar

The good stuff they played was at times thrillingly good - the bad stuff was terrible. Hans Gansch was a star (but we told you that anyway before he had even played a note), although to use him three times as a lead feature throughout their programme did go to show that apart from him, the MD was short on options.
That said, he was brilliant, with a performance of 'Song & Dance' that took the breath away – especially his control in the lower register and the clarity of his note production.
The opening John Williams set was very good indeed, despite the odd clips, but all that good work went out of the window with a truly awful account of 'Procession to the Minster' which should have had the Austrian version of the Health and Safety Commission called in to stop Elsa reaching the alter such were the potholes and cracks she fell in on her way up the aisle.
Thankfully things recovered and after Professor Gansch wowed us all, the finale, 'Funky Brass' rounded things off in fine style. It was a very uneven performance from the Austrians, and they will have surely have learnt a great deal from their appearance here as a result. When they return they will do so an even better band – so watch out. 6th place was perhaps a touch generous from the judges (we had them 8th) but it was worth it just to hear the man on the end.
Fairey's brought things back to earth somewhat with their offering - good solid, English brass band playing on an American theme.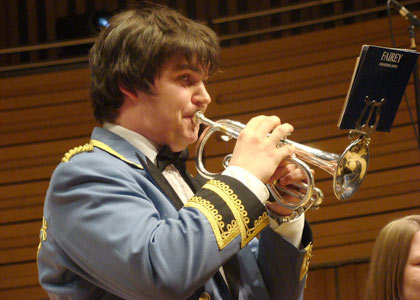 American Piccolo: Fairey's soprano play his part...

At times is another programme well passed the sell by date, but it was obvious that Philip Chalk had worked his band hard to present it in such a slick and professional way. 'Candide' was slightly more 'Canderel' sweet than whip crackingly lashing in excitement, but a classy piece of Gershwin and a precise 'President' march, complete with clever choreography lifted their performance away from many of their rivals.
Tom Jones would have blanched at the clever take on 'It's not Unusual' perhaps whilst King Tut would have recognised 'La Belle Americaine' – a poor choice for a fine player in Steve Walsh (surely there was another American inspired solo in the library).
A rousing climax with music from Gettysburg (despite the drummers obliterating the final bars) rounded an enjoyable, if slightly uneven programme off in fine fashion, and 4th place was their reward (we had them 6th). Fairey continues to make the right progress on the road to contesting recovery.
The same goes for YBS, although they could have done with a touch more light and shade in their powerful account that brought them 5th place come the results (we had them 7th).

YBS Punks - Time to call in the accent police

The highlights were undoubtedly Alex Kerwin on down and dirty form in her solo spot, whilst the big old Russky finisher was full of pomp and peasantry in equal amounts and the trip around a Romanian Gypsy camp was just the right side of rough and wild.
When things quietened down a bit the inherent problems arose, whilst the lads brave reprise of 'Gee Officer Krupke' was enjoyable in a slightly darkly satirerish sort of way – the accents seemingly coming more from Broadmoor than Braodway at times… Enjoyable stuff though from start to finish with full marks to the MD Morgan Griffiths too.
That just left Brighouse and Leyland – and to be fair to Leyland they didn't have a chance after the lads from West Riding took to the stage.
Dicky of course had the crowd eating out of the palm of his hand. The kilt was another inspired moment, whilst the opening item ' All Night Long', complete with American marching horns and mellophoniums hit the hall right between the eyes.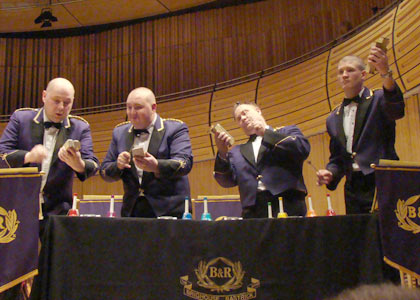 The Bells! The Bells! The Brighouse campanologists ring out their stuff

The change of mood and contrast with Stephen Wilkinson delivering a beautiful piece of cornet playing (on a day when nearly all others felt they had to imitate a trumpet) was a delight whilst the march 'Blaze Away' swaggered to the point of very nearly becoming a parody of itself – but crucially, not quite.
Then the masterstroke – 'Mr Sandman' complete with brilliant campanology by the large lads from the band, sharp visual and musical humour and a sense that it was all done in the best possible taste. It was brilliant stuff. To round things off a slightly harsh 'Vitae Aeternum', but by then nobody cared – they had waited for hours for this and they enjoyed every minute of it. The winner's cheque may have just as well been placed in the hands of Tricky Dicky there and there. It was another cracker of a show from the band and its MD – winners by a fair old distance.
It was a pity the that Brighouse didn't close the contest off, but there was still enough time in the day (it was now 6.20pm) for Leyland to try and wrest the title from their grasp.
To be fair, and for the first third of their programme they did just that with three opening items of high quality playing, especially from Katrina Marzella with a sublime piece of baritone playing in 'Donegal Bay'.
There after though the wheels at first wobbled and then came off in spectacular fashion. 'Cossack Fire Dance' was a good idea played with varying degrees of technical accomplishment (including the MD on cornet) but was let down by humour that was as lame and as limp as a three legged dog. If you are going to try and make people laugh then at least look as if it is funny for those taking part!
However all the good work fell to pieces with a performance of 'Carnival Overture' that had more make-up to cover the cracks than Joan Collins on a Saturday night out in the Big Market in Newcastle. There were parts missing, wrong entries, wrong notes, wrong everything at times and as a result it became something of a carnival of the grotesque. That it ended when it did was a bit of a blessing.
It also meant that any chance that Leyland had of coming any higher than 7th went out of the window (we had them 10th) so no complaints we feel from Russell Gray and his band.
That was that then, but not before the announcement of the results and more prizes than Supermarket Sweep. Well done to the individual award winners – all deserving of their prizes (especially Mr Gansch) whilst there can be no complaints about Brighouse sweeping up the major honours.
As for Richard Evans? What he will wear next year we can only guess at – a kaftan, Arab head dress, loincloth or even just a plain suit and tie? Whatever he decides you can be sure he will still be the man to beat. The King of Entertainment is in no mood to abdicate just yet.


Iwan Fox