2007 Scottish Open Brass Band Championships - The Adjudicators
22-Nov-2007
These are the men in the box on the weekend for the Scottish Open, Scottish Shield and Scottish Challenge Cup.
---
Scottish Open: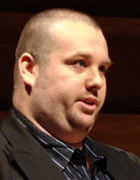 Peter Meechan:
Peter Meechan is one of the leading compositional talents of his generation writing for brass and wind. His sound world is infused with influences from many different and varied sources to that of his predecessors, including the music of Miles Davis and Pink Floyd, as well as that of Stravinsky and Messiaen.
Born in Nuneaton, England, Peter began his composition studies at the North Warwickshire College, under Simon Hall and Ben Markland. In 1998, he accepted a place at the Royal Northern College of Music, studying composition with Anthony Gilbert, Elena Firsova, David Horne and Adam Gorb. Following his undergraduate studies at the RNCM Peter was appointed as the first ever 'Young Composer in Association' with the prestigious Black Dyke Band, and later became 'Composer in Residence' at the same band.
His output for brass and wind has received worldwide acclaim, with performances from many of Europe's leading ensembles, conductors, and soloists. These include: Steve Mead, Bramwell Tovey, Mark Scatterday, David Childs, David Thornton, James Gourlay, Clark Rundell, Dr. Nicholas Childs, Rob Buckland, Jacques Mauger, Tormod Flaten, Bones Apart Trombone Quartet, Black Dyke Band, Birmingham Symphonic Winds, Eastman Wind Ensemble, Coldstream Guards and the RNCM Wind Orchestra. He has had works featured on over ten CD's.
In February 2002, Peter's composition 'Revamp', was featured alongside the music of McCabe and Gregson in 'The Gregson Connection' - a mini festival dedicated to the music of RNCM Principle, Edward Gregson. Whilst in November 2003, Peter's music for Euphonium was showcased in 'Brilliant Minds', a concert at the RNCM International Tuba and Euphonium Festival.
His music for brass bands has been used in contests in across the globe, including the National Finals of Belgium and Australia. Whilst his music for winds has been featured at festivals throughout Europe and North America, including the Midwest Clinic in Chicago and at the BASBWE International Wind Festival.
Works are published by G and M Brand, Prima Vista Musikk, Astute Music, and since 2006, his own publishing company, Peter Meechan Music.
Peter has continued his academic career, recently receiving a Distinction following his Masters studies at the University of Salford. He is currently studying towards a PhD at the University of Salford with Prof. Peter Graham and Joe Duddell.
Peter's music has received many performances, as well as radio and television broadcasts, across the globe. Whilst still in the early stages of his career, Peter has established himself as one of his generations' leading composers writing for brass and wind.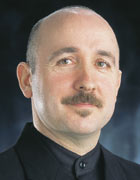 Roger Webster:
Roger has a global reputation as an educator and clinician, his specialist areas being performance psychology and physiology

Dr Webster is constantly conducting research in the area of psychotherapy, with special relevance to the needs of musicians. He lectures, and holds consultations in areas of Psychology specialising in Cognitive Behavioural Therapy.

His book, Websters PPP has received great critical acclaim across the globe and is available in English or German with further versions in French and Japanese planned for the near future. Roger has released four solo CD's and appears as a soloist on over twenty with ensembles from England, Switzerland, Holland, U.S.A. and Japan.

He works as a senior lecturer at The Royal Northern College of Music where he teaches performance and gives lectures / consultations on performance anxiety. Roger is an endorsee for Besson Musical Instruments and has been actively involved in the development of new products since 1988.

Roger has been acclaimed by reviewers and audiences worldwide as one of the world's greatest ever exponents of both trumpet and cornet playing. His involvement with the Musical Instrument Lubricants Company, Websters Eco-Lube Ltd has been well documented, but his latest project with Alliance Products sees a new range of mouthpieces and mouthpiece cases hit the market.
---
Scottish Challenge Shield and Scottish Challenge Cup: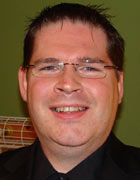 Michael Fowles:
Born in Stoke-on-Trent, Michael's early musical education came from the peripatetic service of North Staffordshire. During this time he was a member of many of the County's ensembles, culminating in him holding the position of Principal trombone of both the County Youth Brass Band and Orchestra. Upon leaving the area he was awarded the Staffordshire Music Dept. Harry Mortimer award for his contribution to brass playing and the Staffs. County Council Young Achievers Award.
In 1990 Michael began his Degree studies at the Royal Northern College of Music in Manchester. It was at this time that he began to work as a freelance trombonist playing in "pit" bands for musical productions in theatres – work that he still undertakes today. It was also around this time that he joined the trombone section of the Britannia Building Society (Fodens) Band with whom he spent 5 "very happy and musically rewarding years ".
1990 also saw Michael begin his commitment to the education of the next generation of young musicians by becoming the Trombone Tutor to the Wessex Youth Band Courses, a position he still holds today, along with being a member of the conducting team.
Michael graduated from the RNCM with an Honours Degree and was presented with the Harry Mortimer Outstanding Brass Student Award. Following graduation he continued his studies with Howard Snell and gained a postgraduate Diploma in Band Direction. At this time the college invited Michael to become a Junior Fellow, a position he held for 2 years, working with the Brass Band, Brass Ensembles and within the Opera Department. He was then appointed to the post of Resident Conductor of the Brass Band, combining this with his role in the other department, which he held until 2000.
Michael's conducting career began in 1995 when he became Musical Director of the Point of Ayr Band from North Wales. During his five-year tenure the band enjoyed what is arguably their most successful period, becoming Welsh Area Champions twice and in 1998 representing Wales in the European Championships, gaining Third Prize.
Already in a relatively short career Michael has packed much experience, having conducted at International Festivals, recorded for both BBC Radio 2 + 3, recorded several commercial CD's, directed Premieres and conducted Concerto appearances of eminent soloists including Joseph Alessi (New York Philharmonic), Ronald Barron (Boston Symphony), Andrew Berryman (Halle) and Shoichiro Hokazano.
Described as "One of the leading young interpreters of modern brass styles" (Brass Band World Magazine) Michael is much in demand, having already worked with many of the Country's leading bands including The Fairey Band, Fodens Richardson and a 3½ year tenure as the Associate Conductor of The Leyland Band. He also undertakes much consultancy work with bands in all sections. Currently he is Musical Director of the BT Band from Stockport and The Ratby Co-operative band in Leicester, an organisation boasting around 120 players in 4 bands from beginners to the Championship section Senior Band.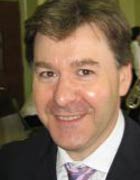 John Roberts:
John began his musical career at the age of 10 with the Rothwell Temperance Band, eventually being appointed deputy conductor at the age of 21.

He reached the final of the 'Young Conductor of the Year' in 1984 and with the Rothwell Band he conducted them to success from the Third to the Championship Section winning many contests and competing at the British open and All England Masters Championships.

He also conducted the Black Dyke Band and was appointed MD at the British Steel Teeside Band in 1993, directing them to the National Finals before becoming MD of the EYMS Band in 1997, winning the North of England Regional Championships.

Latterly he has conduced the former combined bands of Jayess (Queensbury) and Jayess '87 when they combined to form the United Co-op Yorkshire Brass Band. He recently left the band after a highly successful period that included their record breaking trip to the New Zealand National Championships.