2007 Scottish Open Brass Band Championships - Test piece review
22-Nov-2007
4BR looks at Peter Meechan's intriguing take on 'The Scottish Play'.
---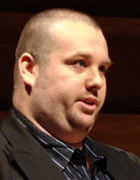 Peter Meechan is a tremendous composer, full of fresh and innovative ideas.
His work is technically accomplished and musically liberated with influences as diverse as the Brecker Brothers and Ennio Morricone to Messiaen and Miles Davis. He is an important compositional voice for the future development of repertoire for a progressive brass band movement.
'Macbeth' is his first major work to be used at Championship level – and it is long overdue.
The inspiration is clear – 'The Scottish Play' - the title all those superstitious 'luvvies' in the acting profession who tread the boards in light loafers use. By all accounts it was bad luck to mention the name in a theatre by dent of some sort of curse befalling the actor whose mouth it sprang from.
That didn't stop that other well known Scot, Billy Connolly shouting it out at the top of his voice though when he did a few gigs at the Shakespearian Rose Theatre in London a few years ago – all that happened to him was he got considerably richer (although he did marry Pamela Stephenson).
The story of Macbeth is well known – although as with Richard III, Shakespeare allowed himself considerable artistic licence to meander from the true facts of the matter by pretty well rubbishing the poor man's character (libel laws were not that well known in Elizabethan days otherwise he would have found himself in a pretty pickle).
The composer has drawn on characters, abstractions and well known scenes from the play to produce a lucid and exciting work in nine interconnected movements, which tell the story from the meeting and prophecies of the witches ('eye of next, toe of frog, wool of bat and tongue of dog') right through to his final demise and the loss of his bonce at the hands of Macduff.
It's great stuff, with the music perfectly portraying the characters and their part in the storyline. We therefore get Macbeth's 'Is this a dagger I see before thee' query through to a flamboyant musical description of the old boy's character and fierce fighting spirit (and yes, we know he was a bit of a murderer too) to the contemplations of his bonkers wife before she decides to top herself.
Macbeth then goes a little insane of course with his own realisation that his life is not worth much at all. The witches come back for a good old cackle and further bit of magic mushroom stew before it's into battle with a high octane musical episode that would do Highlander proud.

Here the two big skirted Scots go at it hammer and tongs, before Macbeth has a bit of a shaving accident from Macduff and ends up minus his noggin from a man who came into this life through the sunroof of his mothers belly. What an ending!
Now that you know the story, the music makes for great listening.
As Peter Meechan hails from Warwickshire the connection between the Bard and this particular contest may seem obvious, but strangely the musical influences come from further afield – America to start with.
There is a fantastic opening section where you are transported back to one of the iconic moments in the history of the western film genre – 'The Good, the Bad and the Ugly', where the man with no name is confronted by two baddies in the cemetery, each waiting for time to pass before they can draw guns on each other. Remember the little musical watch tune floating in the air as Clint chews on his cheroot?
Stranger still there are some brilliant little nods and winks to Miles Davis and his iconic album 'Bitches Brew' which was lambasted to such an extent on release that it has taken over 30 years to be resurrected and appreciated for its artistic brilliance. For those with slightly more austere tastes there is also an undercurrent of Messiaen's 'Quator pourle Fin de Temps' too – honest.
The thematic material comes in two strands – the first heard by the basses at the opening and fully developed by the cornets later on. The second is developed from the first and both join forces just before the second section (Dagger). It is the clash of these ideas that gives you some idea of what is going on in poor Macbeth's head – not a great place to be you would have thought!
The third section asks questions of the ensembles ability to play with rhythmic precision and is full of bravado ideas (you can hear the funky Brecker Brothers influence here) and thoughts as Macbeth stirs his loins for future battles ahead.
His wife meanwhile gives thought to her own fragile mental health state in the following section with an almost elliptical free flowing cadenza for solo cornet – the quickening of the pace mirroring the increasing pulse rate before she too ends her life.

The following Lament is a stunning piece of sombre, deeply personal writing, simple yet hauntingly beautiful with a taxing lead voice for flugel horn. Again the influence of Morricone is to be heard with the incessant ever growing roll of the snare drum before we once more delve into the dark and ultimately disastrous chain of events that lead to Macbeth's death.
Here the sense of panic and driven despair (complex rhythms and undercurrents) reaches a false climax until the spell is cast and the cruel slings and arrows of misfortune (although that is borrowing from another old Billy Shakespeare story) leads into the ultimate apocalyptic battle and the final swing of the claymore to lop off Macbeth's head.

You really can't ask for more from a composer and of a brass band test piece. It is certainly different, but all the more enjoyable because of it, and it brings to life a truly dark and tragic tale with wit and originality.
It's a tremendous piece, even if you are a touch superstitious. Sit back and enjoy it in all its gory glory.
Iwan Fox