2007 Scottish Open Championship - Challenge Shield retrospective
28-Nov-2007
There was a very clear winner in the battle for the Scottish Challenge Shield and Clackmannan under Paul Kiernan swept their rivals aside in taking it.
---
When was the last time you went to a brass band contest and heard a performance that you knew had romped home by a country mile only to see it end up winning by a 'clear' one point margin?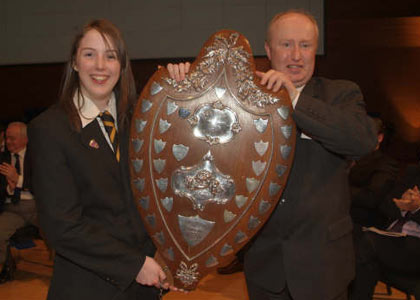 The Shield of success: Clackmannan's representative holds up the spoils
Picture:John Stirzaker

Adjudicators do need to be slightly conservative at times in the reward process, but awarding points can only mean something if they truly reflect the differences in the quality of the performances they are judging. Three cheers then for John Roberts and Mike Fowles.
As two successful and active conductors they know more than most the frustration that can come even with victory. The brass band history books only really recall the winners, but it is nice sometimes to see that it was also a triumph that left no doubt about its authenticity.
That was certainly the case here with Clackmannan under the direction of Paul Kiernan. A five point win may on paper seem a very large margin, but in reality it was fully deserved after their intelligently constructed and impressively delivered performance of Philip Sparke's 'A London Overture' left their rivals well and truly in their wake.
Theirs was a first class performance of a test piece that despite its age, has remained a sprightly old hurdle to overcome even for championship bands. It places real demands on the main solo instruments as well as the ensemble as a whole, whilst the MDs input is critical – especially in respect to tempi.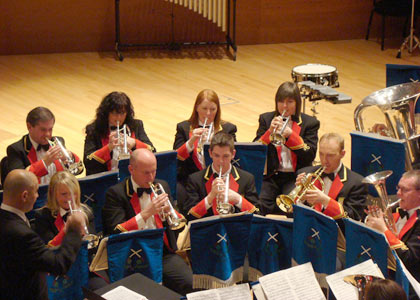 Splendid accuracy: Paul Kiernan leads Clackmannan to a commanding victory

Here Paul Kiernan was splendidly accurate. He chose a pace that both allowed his players a degree of technical comfort without losing musical flow, and in return they responded in kind. Each of the main cadenzas that come quickly after the bold start were handled with real aplomb, whilst the tricky little motifs (especially from the soprano) were solidly overcome without sounding rash, or rushed.
In fact it was a quite splendid performance and left few, if any, in the hall in any doubt that that they were clear cut winners. Five points was just as accurate a margin as the MDs excellent conducting.
With the winners in a class of their own the battle was on for the runners up spot. That was eventually taken by Bo'ness & Carriden under the direction of Michael Marzella, who perhaps just bit off a bit more they could comfortably chew with the ambitious choice of Sparke's 'Partita'.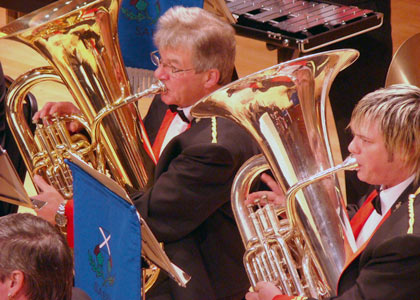 Bo'ness powerhouse: Bo'ness bass section pump it out

That said they were always close to mastering much of the piece – hanging on a bit by the coat tails in places in the first and third movements maybe, whilst the second just sounded a touch tense in places. It was a pretty good effort though and a crafty choice by the MD – just tantalisingly in reach of his band without them ever quite being able to get it fully under control at the moment. A few months down the line and it might be a different matter.
Third place went to Arbroath Instrumental who kicked off the whole of the Scottish Open weekend with a spirited performance of Vinter's 'Triumphant Rhapsody'.
And spirited it had to be too, as we counted just 17 hardy souls in the seats of the fine auditorium to listen to it (plus the two judges of course). That it didn't get a bigger round of applause was a bit of a pity as Michael Roberston led an intelligent performance that had much to commend, especially some neat solo cornet work in the famous cadenza and a rousing finish.
The top three bands were quite clearly marked out on the day. It was interesting though to see that nearly all the conductors had opted to play works of 'vintage' provenance.
The oldest was 'Prometheus Unbound' by Granville Bantock – a real musky, yellow tinted gem from the past, whilst there was also the Vinter, Denis Wright's 'Tam O' Shanter', Goffin's 'Rhapsody in Brass' and an early Peter Graham and his 'Prisms'. Even the two Sparke works are now entering middle age so to speak. Just Darrol Barry's, 'Toccata, Elegy and Scherzo' to represent the young 'uns then. Who says we don't play old test pieces anymore?
Back to the contest and with the top three places being well wrapped up there was still an interesting and enjoyable fight for the minor places.
It was St. Ronan's Silver conducted by David Robb who eventually came top of that mini battle with a performance of Darrol Barry's 'Toccata, Elegy and Scherzo' that was just in need of a touch more excitement in places – especially that opening driven 'Toccata'.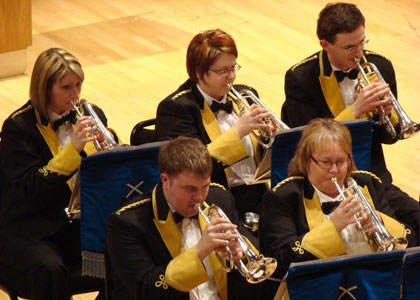 Take 5: St Ronan's come in fifth spot

There were though some lovely little touches in the 'Elegy' and a bold and bravura 'Scherzo' that playfully hopped and skipped about even if the error count was on the high side at times.
Behind them came Jedforest Instrumental with a brave account of 'Rhapsody in Brass' that just suffered with scrappiness in the outer movements but also featured a fine solo euphonium and a talented lass on percussion who played everything by herself.
The tall MD Cameron Mabon directed his resources well too and you were left with the feeling that here was a band full of promise.
So too Lochgelly and Tony Swainson, with a bold account of 'Prisms' that featured well managed solo lines and a powerful, if slightly harsh, ensemble sounds. An excellent euphonium lead was a real feature throughout though and whilst there were those rough edges when they tried to open out the dynamic range there was enough evidence to suggest that they are a band that is moving in the right direction too.
The two bands that did eventually fill the bottom two places could reflect that neither had the best contesting day at the office.
Selkirk Silver directed by Richard Duff gave a brave account of 'Tam O'Shanter's Ride', but eventually it must be said, poor old Tam didn't quite make it home unscathed. Too many problems in some of the lead lines put pay to any chances of coming higher and perhaps on this occasion a slightly less demanding work may have suited them better. It just sounded a touch beyond their capabilities at present.
The same too with Tullis Russell Mills and 'Prometheus Unbound' that never quite managed to capture the essence of the mythical Greek story which ends up with the old boy having his liver pecked out whilst strung up like a goose on a rock.
The same fate befell the band on this occasion unfortunately, despite some good individual playing throughout. It's a tough old piece to make come off and better bands have tried and failed.
No failure though for Clackmannan and they can take a great deal of pride in a performance that had the hallmarks of quality preparation and execution all the way through it. The five point margin on this occasion was very well deserved.
Iwan Fox