2007 Scottish Open Championship - Retrospective
28-Nov-2007
A battle of the Scottish heavyweights saw Whitburn play Macduff to Scottish Co-op's Macbeth and claim victory by a very close shave...
---
There are no absolutes in brass band contesting. Good job really, otherwise we wouldn't enjoy debating the results would we now?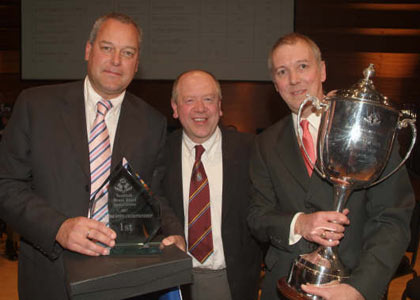 Sponsors booty: Whitburn's representative takes the awards from the boys at Besson.
Picture: John Stirzaker

The 2007 Scottish Open was a case in point. The winners were Whitburn, the runners up, Scottish Co-op. Two great old heavyweight rivals, slugging it out on the contest stage with two different approaches to Peter Meechan's wonderful test piece 'Macbeth'. It made for fascinating listening.
Whitburn went for drama, colour and atmosphere – an almost visceral performance at times; Scottish Co-op opted for the cerebral, control and precision – an almost austere approach. Which one was the best? Both really. Either, if one or the other took your fancy. Neither if you liked someone else. Whitburn, if you were the two men in the box.
See what we mean?
Out on the concourse after the results, the debate raged on. There was quite a heated old ding-dong in some quarters about it all. Given that to the untrained ear, listening to well lubricated Scots talking at prestissimo tempo is as easy to fathom out as quantum string theory in Mandarin, it was still fascinating to hear different views, opinions and even the odd conspiracy theory being aired in such a fashion. The Scots don't lack for passion about their banding. If we all went home happy with the result, it would make for a dull old world wouldn't it now?
Whitburn were the winners, and to be fair, most people we talked to agreed (even if we couldn't understand some of them – especially after the bar in the hall ran dry before the last band took to the stage). Many others had Scottish Co-op as their choice though (including 4BR it must be said). In reality it was a toss of the coin job.
The result (and subsequent disputes) as such came down to a question of relativity.
Whitburn had a poor opening where the glock came in a beat early and the piece sounded out of kilter for about 20 seconds. Co-op didn't. Whitburn had an excellent 'Lament ' section (the real fulcrum of the piece on fact) that oozed musicality and heart felt pathos. Co-op didn't – not quite anyway. Both had top notch endings.
Weigh it all up and which one would you have chosen?
Musically, Whitburn's was the more engaging performance. Technically, Co-op was the better of the two. Which one touched the heart and which one resonated in the grey matter in the head? Given that choice, it was hard to disagree with the two judges, Roger Webster and the composer Peter Meechan. Whitburn it was.
In fact, each of the 14 bands brought something out of this engrossing work that made for a great day's contesting. Even those who struggled to overcome the quite severe technical challenges, especially for the euphonium, flugel and solo cornet still delivered performances of merit.
From first till last 'Macbeth' proved itself to be a test piece of a very high order – musically inspired, and as one experienced conductor told us in the wee small hours, 'approaching musical theatre'.
Hats off to the composer then – a real innovative voice for the medium if organisers can follow the lead of the Scottish Brass Band Association and use this work (and others) again. A mix of Morricone, Purcell, Brecker Brothers and Miles Davis, Meechan's take the 'Macbeth' story was so colourful that it was as if Shakespeare had written it for an XBox video game.
The Lament was quite something. Broad, lyrical and deeply personal it ached with emotion, especially when led by flugel players with the ability to deliver with a warm but not over sentimental tonal colour. This was the Morricone of 'Once Upon a Time in the West' – all played out to a menacing side drum accompaniment. Brilliant stuff in fact – especially when delivered by Whitburn's Jim Chamberlain, who deservedly took the 4BR Best Instrumentalist Award – all he needed was a poncho and a cheroot and he was the Scottish man with no name.
However, Whitburn's overall performance very nearly suffered the same fate as Lee Van Cleef before it got into its stride. Just at the point where the little tinkly glock brought memories of the three men in cemetery scene in 'The Good, the Bad and the Ugly' to mind, the watch spring sprung so to speak, and it all very nearly came to grief.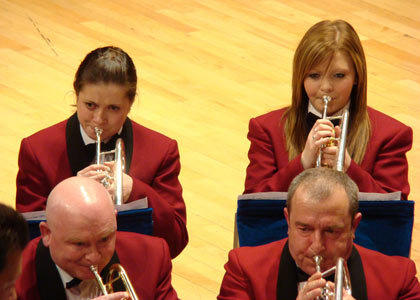 Quartet of youth and experience: Whitburn head for victory

Thankfully it recovered with only a disturbing sense of unease in the air rather than being shot through with points losing bullets. Thereafter the band delivered an excellent performance, rich, as we said, in the required drama and atmosphere. Chris Bradley delivered a finely shaped Lady Macbeth cadenza, Eveleyn Bradley a funky euphonium voiced General Macbeth and Jim Chamberlain that tremendous solo voice in the soulful Lament. A cracking end, full of heightened purpose rounded off a highly musical, if occasionally flawed account.
Meanwhile, Scottish Co-op had to wait quite a while to see if they could pip their rivals, being drawn last of the 14 bands to play.
They delivered a high class performance, perhaps just lacking that sense of darkly menacing intent that Macbeth so exudes throughout the play. There was some wonderfully controlled playing though, with fine performances from principal cornet Caroline Munroe and flugel horn Andrea Casey. The opening was the best of the day and with a precise and detailed approach from the MD Allan Ramsay it kept its quality right to the end.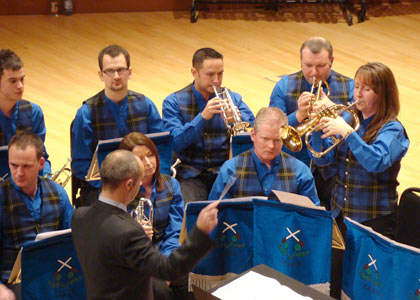 Stand up and be counted: Scottish Co-op's flugel player Andrea Casey takes a stand

For us it just pipped Whitburn, but not for the men in the box, as the slightly more austere interpretation perhaps needed a bit more heartfelt emotional input for them. Overall though it was a very good show and perhaps on another day they may have got the nod. It was a close run thing.
It may have not been too surprising that the two leading Scottish bands battled it out for glory come the results. The English prefer their heroes a bit more cleanly cut than the ragged kilt wearing old basher of Macbeth.
Carlton Main though had their own Celtic king pin in Russell Gray, and the Scotsman brought a genuine sense of Fife inspired troublemaking to their performance which eventually saw them come home in a deserved third place.
Kirsty Abbotts was the best solo cornet player of the day – by some margin too, which a stunning cadenza that was played with such virtuosity that it made the others seem pedestrian in comparison. Meant to portray a woman just about to end it all, the cadenza was written to echo the quickening of the pulse as Lady Macbeth at first contemplates, then finally plunges the old dagger into her bosom.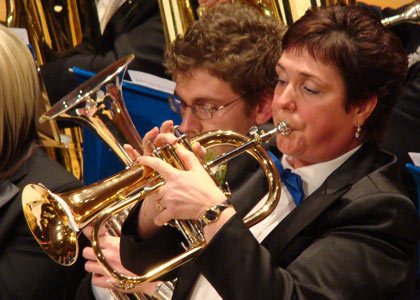 Lewis Lament: Carlton Main's Janet Lewis leads the English campaign for victory

Kirsty did just that, whilst too many other principals opted for the safety first approach to suicide (if there can ever be such a thing). Some ran a bath, got the chocolates out and turned the gas taps on, when it should have been much more dramatic and sudden – and over in a bit of a flash.
Carlton Main were in fact heading perhaps for victory up until that point, but thereafter the performance fell away after a well shaped Lament section. It sounded a touch tired to end, and that may just have been enough to stopped them taking the title back to Yorkshire.
Yorkshire Imps on the other hand went for it tooth and claw (we had them 5th). Theirs was a real old blood an d guts approach under Jim Davies, full of drama and menace with fine solo contributions to boot. If anything it was perhaps a bit too X-rated in places and needed a touch more refinement, especially the Lament which just came to the boil a bit too soon to allow the sense of pathos to be fully realised.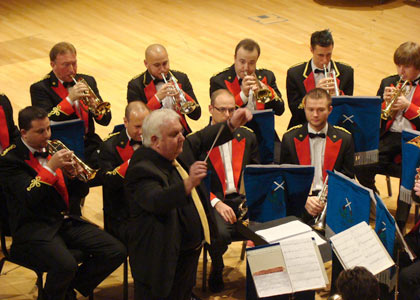 Jim will fix it: Yorkshire Imps head for fourth place

A cracking end though saw Macbeth have his head lopped off with such force that would have bounced off down the pitch like a cricket ball at Headingly.
The third English band to make it into the top six was Camborne under Frank Renton, whose Scottish connections may have been a little more circumspect given that he once wore a kilt when he was in charge of the Gordon Highlanders.
In the event however his band could be well pleased with their efforts (we had them 4th) far from the comfort of their home county after delivering a detailed and controlled account that made the most of their strengths and underplayed the more obvious weaknesses.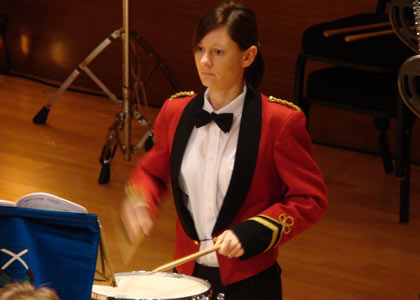 Well drilled precision: Camborne's percussionist plays to the beat of one drum

Well chosen dynamics and strong ensemble sound were on display throughout, but perhaps a slightly pacy dénouement and solo lines that needed a touch more virtuosity (although they were solidly played) cost them a couple of points. Another band though that showed its potential for 2008.
The final band to make it into the top six (and secure a 3-3 raw between the old enemies, with the Scots just getting the extra time winner) was Newmilns & Galston who really did produce a fine account of themselves off the early number 2 draw.
The longer the day went on their spirited account (we had them 7th) more than held its own (and featured a very fine bit of flugel horn playing from Hayley Cole). Not surprising after such a blow it ran out of steam a little to end with a slightly subdued bit of head chopping, but overall it was a well led performance from MD Alex McCutcheon. They can be delighted with their efforts for sure.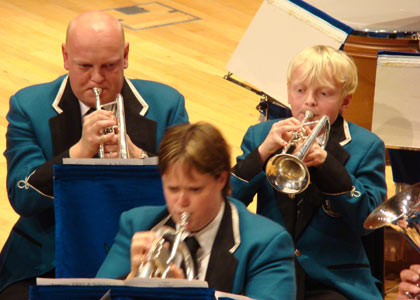 Young and old: Newmilns backrow team head for sixth place

Outside the top six there was still a number of accounts that brought the score to life, although it was a question of consistency of execution (and we don't just mean the bumping off of the main characters) that may have cost them any chance of getting into the prize list.
There were many who were looking forward to the performance of Kirkintilloch, especially as they had flown in Howard Taylor, the MD of the powerful Brisbane Excelsior Band from Australia, to take them.
In the event it was a horrid day at the office though, and despite a promising opening, it fairly disintegrated thereafter with too many individual problems (some unfortunately quite acute) and a scrappy ensemble in the final third when perhaps the players themselves knew the game was well and truly up.
Kirky are going through it at the moment with a collective fragility in their confidence, but they are a much better band than this (12th from the judges, we had them 9th). After such a promising start to 2007 it has all turned a touch sour, but we are certain they will be back and playing well again in 2008.
Seventh place on the day went to Fishburn who not for the first time at this contest produced a performance of merit.
Led by Ray Farr they delivered a structured account that had extended moments of quality (we had them 6th), but just too high an error count to push it perhaps into the prizes. We do question however that the decision to stand so many of the solo lines to play their parts. It seemed so unnecessary – why add to the pressure? Despite that, this new North East combination could be one to watch out for in 2008.
Dalmellington can be well pleased with their effort to in coming 8th (we had them 8th) under the experienced Archie Hutchison. Another band that opted for the stand up solo lines, theirs was a performance that also had extended periods when the playing was of a high quality. Again, personally, we couldn't quite understand the reasoning behind the decision to get the players to stand, but we still enjoyed a performance of merit, well directed.
John Hinckley and Kingdom Brass certainly worked hard to make an impression on the judges in the box, but a shaky start just robbed them of doing that. Afterwards it recovered with a nice flugel lead by Michelle Cain in the Lament and a brave effort from both the solo cornet and euphonium with their central contributions. Just a touch OTT to end in the percussion perhaps, but another well managed account to take 9th place (we had them 10th).
Joint 10th place was in fact taken by two hardworking contenders in the form of Newtongrange under Derek Broadbent (who we had 11th) and RMT Easington Colliery directed by Norman Law (who we had in 13th).
Both produced enough evidence in well drilled performances to suggest that they are moving very much in the right direction. Newtongrange in particular have risen Lazarus like since being on the ropes in the past 18 months and facing collapse and under Derek Broadbent they produced a good marker off the number 1 draw that contained neat touches in solo lines as well as sturdy ensemble playing.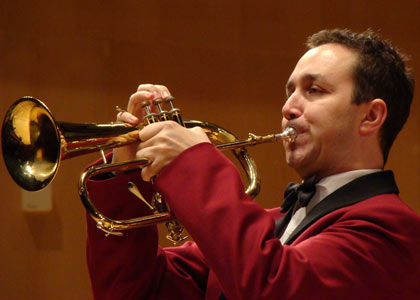 The man with no name? No - Jim Chamberlain winning the 4BR Soloist Award

RMT Easington too delivered a promising account intelligently directed, and making the most of resources by Norman Law. The flugel playing of Jo Brown was excellent and despite the lapses in consistency in the ensemble there was still plenty to enjoy.
Unison Kinneil meanwhile started well, but a lack of focus in the rhythmic passages cost them dearly and it became too scrappy too often. Some quality solo lines promised much, but just when it sounded as if it was going to capture the menace and essence of drama required it turned a touch harsh. No complaints we feel with 12th place (we had them there too).
Finally then Bon Accord and no complaints there either, despite a fine bit of euphonium work from Richard Kidd. It was a bit of a struggle elsewhere though and despite the occasional flashes when it moved along with precision and detail, inconsistency of execution just pulled them back down.
In the end it was back to that question of relativity and whether or not it was going to be Whitburn or Scottish Co-op. Close as it was, the two men who mattered opted for Whitburn and were quite clear about why. That didn't stop everyone else from talking about it long into the cold Perth night though.
Iwan Fox