2007 Scottish Open Championship - Postcard from Perth
28-Nov-2007
Perth has just about everything you could ever want for happiness - even a hall fit for a great brass band contest.
---
By all accounts there was a time when the rate paying burghers of Perth used to elect Conservative MPs. Not now they don't though. They get elected about as often as you see the village of Brigadoon around these parts.
According to local legend (or a couple of blokes we spoke to in the bar at the contest) Perth is still regarded as the Scottish equivalent of well heeled suburbs of South Kensington in London. This is the tartan green welly and 4x4 region.
You can see why. The town centre has lots of nice shops (although where we were staying there was also a few 'Cash Converters' also) and the architecture is solid, dependable and very middle class. Most of all though – they have a quite splendid Concert Hall.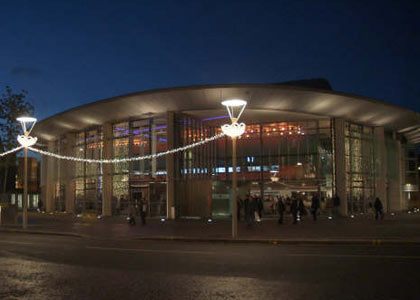 Up in lights: Perth's splendid Concert Hall
Picture: John Stirzaker

Not quite up there with 'The Albert' in stature and size for sure, and tucked away somewhat in a non descript back street area of the town behind Marks & Sparks, but a splendid venue nonetheless. Unlike 'The Albert' though it is also an ideal hall to hold a brass band contest in, as well as the night before, for tribute bands plagiarising Led Zeppelin and AC/DC (except they neither look like, or sound like them). The good voters of Perth never had it so good.
The facilities here were excellent; the hall itself (seating 1,200 when packed, 17 when the contest started at 9.00am) is compact with a great acoustic, the staff helpful, and it didn't cost the Scottish Brass Band Association an arm and a leg to hire either. Add to that the excellent organisational abilities of SBBA and the whole event this year was a tremendous success.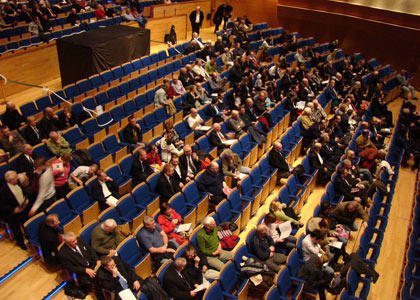 Filling up nicely: More than 17 in to listen later in the day

SBBA has to be congratulated, not just for taking the initiative of inviting Peter Meechan to write a cracking test piece for the Scottish Open contest, but for the way in which they have radically overhauled the event so that it now has a feeling of a contest with a real future ahead of itself.
The use of the in-house multi media facilities was utilised to the full, including projecting the full results on the big screen hung from the ceiling after they were announced for the audience to ponder over. The day also benefited from using a true pro as compere too - Alasdair Hutton, who has a voice the texture of a 25 year old malt whisky.
The choice of adjudicators also showed considerable foresight and hopefully sets a policy here picking talented musicians with 'new ears'. The teams of Roger Webster, Peter Meechan, John Roberts and Mike Fowles all brought a freshness of approach (and of views long into the night) that was really welcome.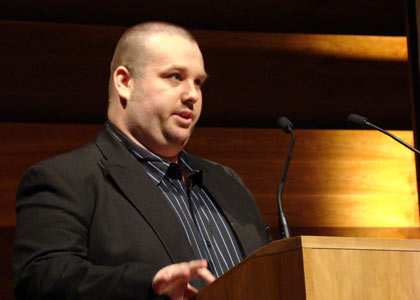 New ears: Peter Meechan tells the audience what he was looking for

All that and it ran pretty much to time (with nice little breaks between each contest) whilst SBBA has the best tea lady in the business providing brilliant pies (or 'pahes' as they seem to call them up here) and sandwiches for all and sundry.
There were one or two things that could possibly be looked at though.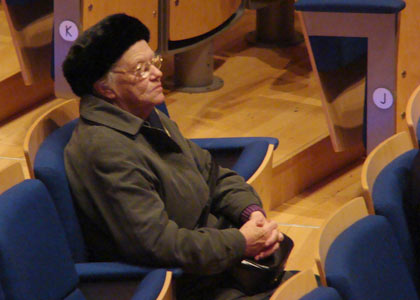 Enjoying the experience: One lady makes sure its all kept under her hat

With own choice selections and with a gap of around 5 minutes between each of the bands in the Shield and Cup, it would have been nice to use the compere to tell us something about each of the pieces being played, instead of telling the audience to go out, have a quick nosey at the trade stands and come back in again.
Then there was the rather strange lighting effect of keeping the bands literally in the dark until the moment when the conductor raised his arms for the first beat and just like magic – 'let there be light!'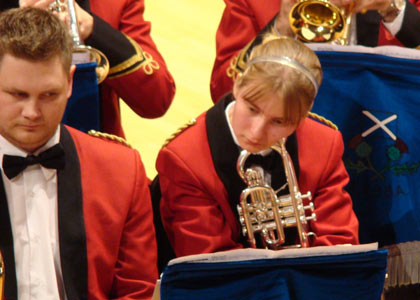 Come on Mr Renton: Camborne's young cornet player waits and waits and waits...

Apart from that there is nothing to even worry about, although Perth itself is a bit of a pain to get to – not even the taxi driver we had enjoyed the trip into the town or paying the £1.00 toll over the Forth Bridge from Edinburgh!
The format of the weekend is now settled too. With eight bands in both the Scottish Cup and Shield keeping them as a domestic battle is a good idea. If you open it up then the day could well become one heck of a long one. Both contests are just right as they are.
So too with the Scottish Open. Now that there is some serious prize money on offer (well done to Besson for supporting the event and putting some proper dosh in) it has the ability to attract some high class bands once more.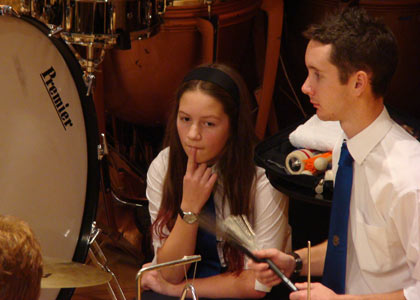 I wonder what I'll hit next: A young percussionist ponders her immediate future plans

That could mean a bit of a headache for the organisers though. 15 bands (one dropped out this year) is ideal in keeping the contest running to time, but we are sure there are a few bands south of Hadrian's Wall who wouldn't mind making the trip up here from now on. Losing a few homegrown bands to make way for a few more English (or Welsh for that matter) may not be too popular a move.
Hopefully SBBA won't be tempted to expand the contest beyond its current format just to attract a few more names onto the entry list – the contest doesn't need it, although 'relegation' for the bottom two bands to bring in new blood may be worth considering.
The bands themselves surely enjoyed the weekend too with a great atmosphere at the Youth Championships on the Sunday rounding things off in style.
As for the bands, a bit of a bug bear was on display throughout the Scottish Open contest. Why do so many conductors feel that standing their soloists up makes a blind bit of difference, or for that matter get players to go all 'directional' like synchronised swimmers just when the music is marked less than mp? Why not just get either the band to play quieter or balance the dynamics accordingly? If the composer wants to hear a flugel horn in isolation they would surely write it on the score.
Ever seen Maurice Murphy turn his back on an audience or Wynton Marsalis scrunch himself up into a ball of sweating anxiety just so he can try and squeeze out a note marked pianissimo? Didn't think so. It's complete nonsense.
Still, that's for the bands and their conductors to chew over for another day.
As for the contest and Perth Concert Hall? Great stuff, even if the bar did run out of draught beer before the end and our friends at Tullis Russell Mills Band never bought us a pint despite the nice things we have said about them (prior to their performance we must add!) Would it be tempting to suggest though that the Scottish Regional Championships would benefit coming here or even dare we say it, the Europeans?
As for electing a future Conservative MP here though – perhaps that may just be a 'pahe' in the sky.
Iwan Fox