4BR Time Team - December 2007
30-Nov-2007
This month we go back 40, 30, 20, 10 and then 120 years to find out what was happening in the brass band world as the Festive Season approached...
---
December 1967:
The contesting season was still in full swing 40 years ago – especially in Wales where the Mid Rhondda Band took the honours at the Upper Cwmtwrch Contest – (there is a Lower Cwmtwrch).
Adverts in British Bandsman still asked whether or not your band had ha changed to Low Pitch instruments yet, whilst the test pieces for the Spring Festival in 1968 were announced, with 'Les Preludes' as the test for the Grand Shield bands.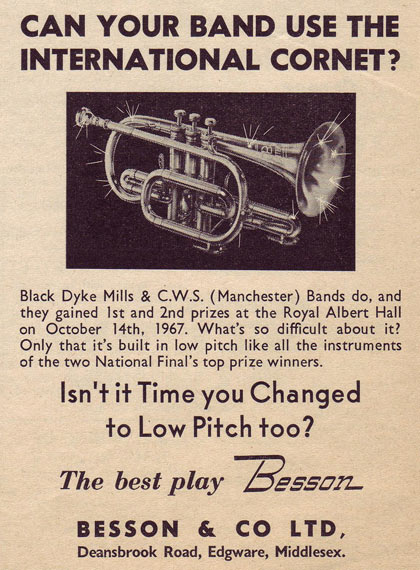 Besson try and flog low pitch instruments to the bands for Xmas...

A strange little concert took place at Airdrie Arts Guild, which featured the Broxburn Brass Consort and the Trombones of the Scottish Gas Board. Whatever happened to them?
Also, the prize winners at the Leicester Junior Festival included in the Junior Slow Melody (14 – 17 years of age) included teenagers, Nigel Boddice from South Leicester and Robert Watson from Desford. Both were beaten by a young lady called Miss S. Brown from Leicester Imperial Band.
Boosey & Hawkes published a new march called 'Bandology' by Eric Osterling, and Eric Bravington was elected Chairman of the British Federation of Brass Bands. Meanwhile a Mr Lloyd Thomas resigned from the Gweek Silver Band after 37 years 'in charge' of the bass drum.
The Peter Yorke Award was initiated with a prize of 100 Guineas to be presented to a composer who had as yet not had more than two works published. Yorke was the composer himself of the classic test piece 'The Shipbuilders'.
The National Brass Band Contesting Council decided to resurrected the National Youth Championships in 1968
And finally:
A Short Story Competition was run in British Bandsman. Under the strap line – 'First Prize Goes to a Lady', the judges Eric Ball, Vaughan Morris and Frank Wright chose the entry of Mrs B.R. Claridge of Evesham for her opus, 'Old Comrades'. A certain Alf Hailstone came joint third with 'The Muted Cornet' with Major Rodney Bashford for his literary effort, 'Viva Voce'.
---
December 1977:
30 years ago a report in a national newspaper suggested that the Black Dyke Band were on the verge of disbanding. The allegation was refuted by Peter Lambert of John Foster – "We are thrilled to own the band and to run it and finance it," he said.
Roy Newsome announced his decision to accept posts at both Stanshawe and Besses o' th' Barn Bands.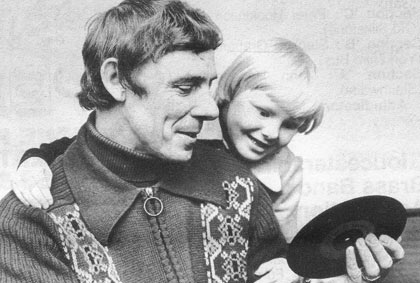 Record Breaker: Derek Broadbent shows off the Floral Dance and his dodgy cardigan to his daughter

The results of the Mere Manor Annual Solo & Quartet Contest saw a certain Brian Winter of Coventry Imperial Band win the Slow Melody section for players aged 10 years and under, whilst a young fellow called K. Crockford of Solent Youth won the Air Varie section for those up to 20 years of age. Where are they now we wonder?
An up and coming orchestral conductor called John Pryce-Jones joined the Markham and District Band in South Wales – his first ever experience of a brass band, and the Floral Dance was being sold at £2.00 per set under the banner - 'From the Hit Parade'.
One Richard Evans left Fairey Engineering Band to become the new MD at the ambitious Leyland Band, and Brighouse & Rastrick were presented with a Silver Disc for 250,000 sales of their record.
Grimethorpe played 'Ragtimes & Habaneras' at Queen Elizabeth Hall to help the London Sinfonieta celebrate it's 10th anniversary, whilst the Marton's Welcome Inn, a pub near Blackpool, fined the proprietor's £400 under the Control of Pollution Act, for holding lunchtime brass band concerts.
And finally:
Just before Christmas Brighouse finally strike gold with the news that an amazing 500,000 singles of 'The Floral Dance' had been sold (rumoured to bagged the band over £10,000). The appropriate Gold Disc was presented to the band at a special concert held in the town.
---
December 1987:
The Swiss Brass Band Championships were won by Brass Band Berneroberland in Bern, conducted by a young tyro by the name of Markus Bach. Whatever became of him?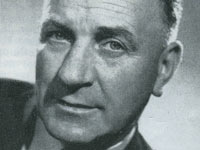 Vaughan Morris left the UK to head home to Australia to enjoy his retirement – aged 87.

Best of Brass – the television programme that did so much to set back the cause of the brass band at the BBC was set to return for a second series it was announced. A young 13 year old cornet player called Angela Whelan won the Junior Solo Award at the Scottish Solo & Quartet Championships.
The Fairey Band were elected BBC Band of the Year and Besson launched their new 968 euphonium – "..a step closer to the perfection for which all musicians must strive," said a certain Steven Mead esq.
James Watson (remember him) was announced as the new conductor of the National Youth Brass Band and David Hirst was appointed resident conductor at Black Dyke. Jim Gourlay was appointed MD at the BTM Band and David James left his post at Grimethorpe.
And finally:
The Blidworth Band had their contesting ban lifted, whilst the great Trevor Walmsley DFC revealed his Latin Motto as an adjudicator 'Sempre Vehiculum Proximo Propylaeum', which translated meant 'Always get the car as near to the door as possible'.
---
December 1997:
The YBS Band appeared on GMTV to promote it's Xmas charity CD entitled 'Who is He?', whilst the Masters Championship announced changes to its adjudication process – three judges in three separate boxes (someone should have told them it will never catch on…)
Remember the Lottery Grants? In December alone just 12 bands picked up over £520,000 to replace old instruments, help with youth bands and training groups, assist with transport and computer requirements. Fodens (Courtois) Band received £73,005 to set up a youth band and expand existing youth policies. They were also due to tour Israel in the following year and Chicago in 1999.
Where are all the new youth bands, training groups and computers now we wonder?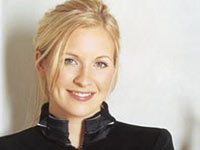 The South West Brass Band Association pulled out of the British Federation, whilst a certain David Whelan, the multi millionaire tycoon announced plans to spend a quarter of a million pounds on developing the nation's first ever Brass Band Centre of Excellence. Whatever happened to that?
David Childs joined Brighouse & Rastrick Band aged 16, whilst the BBC Young Musician Competition announced 12 brass players who had reached the final stages of that year's competition.
Names included 19 year old Alison Balsom (pictured right - now aged 29), a young tuba player called Joseph Cook plus two intriguingly named players, Mark Almond and Katie Pryce. Didn't the one become a pop star and the other a busty page 3 girl, or are we wrong?
And finally:

Conductor Jeremy Wise announced that 'I'm fed up of being messed around by half hearted players' as he set up First City Brass. What happened them we wonder?
---
And back 120 years….
And finally, a little bit of news from 1887: It was reported around the Christmas time that a ladies brass band had been formed in New York, USA. The report stated that there was a need for 'soulful damsels, strong lunged maidens and muscular matrons willing to risk the inevitable distortion of the face'.