Gizmos & Gadgets - December 2007
30-Nov-2007
From the latest high wonder products to the simplest little bits and bobs and a few that are truely weird and wonderful. 4BR has been out shopping - this is what's on offer at Normans in December.
---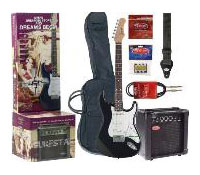 Stagg ESURF-BK Electric Guitar Starter Kit
Item SKU: ESURF-BK
Price: £69.99

Just in case your potential Maurice Murphy or Alison Balsom is not showing the type of progress you would have hoped for since taking up a brass instrument, why not opt for something a little different – and potentially much more financially rewarding.
The electric guitar is not only a little easier to play, but it makes teenagers in particular look amazingly cool to their friends at school too.
This fantastic starter kit features a 'Stratocaster' look-alike guitar, includes a 8 watt amp (just loud enough to wake you up nice and early on Christmas morning) and a host of useful accessories to turn a clean cut kid into a potential multi millionaire hedonistic rock star.
All comes with a strong nylon bag to carry everything around in from gig to gig, strap, extra string set (just in case one twangs in the middle of 'Stairway to Heaven') and a great CD ROM tutor that teaches the basics of playing, but not how to fend off teenage groupies and Machiavellian agents.
There are also headphones so they can strum away to their hearts content without disturbing anyone and a couple of Fender plecs to practice with. All with a choice of colours too.
Guaranteed to turn any youngster into having an appreciation of Jimmy Hendrix and any father to start playing 'air guitar' in the kitchen to old Deep Purple LP's when no one is looking.

More Information:

http://www.normans.co.uk/Items/esurf-bk?sck=20662383
---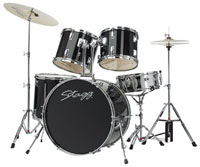 Stagg TIM1 SET 22 BK 5 Piece 22in Drum Kit in Black
Item SKU: TIM1 SET 22 BK
Ex-VAT-Price: £131.91
Price: £154.99

If you don't want your kids to totally leave the brass band world just yet for a life of fun and games as a rock star, then why not tempt them to keep playing test pieces and old overtures by buying them a pretty cool new drum kit.
As with the electric guitar, the drum kit is the next best 'cool' instrument to play.
Why worry about scales, accidentals or the tuning on a bottom C#, when you can sound like Chad Smith of the Red Hot Chilli Peppers and look as good as him too without ever having to bother about reading a note of music!
It looks the biz too, either in Gloss Black or Wine Red with chrome hardware.
It comes with a 22" bass drum and the classic rock set-up of 2 mounted toms, floor tom, snare, hi hat and crash cymbal. Also included are a stool and a pair of sticks, whilst the hardware is 'double braced' to give solidity and durability when any little Louis Prima goes a bit OTT in a performance of 'Pastime with Good Company'.
The toms are 12" and 13" with a 14" snare drum (ideal for the obligatory William Rimmer march), 16" floor tom and high hat and cymbal.
It can also accommodate those in size from Phil Collins to Phil Harper.
So if you can put up with the noise and the potential loss of your child to a future in a Nirvana grunge style pop combo then this is a fantastic way to also keep 'em coming to band too.
It also comes with assembly instructions for Dad (who will no doubt try and relive memories of Keith Moon and Cozy Powell from his youth, given half the chance)
More Information:

http://www.normans.co.uk/Items/TIM1%20SET%2022%20BK?sck=25900710
---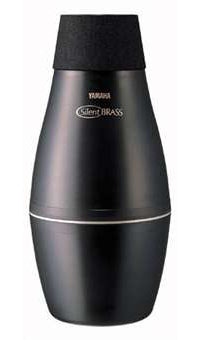 Yamaha SB2-9 Silent Brass System for Euphonium
Item SKU: SB2-9
Price: £116.00

The Silent Brass System from the clever little chappies at Yamaha has been the market leader ever since it first appeared a few years ago – because it works wonderfully well.
The initial range has been expanded to include just about every brass instrument under the sun – from cornet to tuba and more besides.
Not only is it a clever idea but it does of course mean that you can practice at just about any time of the day or night without upsetting your neighbours or your wife (although we don't think she would be too happy if you start regular practice at 2.00am in the morning or when Simply Come Dancing is on).

The euphonium mute comes with the ability to play along with CD or MP3 recordings, so you may not even need to go to band to improve your playing and echo enhancement to make you sound as if you are playing in the Royal Albert Hall.

It also comes with the usual volume controls, button earphones and external sound system to replay your greatest moments.
It may not make you turn into David Childs overnight, but at least you can put the practice in without anyone knowing….

More Information:

http://www.normans.co.uk/Items/sb2-9?sck=25900710
---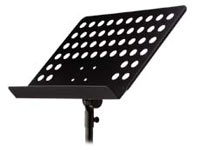 Stagg MUS-A5BK Orchestral Music Stand
Item SKU: MUS-A5BK
Price: £13.35

A very neat piece of work from those mechanical geniuses at Stagg.
This orchestral music stand does what it says – it's hard to wax lyrical about a music stand of course, but this one is built to last and is ideal to be used in bandrooms as well as on the contest and concert stage.
Made out of tubular steel it can take a fair old bit of banging around by clumsy (or annoyed) performers, whilst the detachable desk is drilled with holes to make it lighter and can be adjusted to just about any angle too. It weighs in at 3.8kilos and can be raised or lowered between 70 – 110 cm. (We've cut the image so don't worry it's not just for midget cornet players)
That's all you need to know really - and we can't think of anything funny to say either….

More Information:

http://www.normans.co.uk/Items/MUS-A5BK?sck=20662383
---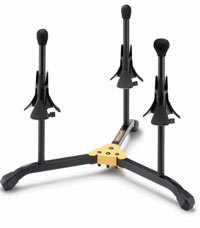 Hercules DS513BB Triple Trumpet/Cornet/Flugelhorn Stand
Item SKU: DS513BB
Price: £21.95

Something for the player who has everything (and wants to possibly show off about it too).
This triple trumpet/cornet/flugel horn stand from Hercules has been designed with just those people in mind – or the real pro players who need something to hang the tools of their trade onto.

The strong, lightweight stand can fold away neatly when required, whilst the swivel legs can move around to fit around other equipment that may be dotted across a practice room floor.
Soft foam protects the instruments from any sort of damage, so they can be plonked down as quickly as you like, just when its time for a cup of tea.
Looks great and gives that air that you are player that knows what they are doing – even if it will only ever hold onto your two cheap Chinese cornets and an old flugel horn.

More Information:

http://www.normans.co.uk/Items/ds513bb?sck=20662383
---