Scouting Report - January 2008
4-Jan-2008
4BR has been out and about assessing the brightest and the best young brass players around to find out who are likely to be the superstar players of the future.

We've been to Wales - now it's three of the best in Yorkshire.
---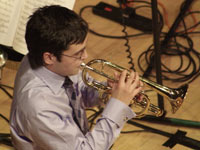 Name: Jamie Cooper
Age: 21
Occupation: Student
Instrument: Bb Cornet
Current Band: Grimethorpe
Previous Bands: Chapel-en-le-Frith, Thornton Brass, Derwent Brass, Faireys, Brighouse, NYBBGB
Jamie Cooper is a very fortunate young man. His early years saw hi come under the influence of Ralph Hall, a peripatetic teacher in Staffordshire whilst up to the age 15 he was taken under of the wing of Martin Winter before that particular maestro moved to Norway. If you're going to learn the art of cornet playing, then there are not too many better people you can learn from.
At 16, Jamie became the Principal Cornet of Derwent Brass, but it's in the past couple of years that he has caught 4BR's ears. Now 21, he is currently in his 4th year at Manchester's Royal Northern College of Music studying under Roger Webster and it is during his tenure here that he began to make an impression courtesy of consistent performances in the cornet sections of some of the leading bands in the North of England.
Having been an integral part of the National Youth Brass Band of Great Britain, he has already played with Faireys before moving across the Pennines to Brighouse for two and a half years where he was on the front row.
One thing that Jamie isn't worried about, is gaining experience and continuous development (and improvement) as a player. In 2006, he fronted Jaguar Coventry's challenge at the US Open and having received encouragement to enter the BBC Radio 2 Young Brass Soloist Competition, reached the final in Manchester last year where he gave an excellent account of himself.
In March last year, his continuing potential gave him the opportunity to join Grimethorpe on repiano, and its something that the player has thrived upon. Playing alongside, Kevin Crockford and Roger Webster, he can learn and develop from the best and has already been featured as a soloist (along with Joe Murray) in the band's concerts.
Very much a player with impressive all round abilities, he is taking the sensible long term approach to his playing – something that will surely pay off in the years to come. Further experience with the lads at Grimethorpe (and what an experience that should be in all senses!) will be invaluable.
Sound: 8/10
Technique: 8/10
Stamina: 8/10
Musicality: 8/10
Potential: 8/10
---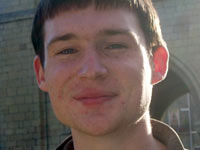 Name: Paul Duffy
Age: 19
Occupation: Student
Instrument: Bb Cornet
Current Band: Black Dyke
Previous Bands: St Helens Youth, Haydock, NYBBGB
One of the things that immediately strikes you when chatting to Paul Duffy is the endless enthusiasm and enjoyment that playing the cornet brings to him as an individual.
He's been under the expert teaching eye of Lynda Nicholson at St Helens Youth Band since the age of ten and only stepped down from playing with the band last year having achieved numerous accolades with the band.
Paul's continuing passion for brass playing brought him the opportunity to play with the Haydock Band at the age of 15 and he was with the band for 2 years where he also continued his development in the Principal Cornet seat.
At 16, he got his first taste of the NYBBGB and although his playing with the band finished last year, he left having followed in the footsteps of some of the finest cornets players in the business as the leader of the band. Earlier last year he won the Harry Mortimer Solo Award, an achievement that is an early indicator of marking out those with outstanding talent.
During his association with the NYBBGB, Paul met Dr Nicholas Childs and Richard Marshall and in September 2006 he was invited to join Black Dyke.
He's already had success with the band and 2008 could be a very exciting year for Paul Duffy. In addition, to his Music Technology course at Salford University, Paul has also been playing soprano with the Queensbury outfit in a long term investment by the band in a player with almost limitless potential.
With the retirement of Peter Roberts at the end of 2007, Paul has been sitting in the soprano seat and the reports are that he has taken to the challenge like a duck to water.
For a player so young it is an immense challenge, but you feel he wouldn't have accepted it if he didn't know 100% that he would succeed at it – an admirable attitude that should hold him in good stead. There will be ups and downs over the coming years in a position that more than most can make or break a young player, but with sensible handling and exposure from Black Dyke we could well be witnessing the start of a quite illustrious career on the high wire.
Sound: 8/10
Technique: 8/10
Stamina: 7/10
Musicality: 8/10
Potential: 9/10


---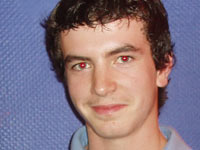 Name: Joe Murray
Age: 16
Occupation: Student
Instrument: Bb Cornet
Current Band: Sellers International Youth, Grimethorpe and NYBBGB
Previous Bands: Golcar, Kirklees Youth Brass Band, Sellers International
At just 16, Joe Murray is a performer far beyond his years. Having started playing at the age of 9, where he was taught by Darren Stott, its during his tenure with the Sellers International Youth Band that he has come to 4BR's attention.
A lovely warm and cultured tone has been a real beacon of class in his role of Principal Cornet, whilst he has also revealed a calm and very focussed persona whether it is as ensemble leader or as stand up soloist.
Not surprisingly, his performances have been rewarded with various prizes competitions such as Action Research, Youth Entertainment, Pontins and Tameside Youth contests.
It's not just 4BR that has been impressed with the cornet sound of Joe Murray. His playing has seen him graduate into the NYBBGB and Phillip McCann, the MD of Sellers International brought him into the senior Sellers outfit where he continued to flourish as a player. In April 2006, he joined Grimethorpe.
Along with Jamie Cooper, he has not only featured as a soloist on the concert stage with Grimey, but has been part of the band that won the English and National Championships in 2007.
Currently studying at Leeds College of Music, he also plays trumpet and piano, so there are more strings to his bow than a young Robin Hood. It's that temperament though that is so outstanding and allied to a developing sense of musicality the experience of playing with Grimethorpe has seen his playing come on in leaps and bounds.
There is of course still a very long way to go before he becomes the finished article – but what a finished article he could be if he carries on at this rate.
Sound: 8/10
Technique: 7/10
Stamina: 7/10
Musicality: 8/10
Potential: 9/10
---
Previous Scouting Reports: