Classic LPs - The 1970s
10-Apr-2008
Tim Mutum casts his expert eye over two iconic releases from the 1970s.
---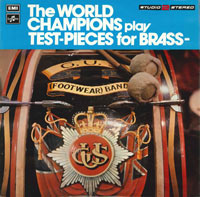 The World Champions Play Test-Pieces for Brass
G.U.S. (Footwear) Band, conducted by Stanley Boddington
EMI Records Studio 2 TWO 379, released 1972
Producer: Bob Barratt, Engineers: Peter Brown and Norman Smith
For many years the G.U.S (Footwear) Band was EMI's "house band". From 1957 until September 1976 the band made 24 recordings, including the renowned Bandstand series which ran for ten volumes.

The programmes were not startling in any way but the longevity of the series certainly was. Without doubt, the finest GUS issue was that with the most cumbersome title – The World Champions Play Test-Pieces for Brass.
If ever there was a killer title, destined to put off those who sleeve flipped in the local record shop then this was it. What a title! What a programme!

Side 1 was new recordings (Energy – Robert Simpson and James Cook, Circumnavigator – Gilbert Vinter) and side 2 tracks taken from earlier LPs (Overture: Le Carnival Romain – Berlioz arr. Wright from Kings of Brass TWO 161, 1967 and Variations on a Ninth – Gilbert Vinter from Bandstand No 9 SCX 3550, 1965).
David Read, then principal cornet, takes up the story: "Energy and James Cook were recorded in early 1972 at the famous EMI Abbey Road Studios in St John's Wood, London. We put Energy on in one take. We did go through it again in case there were any technical problems from the production side! Later, we broadcast Energy on Radio 3 and a chap slipped into the studio just before we played it and sat in a corner with his mac on, and at the end he said a few words to us on how much he had enjoyed our performance of his work and then slipped out again. It was Robert Simpson. None of us knew he was coming to hear us, such a modest man!"
G.U.S. had won the final, short lived World Championship in 1971 when Energy was the test piece and are reckoned to have been the only band to have really come to terms with the music on the day. David Read again, "If you think of it Energy is very difficult to piece together after the opening because it is so intricate and involved." It was Stanley Boddington's last great success with the band he had been involved with since 1933.
James Cook, Circumnavigator was the test piece for the W.D. and H.O. Wills' Champion of Champions' competition in 1971 which G.U.S also won.

It depicts the story of the Circumnavigator on his long journey to New Zealand and his feelings upon arrival at the 'promised land'. Of all the recordings of this descriptive work none has captured the treacherous journey, the turbulence of the ocean and the dramatic moment when Cook dies at the hands of natives on Hawaii as well as this premiere.
The G.U.S (Footwear) Band won the National Brass Band Championships in 1964 and 1966 when the test pieces were Variations on a Ninth and Le Carnival Romain respectively.
The players who recorded Energy and James Cook, Circumnavigator were as follows:
Principal Cornet – David Read
Solo Cornet – Stanley James
Solo Cornet – Adrian King
Solo Cornet – Harry Gray
Solo Cornet – Brian Leipelt
Soprano Cornet – David Jones
Flugel Horn – Harold Howarth
Repiano Cornet – Hugh Higgins
Second Cornet – John Thorpe
Third Cornet – Tom Smith
Principal Horn – Gordon Hindle
First Horn – John Cobley
Second Horn – Norman Smith
Principal Baritone – George Beardsley
Second Baritone – Stephen Smith
Principal Euphonium – Trevor Groom
Second Euphonium – Russell Booker
Principal Trombone – Terry Hext
Second Trombone – John Masser
Bass Trombone – Richard Ogley
Principal Eb Bass – William Smith
Eb Bass – Ray Tucker
Principal Bb Bass – Michael Bryant
Bb Bass – William Martin
Percussion and Xylophone – Jack Miles
Percussion – Frederick Grace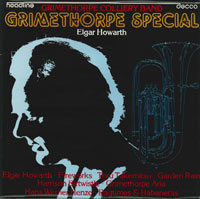 Grimethorpe Special
Grimethorpe Colliery Band, conducted by Elgar Howarth
Decca Headline HEAD 14, released August 1977
Producer: James Mallinson, Engineer: Michael Mailes
Forget band and conductor contest successes. The most successful partnership in modern times for brass bands has been that of Grimthorpe Colliery Band and Elgar Howarth.

The music commissions, partnerships with other artistes, the concert venues and programmes performed and the recordings all speak for themselves. And in the case of the latter this LP was probably the most musically challenging.
Side 1 opens with Elgar Howarth's Fireworks (Variations on a Theme of W.Hogarth Lear), commissioned for the 1975 British Open contest at Belle Vue, Manchester. It caused quite a stir although, as is often the case, we now wonder what all the fuss was about.

For the final fugue Besses 'o 'th Barn joins forces with Grimethorpe. The narrator is Valerie Solti, wife of Sir George. Howarth says the piece was "to provide a 'guide' to the brass band for general audiences, in much the same way as Britten's famous 'Young Person's Guide to the Orchestra. Hence the variation form of Fireworks and also the narration."

So, what do brass bands do? On the rare occasion it has been subsequently recorded the narration is left out meaning this remains the one and only definitive recording.
Garden Rain by Toru Takemitsu was not written for band but for the Philip Jones Brass Ensemble's tour of the Far East in 1974. Howarth arranged it for brass band. This displays a different side of the brass band, an elegant and poetic piece with the brass conveying a soft texture of sound.
Grimethorpe Aria by Sir Harrison Birtwistle (which opens side 2) is arguably the most significant of the pieces Howarth secured. This is what he had to say in an interview with Records and Recordings magazine in 1977. "When I went to Grimethorpe I made it quite clear that, if I was a going to be involved with a brass band, I would want entirely new repertoire.
The first person I asked, in fact, was Harry Birtwistle….quite by chance he knew Grimethorpe (he had an aunt up the road in the next village) and he wrote this piece which absolutely floored the band world (which is very conservative). It caused complete bewilderment…."Grimethorpe Aria is a very big, tough, strong piece; very black, very pessimistic. Every single bar of it aches." Besses again perform on this track.
It was Birtwistle's idea that Howarth should approach Henze and the result was the Ragtimes and Habaneras (the final piece on the LP). Howarth again, "very approachable, with lots of dance rhythms, jokes, deliberate clichés, quotes from Mahler, Kurt Weill – scored in an unorthodox way but very effectively."

Unlike the other three works on this LP the eleven miniatures making up the Ragtimes and Habaneras have survived and it receives occasional performances, the most recent being at the Brass Prom at the Royal Albert Hall last July. The Birtwistle recording used here will feature on the final volume of The History of Brass Band Music on the Doyen label which is scheduled for release later this year.
Other contenders for the best of the 1970s:
High Peak for Brass – Black Dyke Mills Band – Pye GSGL 10453 – 1970
Swedish Brass – The Solna Brass of Stockholm – Granada – GRA 1004 – 1972
Spectrum – The Rise to Fame of the Stanshawe (Bristol) Band – Saydisc SDLB 262 – 1974
British Music for Brass Band – Black Dyke Mills Band – RCA RL 25078 – 1977
Classics for Brass Band – Grimethorpe Colliery Band – Decca SCX 6820 – 1977