2008 Brass in Concert Championship - Postcard from The Sage
19-Nov-2008
Remember those buzz words of innovation and invention? It seems someone has been listening at last...
---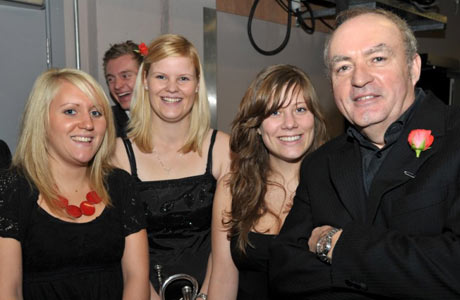 Girl talk: Allan Withington and his girls pre hypnotism...
Picture: Ian Clowes

For more postcard images go to:
http://www.pbase.com/troonly/08bic_others
http://www.pbase.com/troonly/08bic_results

For those of you who can cast your minds back to the beginning of the contesting year, there were two little buzz words that were being bandied about after the Butlins Mineworkers Contest.
Innovation and inventiveness. David Read and Peter Parkes were the men who said it, because after an overlong period when all we were getting at brass band entertainment contests was the same old stuff regurgitated and reheated like a cheap meat pie, even the judges were getting bored with it all.
Endemic rot

The rot had finally reached endemic levels at Brass in Concert last year, when a whole series of performances from the British bands (the exception was Eikanger, who tried something new and were rebuffed for their troubles) were nothing more than tired repeats of old hat arrangements and entertainment.
This year The Sage witnessed a veritable smorgasbord of new dishes to tickle the palette of even most jaded of entertainment connoisseurs.
Heath Robinson

True, some were of the Heath Robinson variety when it came to laying them out for public consumption, but you had to take your hat off for the effort that had gone into producing some of the 25 minute programmes on show.
What about Fairey for instance?
Professor Frankenstein couldn't have bolted together a body of such ghoulish disparate parts and made them come to life in the same way Phil Chalk, dressed as Vincent Price did on the day. Fairey must have been slaving away in their particular Stockport laboratory for weeks on end to come up with such a brilliantly original idea.
All that missing in fact was Van Helsing, Burke & Hare and Michael Jackson's chimp Bubbles – although Neil Hewson did a remarkable impression of 'Whacko', complete with identical red bomber jacket from the 'Thriller' video.
Lord Lucan

The band also had the best disappearing act since Lord Lucan was around too, with the girl in the box trick performed better than David Copperfield in Las Vegas.
However, it would have really brought the house down if they had managed to make a really big bloke from the bass end go up in a puff of smoke instead of the mere slip of a girl that they used as a brass band Debbie McGee.
It never quite got out of hand – although there must surely have been a suggestion to have played 'Resurgam' as the corpse rose from the coffin. No – not in front of these sponsors.
Meanwhile, Alan Withington and Stavanger opted for a bit of spookiness too, with his impression of the hypnotist from the 'Little Britain' show - "Look into my eyes, not around the eyes, but in the eyes – your under" routine. He even looked a bit like Derren Brown too.
Even Cory – well known for being entertainment conservatives over the years opted for something completely different – for them that is.
All that was missing from their programme was free MacDonalds hamburgers and a speech from Barack Obama.
X Factor

Meanwhile, Fodens went all 'X Factor' (and would have surely been voted off by Simon Cowell for their opening number) that went peetong big style. It was like a gruesome version of a club act in Phoenix Nights.
Not to be outdone in the awful singing stakes – Desford, YBS and Leyland wouldn't have got a vote for their efforts either from a sympathetic Cheryl Cole.
Close harmony singing should either be left to Welsh Male Voice Choirs or skimpily clad girl bands like the Sugar Babes, where the looks far outweigh the talent. Sounding like a cross between a post rugby match bar room sing- a-long and a school choir doesn't work.
Still – they all tried and it was great to see and hear something different this year from all the bands.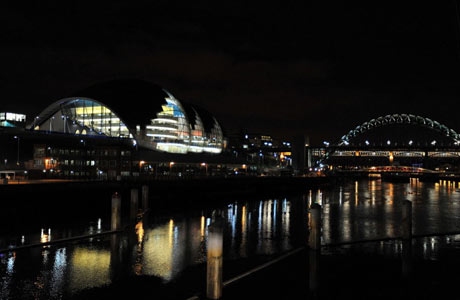 No fog on the Tyne: The Sage at night
Picture: Ian Clowes

Fantastic success

The organisers have also made some changes too – with the expansion of the Brass and Percussion workshops a fantastic success.
Over 70 players of all ages and abilities enjoyed a great day on the Saturday under Sheona White, Richard Marshall, Brett Baker, Tina Mortimer, Derick Kane, Joe Cook, Simone Rebello and Judith Orchard.
Great sounds of endeavour and encouragement were emanating out of rooms all around The Sage, before culminating in a cracking free for all impromptu concert on the main concourse that was enjoyed by about 250 people.
The only problem may be that next year the day will be over subscribed – but what a problem to have! The organisers deserve the credit for taking a punt on the idea and having the determination to see it flourish.
So too with the link up with the Action Research Contest. Rochdale Borough Youth played on both days on the weekend and must have thoroughly enjoyed the experience.
Arising problems

Two problems did arise however which may need to be sorted out for next year. The first was that a break down in advertising communication meant that the official concert they gave in the main hall on the Saturday afternoon only attracted about 100 people – a matter that will surely be put right.
The second however arose over the thorny question of recording the band playing and taking photographs. Issues over Criminal Record Checks, by all accounts from some disgruntled parents, meant no recording for the DVD or pictures being allowed to be taken by the press. That needs sorting out for next year.
Gala surprise

The Gala Concert on the Saturday night was a delight once more, although the organisers may have to ask a bit more firmly for the Brits to put a little more imagination and effort into their part of the playing bargain.
It is difficult for bands to put on two programmes in succession on two separate days, but for the second time in two years, the Norwegians wiped the floor with the reigning Brass in Concert Champions.
Brighouse certainly had other things on their mind 24 hours before they were trying to claim a hat trick of victories at the contest, but their programme could have been better thought out.
Reinvigorated

Since its move to The Sage, Brass in Concert has reinvigorated itself to such an extent that expectorations of the contest are higher than ever before. Tickets are like gold dust and the whole weekend has a feel of being vibrant, interesting and worthwhile.
There are still changes that need to be made, but now that the bands have seen the entertainment light, the ball is back in the organiser's court to drive the contest forward.
If they can then Brass in Concert will remain the best brass band entertainment contest in the world – by a mile.
Iwan Fox