2008 4BR Awards - Newcomer of the Year
17-Dec-2008
Which talent do you think made the biggest new impression on the banding scene during 2008? Lots to choose from as someone or something have created a real impression in the last 12 months.


---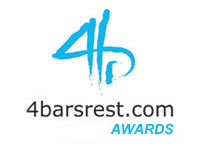 It is always a joy to see new and exciting talents make their mark in the banding movements each year, and 2008 was no exception, with blossoming reputations for a host of burgeoning bands, players, conductors, composers, brass band events and even adjudicators.
It left us with plenty to look at and a huge selection became apparent.
These were the five that caught our eye in 2008: Paul Duffy; David King; Glen Van Looy; Dan Price and Martin Winter
There were of course plenty of others too. There are literally thousands out there who have made their first mark on the banding world in 2008 – so why not give them a vote if you feel we have missed them out.
---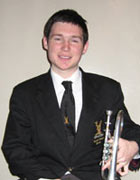 Paul Duffy
Nicholas Childs' secret weapon.
After all the hullaballoo of who, what, why and where the next soprano player for Black Dyke would appear from, the MD had him up his sleeve all along.
The nuturing process reminded you of the way Alex Ferguson looked after the young Ryan Giggs – and look how good he turned out. His appearances so far have been excellent – sparkling technique, diamond edged sound and a nerve England footballers at a penalty shoot out would die for.
---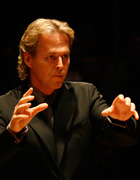 David King
You are reminded of the quip the politician Michael Foot once made of the former Liberal Party Leader David Steel that he had grown from erstwhile rising star to respected elder statesman with no apparent intervening period in between.
As you would have expected, the Australian has quickly taken to the task of adjudicating at the very highest level in the past 12 months like a duck to water.
Yet another new musical chapter has opened on a quite remarkable musical life.
---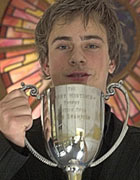 Glen Van Looy
In a few years time, when it comes to producing a list of famous Belgians for your band quiz night, the name of Glen Van Looy will not be one to easily forget.
His performances in winning the British Open Solo Championship were hallmarked by a sublime musicality, whilst he was also an integral part in Festival Brass taking the Belgian National title this year too.
The best thing to come out of Brussels since Stella Artois, he will surely be poached by someone in the UK to 'sign' for a major contest before 2009 ends.
---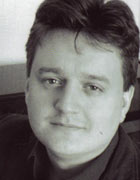 Dan Price
Watch out for the name at the top right hand corner of your latest test piece. Mr Price could well become one of the most popular composers for brass during the next 12 months.
The former Salford University graduate has already produced one of the best lower section test pieces of 2008 with his witty pastiche 'An Elgar Portrait', whilst in the next few months bands will get to grips with his equally enjoyable 'New World Sketches'.
All this and he played a major compositional role in Cory's 'Brass in Concert' winning programme too. Keep your eyes peeled then.
---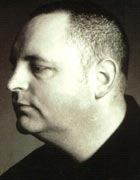 Martin Winter
Not as a player but as a conductor and composer.
Those lucky to have heard him play will attest to the fact that when Mr Winter puts his talents to something the results are invariably brilliant. Now he has unveiled yet more strings to his musical bow after writing and conducting a quite stunning SIDDIS Entertainment winning programme entitled, 'Central Park Suite' for Manger Musikklag.
The man is touched by a special kind of talent indeed – and to think he really wanted to be a sous chef…