4BR Band under the spotlight - Reg Vardy
2-May-2009
4BR puts the biggest name in the North of England under the spotlight to find out a bit more about them, their aims and objectives for the rest of the 2009 season.
---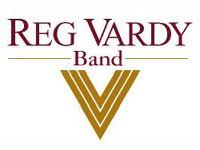 Band: Reg Vardy
Website: http://www.regvardyband.co.uk/
Region: North of England
Major Honours:
BBC Band of the Year: 1974
North of England Regional Champions: 1968; 1969; 1970; 1972; 1973; 1974; 1975; 1976; 1977; 1978; 1979; 1980; 1981; 1982; 1985; 1986; 1987; 1989; 1990; 1991; 1993; 1994; 1999; 2000; 2002; 2003; 2004; 2005; 2006; 2007; 2008
Grand Shield Champion: 1966
Joshua Tetley winners: 1983
North East Champion of Champions: 1983
Edinburgh Festival winners: 1983
---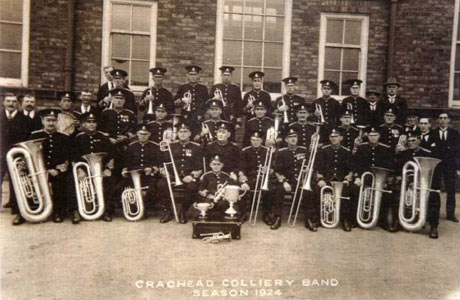 Forefathers: Craghead Colliery Band - 1924

Band History:

The history the current Reg Vardy Band can be traced back to the formation of the Craghead Colliery Band in 1910, in a small mining village in County Durham.
Early banding success was rare, but the appointment of Eric Cunningham in the early 1950's saw a remarkable upturn in fortunes, as the band rose through the lower sections, finally gaining Championship Section status in 1959.
The band qualified for the National Finals for the first time in 1963, but it was from 1968 onwards, the year it gained sponsorship from the giant Ever Ready coroporation, that it won its first North of England regional title and started to make a real mark on the British banding scene.

In 1966 the band won the Grand Shield Contest, gaining entry to the British Open, remaining there until 1990. They returned to the contest in 2001 but were relegated in 2007. They are curently looking to return through Grand Shield qualification once more.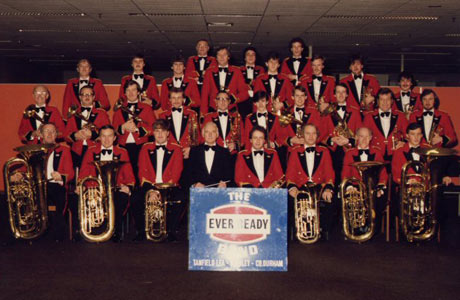 Battery power: Ever Ready Band - 1985

Regional titles

31 Regional titles have followed since 1968; first under Eric Cunningham's direction and following with professional associations with the likes of Walter Hargreaves, Trevor Walmsley, Peter Parkes, Ray Farr and latterly, Nicholas Childs.
Major contesting success has eluded the band, although they were crowned BBC Band of the Year in 1974 and won the prestigious Edinburgh Festival Contest in 1983.

The band's best performances at the major contests has seen them come third at the National Finals of 2004, and Brass in Concert and All England Masters in 2003. They came fourth at the British Open in 1987.
Ever present

The band has been an ever present contender at the Brass in Concert contest now held at The Sage each year, and took part at the World Championship in Kerkrade in 2005, where they came fifth. They continue to be respected contenders at all major contests in the banding calendar.
Sponsorship with the Ever Ready company ended in 1992, but with a move to their new home in the centre of the town of Stanley in County Durham they remained a forceful contesting presence as a self supporting outfit, even though they retained the Ever Ready name.
The band gained new backing from the Reg Vardy Group in 2003, an association that continues today with the band proudly bearing its sponsors name. Latterly the band has enjoyed a period as Brass Band in Residence at Durham University has recorded four major CD releases.
---
Statistics:

Current 4BR Ranking: 22

2008 Contesting Record:
North of England Regional: Winners
Grand Shield: 6th
All England Masters:16th
English Nationals: 10th
National Finals: 11th
Brass in Concert: 11th

2008 Prize Money won: £300

2009 Contesting Record:
North of England Regional: 2nd

2009 Prize Money won: £100
---
4BR Eight Year Ranking Progress: (World of Brass/4BR Ranking to April 2009)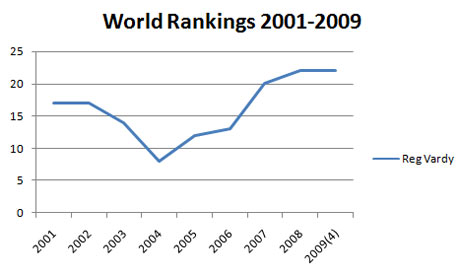 When the 4BR rankings first started in 2001, Reg Vardy held a comfortable 17th place at the end of season – a position they maintained the following year.
Over the next two years the band enjoyed the fruits of fine performances at the major contests and saw their ranking rise, first to 14th at the end of 2003 and to a high of 8th in 2004, after they had come in the podium places at both the National Finals and All England Masters.
Since then they have dropped away somewhat, ending 2006 in 14th, 2007 in 20th and 2008 in 22nd – a ranking they hope to improve upon by the end of the 2009 season.
---
Personnel: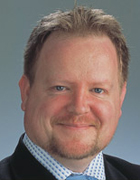 Professional Conductor:
(Russell Gray will be taking the band at the Grand Shield contest)

Russell Gray was born near Glasgow, and an early interest in music saw him pick up his fathers trumpet by the age of 9. Within a few years he had won many national solo prizes including the under 17 Solo Championship of Great Britain by the time he was 12.

Russell moved to Yorkshire to study music and soon after joined Black Dyke where he stayed for two years. He subsequently became principal cornet of Fodens and Leyland Bands.

Russell's conducting career started when he was appointed resident conductor of the Stavanger Band in 1998.

Russell moved back to England in 2001 to take over as conductor of the Ransome Band leading them to second place at the National Championships in 2000.
In 2002, Fodens Richardson approached Russell to conduct them and within the first year had obtained three first and two second placings in five contests.

2005 was one of Russell's most productive years, winning six out of eight competitions culminating with the National Brass Band Championships on Great Britain with Leyland.

Since 2003 Russell has been freelancing as a conductor and player, and this has continued to take him around the world. At home, Russell teaches at the Salford University, the Royal Northern College of Music and is a Besson endorsed artist.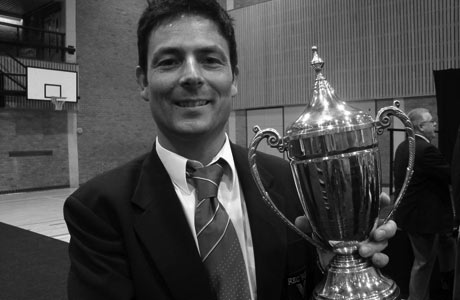 Star quality in black and white: Principal cornet Jim Hayes

Current Players:
Resident Conductor: Steve Malcolm
Principal Cornet: Jim Hayes
Solo Cornets: Graeme Tindall, Les Palmer, Nigel Brown
Soprano: Tom Glendinning
Repiano: Steven King
2nd Cornets: Anna Ferguson, Gordon McGeorge
3rd Cornets: Allan Catherall, Bob Temple
Flugel: Joanne Behan
Solo Horn: Steve Hardy
1st Horn: Linda Cook
2nd Horn: Jillian Dickson
Solo Baritone: Laura Boyle
2nd Baritone: Colin Dye
Solo Euphonium: Paul Robinson
2nd Euphonium: Jeremy Benton
Solo Trombone: Chris Bentham
2nd Trombone: Peter Liddle
Bass Trombone: Jeff Bryant
Eb Tubas: Tony Taylor, Jen McClausland
Bbb Tubas: Colin Dixon, Alaistair Storey
Percussion: Julie Parkin, Jonathan Fenwick, Dave McKeage, Bob Stephenson
Librarian: Michael Burr
---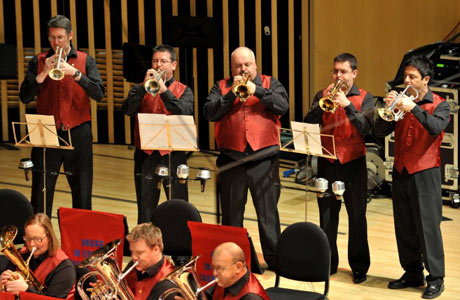 Aiming the right way? Reg Vardy's cornet section lead the way at Brass in Concert

2009 Aims and objectives:

Contesting front:
Band spokesperson Les Palmer told 4BR: "The first priority of the year is always to get to London. Although we were disappointed not to retain our Regional title, playing at the National Finals is always the major objective.
"We are looking forward to the forthcoming Grand Shield contest and hope to get back to the British Open, where we believe Reg Vardy belongs. Then comes the All England Masters, where we will be directed by Nicholas Childs, and the English Nationals where we will team up with Ray Farr once more. Ray will also conduct the band at Brass in Concert.
"If things go to plan and we are able to show the form we know we are capable of then 2009 should be a fine year for the band."

Non contesting front:
"With the band's centenary in 2010 to look forward to, we have started to make provisional arrangements already. It will take a great deal of forward planning, but we hope to make it a year to remember especially with a high profile Centenary Concert at its heart.
"We are also playing a major role in the forthcoming Durham Festival of Brass and the new Leyburn Brass Festival, whilst we have a forthcoming Listen to the Band recording in the pipeline too. We have a full diary of engagements to last until the end of the year and into the beginning of 2010 too."
---

Trombone trio: Reg Vardy's trombones in concert
4BR Predictions:
An important year for Reg Vardy.
The band had fallen away in recent years from the high water mark of 2004 when they looked on the verge of making a major breakthrough. Since then things haven't gone to plan and at times they have sounded way off the pace at major contests.
Rebuilding has taken place and it now seems to be bearing fruit, although they are still prone to inconsistency. Their 2008 contesting record wasn't that great on paper but they were still capable of putting in solid midfield performances. Although they didn't retain their Regional title this year they still qualified with some ease for London.
Hold their own?

They do need to return to a top 20 ranking though, and much will depend on their ability to more than hold their own in some up and coming high profile contests.
The Grand Shield offers hope, but luck plays a role at Blackpool, whilst the Masters and English National fields are full of high quality opposition.
They will be looking to qualify for the British Open, but a top six finish at both Cambridge and Preston will be a tough ask at present.
If they do well however, the boost to morale could see them post a strong finish in a somwhat depleted National Finals line up. Brass in Concert is a bonus (given their current ranking) and they may have to start justifying their inclusion in that particular field from now on.
They like to use the term 'sleeping giant' in the North East, but in Reg Vardy's case it is true.
The potential and talent is there, but it is results that count, and Reg Vardy has to start posting them if they are to return to the top end of banding's Premier League.