4BR Band under the spotlight - Fodens Band
3-Sep-2009
4BR puts the current British Open champion under the spotlight to see what the rest of the season may hold in store
---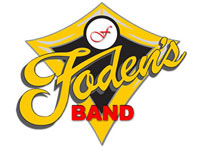 Band: Foden's Band
Website: http://www.fodensband.co.uk/index.php
Region: North West
Major Honours:
European Champions: 1992
Champion Band of Great Britain: 1910/30/32/33/34/36/37/38/50/53/58/99
British Open Champion: 1909/10/12/13/15/26/27/28/64/04/08
Granada Band of the Year winner: 1987
Brass in Concert winners: 1987/88/98/00
All England Masters Champion:1990/91/94/95/02/07/09
BBC Band of the Year: 1990, 1992
North West Area winners: 1949/50/53/56/83/88/89/98/99/00/02/03/06/07/08/09
Harry Ramsden winner: 1998
Yeovil Entertainment Champions: 1985/86/87/89
Swiss Open winner: 1995
French Open winner: 1998
Festival of Britain Champions: 1951
International Champions: 1954
Tameside Whit Friday Champions: 8 times
---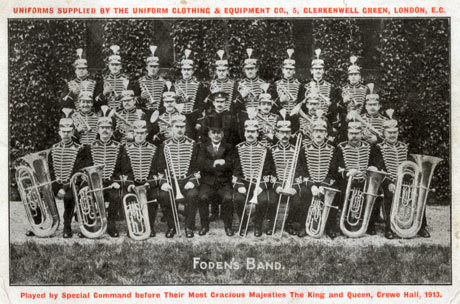 Smart bunch of lads: Fodens Motor Works Band circa 1913

Band History:

Foden's can lay genuine claim to being one of the most famous names in the brass band world.
Formed in 1900, in the village of Elsworth near Sandbach, the original band was wound up, but thanks to the patronage of the Foden's family and the work provided by their motor works factory, they were taken over and the start of a long and successful history began to be written.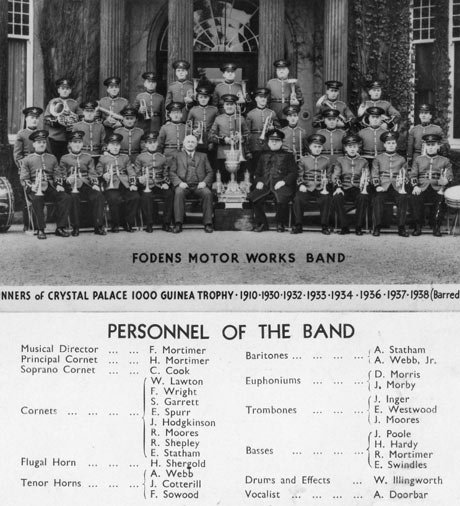 The Mortimer years: Fodens at their peak in 1945

Great names

The Foden's Band has been conducted by many of the greatest names in the movement's history – from Rimmer, Gladney and Halliwell in the early years, through to the Mortimer trio of Fred, Harry and Rex, which lasted nearly half a century, to the latter day giants of Snell, Tovey, Childs and Cutt.
Despite occassional periods of relative lack of success, the contesting CV of the band is one of the most impressive of all.
Victories

The first British Open victory came in 1909, and has been followed by a further 10 wins, the most recent in 2008, whilst the National Championship has been secured on no less than 12 occassions, the most recent in 1999.

A European title was secured in 1992, whilst they have notched up a record 16 North West Regional victories – nine in the last eleven years.
They have aslo become the most successful Whit Friday band of recent times, taking the Tameside title (and the substantive amount of prize money on offer) for the last eight years.
Multiple All England Masters titles, Granada and Brass in Concert victories, BBC Band of the Year and title victories in Switzerland and France have all added contesting substance to a band that has also enjoyed an enviable recording and concert reputation, ever since its first commercial recording was produced in 1914.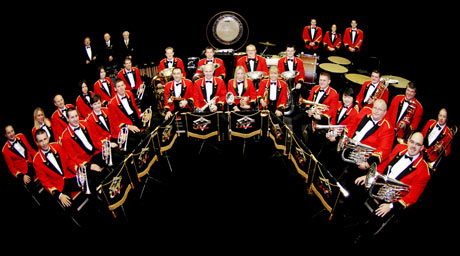 British Open champions 2008

Players

Some of the banding movements finest players have graced the Fodens Band over the past century or more – such as the briliant cornet players Edwin Firth, Harry Mortimer, Teddy Gray and latterly, the current principal cornet Mark Wilkinson.
Members of the band have won the National Quartet Championship of Great Britain on five occassions, whilst the current band line up features some of the movement's most respected performers.
Names

Although the band has occassionally been known by other names (most notably Britannia Building Society for 17 years) it is the Foden's name, reclaimed in 1997 but without direct sponosorship from the firm, that remains most potent.
Still based in the village of Sandbach, and with growing innovative cultural ties to its local community, the Foden's name still resonates with past, present and the potential for future glory.
A fine history of the band was written by Allan Littlemore in 1999 entitled 'One hundred years of musical excellence', whilst further information can also be found at:
http://www.britishpathe.com/index.php
---
Statistics:
Current 4BR Ranking: 2
2008 Contesting Record:
North West Regional Championship: Winner
All England Masters: 6th
English Nationals: 5th
British Open: Winners
National Finals: 2nd
Brass in Concert: 6th
Tameside Whit Friday: Champions
2008 Prize Money won: £11,350
2009 Contesting Record:
North West Regional Championship: Winner
All England Masters: Winner
English Nationals: 3rd
Tameside Whit Friday: Champions
2009 Prize Money won: £ 12,725
---
4BR Eight Year Ranking Progress: (World of Brass/4BR Ranking to September 2009)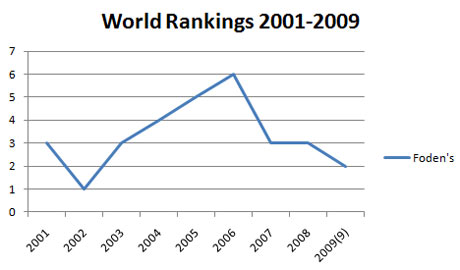 When the 4BR rankings first started in 2001, Foden's was ranked 3rd at the end of the season. The following year saw them claim the prestigious number 1 ranking at the end of the year, but they fell away to come 3rd and then 4th twice, in the following three seasons.
Their lowest ranking of 6th came at the end of 2006, but with improved contesting results that has climbed to 3rd in 2007, 3rd again in 2008 and a currnet position of 2nd.
---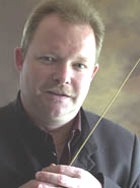 Professional Conductor: Garry Cutt

Garry Cutt has developed a reputation as one of the banding world's most successful conductors.

His 17 year tenure with Marple Band resulted in many contest successes, the pinnacle of which was the British Open victory of 1996. This was his second Open title of four to date, having previously won with Kennedy's Swinton in 1989, as well as twice with Foden's in 2004 and 2008.

He became MD of the Grimethorpe Colliery Band in 1991, a position he held for twelve years. The impact of the film 'Brassed Off' resulted in him leading the band on several sell-out tours, all over the world.

Regarded as the 'Kings of Entertainment', Garry and Grimethorpe notched up six victories at the Brass in Concert competition, whilst his overall contribution to the banding movement was recognised in 2003 with his award of the Iles Medal by The Worshipful Company of Musicians.

From 2000 to 2005 he was Associate Conductor to the National Youth Brass Band of Great Britain, working closely with his mentor, Elgar Howarth.

Garry became the Professional Conductor of Fodens in January 2005 and together they have continued to flourish as one of the most successful partnerships in banding, starting with victory at the inaugural English National Championships.
In 2009 they completed a record equally four victories in a row at the North West Area contest as well as winning the All England Masters International title for a seventh time.

He is very much in demand as a guest conductor and latterly as an adjudicator, having appeared in Australia, the USA, Japan, Denmark, Norway, Holland and Sweden.
Current Players:

Principal Cornet: Mark Wilkinson
Cornets: Richard Poole, Dave Morton, Nick Jackson, Anita Dale, Andy Rolfe, Fumika Kimura, Colin Moody, Lucy Chivers
Soprano: Alan Wycherley
Flugel: Helen Williams
Solo Horn: Leslie Howie
Horns: Chris Haigh, Andy Howard-Smith
Solo Euphonium: Glyn Williams
2nd Euphonium: Shaun Hudson
Solo Baritone: Natsumi Inaba
2nd Baritone: Mike Warriner
Solo Trombone: John Barber
2nd Trombone: Tom Berry
Bass Trombone: Simon Minshall
Eb Bass: Les Neish, Stuart Baglin
Bb Bass: Derek Jackson, Matthew Wade
Percussion: Liz Haygarth, Dan Baldwin, Dave Wycherley, Chris Bastock, Mark Landon
---
2009 Aims and objectives: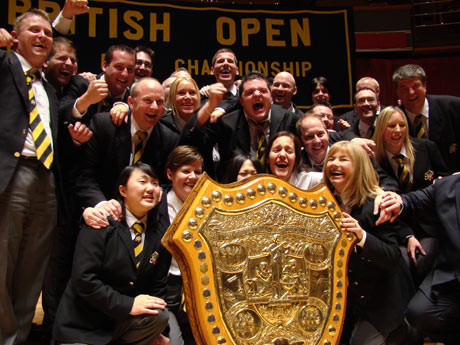 What its all about: British Open champions 2008

Contesting front:
Principal cornet Mark Wilkinson told 4BR: "2009 has been an extremely successful year so far for Fodens on the contest and concert platform.
"As well as victories at the North West Area, Tameside Whit Friday and Masters, the band came 3rd at the English National as well as producing a critically acclaimed performance at the RNCM and releasiing the band's latest CD, 'Maestro'
"We are looking forward to defending the British Open title and hope to go one place better at the Nationals. The contest year will finish with Brass in Concert where the band have devised an innovative programme.
"After the Open, Fodens will be appearing in a prestigious Music Festival in Suffolk working with Garry Cutt and Elgar Howarth, as well as enjoying a trip to Italy the weekend prior to the Nationals. Fodens will also be releasing its latest 'Test Piece' CD at the Open featuring works conducted by Bram Tovey and Garry Cutt."

Non contesting front: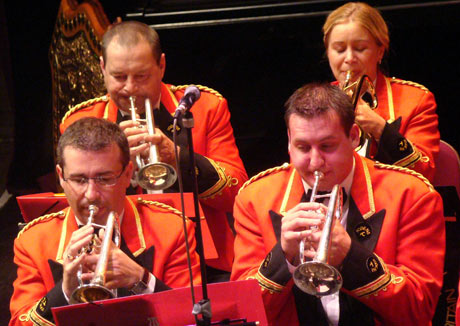 Foden's fantastic four: Foden's cornet section in full flow

Mark added: "Away from the contest/concert platform the band have been extremely pleased to have announced the appointment of Mike Fowles as Associate Conductor as well as entering into an association with Besson and securing funding from Sandbach Council.
"Fodens have been busy behind the scenes appointing a number of new Vice Presidents with proven backgrounds in business who have been assisting the band with new ventures.
"We are pleased to have continued our 'Youth Policy' working with various Music Services, Summer schools and youth organisations, and we will shortly be announcing the launch of a 'Fodens Youth Patrons Scheme' to shadow our already very successful 'Fodens Patrons Society' which now boasts over 500 members."
---
4BR Predictions:
Hard to find fault with what Foden's are doing both on and off the contesting platform at present.
2008 was a good year, but 2009 could well be even better, especially if they can add another National title to their impressive CV.
2009 has seen a fine victory at the Masters and a 16th notch on the North West Regional bedpost, whilst Tameside Council could well consider sponsoring the band given the amount of money it has paid out to them on the Whit Friuday cicuit over the past 8 years.
The Open has been a happy hunting ground of late and if they do hit top form they could be right in the mix once again in defence of their title.
The National title has eluded them now for a decade, but they have come close. If they really hit form then look out – they have all the key personnel in place and a top rate MD at the helm. A victory in Kensington is overdue.
Brass in Concert could be interesting as the band has been somewhat off the pace there in the past couple of years. The promise of an innovative programme could well be the key to success there.