2009 British Open Championships - Retrospective
15-Sep-2009
Can anyone stop Cory taking over the world? At the Open, not even the six best English bands could deny them another major title...
---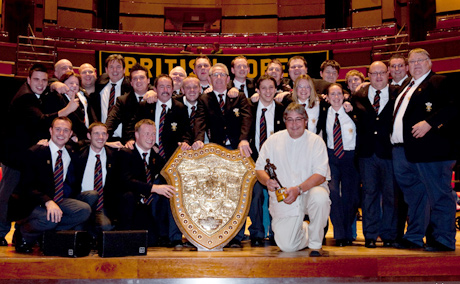 2009 Champions: Cory win again
Picture: Ian Clowes

For more pictures of the 2009 British Open:
http://www.pbase.com/troonly/090911_birmingham_open

Four down, two to go. Cory's quest for complete and utter world domination remains on course for crowning glory at Brass in Concert in November.
Can anyone really think that particular contest won't be anything other than a coronation if the current Welsh, European, World, and now British Open champion, wins at the Royal Albert Hall in just five weeks time?
Golden Slam

A truly unique 'Golden Grand Slam' is within touching distance, and although they haven't won in London since 2000, not even the prospect of a horrendously early draw or another gargantuan effort from their main rival Black Dyke can perhaps stop them.
If they win there then they will head to Gateshead as overwhelming favourites to complete the most successful contesting year in the history of banding.
They drew 6 at Symphony Hall and still won. Black Dyke, Grimethorpe, Leyland, Brighouse and Foden's threw everything at them bar the kitchen sink, and they still won.
It is hard to think of a contesting band that displays such utter self-belief at present. The next step to contesting immortality can't come soon enough.
Memorable

A memorable contest at Symphony Hall was won by a memorable performance.
In fact there were two memorable performances at the end of the day, and a host of outstanding efforts too on Hermann Pallhuber's highly inventive and enjoyable set work, 'Titan's Progress'.
As the overall results showed, some fine bands filled the top six places (David Read stated that the judges felt there were in fact seven outstanding performances, so you can add Desford to that). The two that stood out though came from Cory and Black Dyke.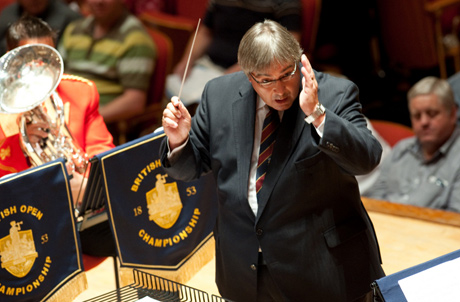 The man in the middle: Bob Childs leads Cory on Titan
Picture: Ian Clowes

Edifice

Cory produced an edifice of contesting winning brilliance.
It is hard to think of a band that comes so well prepared and which pays so much attention to the smallest of musical details.
It may not have made for a performance that made the hairs on the back of your neck stand on end with its aesthetic beauty, but it certainly made your jaw drop in appreciation of the effort, talent and skill that went into the contest winning process.
At Symphony Hall on Saturday it was like watching England pummel Wales for 79 minutes of an international rugby game, only for the Welsh to soak up every bit of pressure, not miss a tackle or drop a pass, never drop the ball or fail to find touch, and still run up the other end of the field and score the winning try to break English hearts.
Winning

It's all about the winning, not the way you play the game. Others may value the Corinthian spirit, but it doesn't put silverware on the table at this level – hard nosed professionalism does – and Cory have got noses like prop forwards.
Currently Cory has the ability to run the musical ball like the Barbarians or stick up their jumpers and grind the opposition into the dirt like the old Pontypool front row. Any time, any place - at the moment they are nigh on unbeatable.
Their performance was of a Titan juggernaut – so technically polished and musically compact that there even the merest hint of fragility was quickly smothered by a security blanket of ensemble brilliance and individual showmanship.
The MD left nothing to chance – from the use of the rep player to deliver a simple sense of innocence to the opening motif to the lontano duet between the cornet and euphonium which was played with an authentic sense of distance that the duo were very nearly playing in the Exhibition Centre next door to the hall. It summed up the desire to get everything right.
In the end they did just that – and a performance that was as close to faultless that it made no difference. They are worthy champions, because their top English rivals threw everything at them.

Giving it his all: Nicholas Childs points the way
Picture: Ian Clowes

All in their power

Black Dyke did everything in their power to stop the famous golden shield sitting pretty on top of Bob Child's mantelpiece (and it must be sagging under the weight of precious metal at the moment).
Theirs was a commanding performance, full of technical brilliance and polished wit, played with a razor sharp precision that would have slit your throat from 200 yards.
Nicholas Childs knew it, the players knew it, and the hall knew it. The three men in the box knew it was special too – but not special enough. It was a close run thing though.
Best shot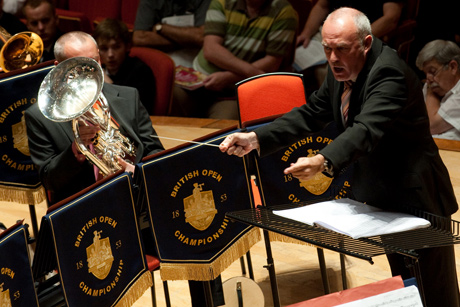 In all seriousness: Allan Withington shows his contesting face to his band
Picture: Ian Clowes

Grimethorpe also give it their best shot too, aided by a reading from Alan Withington that was authentically Mahleresque from the word go.
If only his players could have just delivered without the unforced errors Grimey could have been celebrating their first Open win since 1991 – because it was the most musically coherent performance of the day – the wit of the Farandole in particular played with a sense of crepuscular witty menace. Still, even that wasn't enough.
An inspired Leyland went for the black end of the humour stakes too – as dark as a bar of local Bourneville chocolate.
After last weekend's encouraging run out at Bridgewater Hall Jason Katsikaris tightened the technical bolts that secured Titan's armoury to squeaking point, and his band delivered with a sense of urgency and desire – but even that wasn't good enough.
Alchemist

Perhaps Brighouse knew that victory was beyond them, but it didn't stop them from trying just about every trick in the book to give themselves the outside chance of their first win in 31 years.
David King produced a cultured, if slightly idiosyncratic reading of the score that delighted listeners with its flexibility and sophistication. Unfortunately for the legions of supporters in the hall, even his alchemist genius for turning base metal into solid gold came up short – it was 18 carat classiness rather than plumb bob 24 carat winning bling.
Foden's meanwhile produced a catanaccio defence of their title whose welded bolts of defiance came unstuck with the little slips and errors that at the very highest level invariably prove fatal.
Each little nick and clip just chipped away at the deeply polished patina of musicality that had been lovingly burnished by Garry Cutt, and although the end result was pockmarked the music still retained a sonorous dignity that others failed to capture on the day.
And that wasn't good enough either.
Feminine touch

The last band to impress the judges was Desford – the first band to take the stage at 10.00am.
James Gourlay's light fingered approach to the wit and style of the Mahler made for a Titan in touch with his feminine side – although never to the point of a Dale Winton impersonation.
It was intriguing stuff, played with a hint of darkness in the heart that Joseph Conrad would have been proud of, and aided by some fine soprano work from Richard Evans who took the Brian Evans Memorial Trophy home with him for his splendid efforts.
And even that wasn't enough.
Six of the very best bands in the world had given it their all – and still Cory topped the lot.
Trials and tribulations

No one else came close, for the rest of the contenders had their own trials and tribulations – some plainly self induced, others more mysterious in their outcome.
At the wrong end of the table there was disappointment and dismay – almost in equal measure.
Disappointment

The disappointment came from BTM and Hammonds Saltaire, both of whom fell through the relegation trap door and back to the Grand Shield.
Both delivered brave accounts of themselves, but at this level endeavour is never enough. Too many unforced errors, basic problems with balance and intonation meant that the MDs were never able to impose a sense of coherent style on the performances.
BTM could have no complaint in coming 18th and last, whilst Hammonds will at least take comfort from the fact that they ended in 13th place – an encouraging codicil to what has been a memorable decade or more for them at the contest.

Dismay

As for the dismay? That surely came from Whitburn and Rothwell – both of whom appealed more to the audience than the box.
Why their strongly driven renditions didn't resonate with Read, Relton and Ball is a bit of a mystery, but as we have said a thousand times before, the adjudication process is a very subjective one, and sometimes you get a result that may well baffle your particular musical senses.
These two did, and both will have left Birmingham more than a little perplexed – understandably so.
Morose

Another morose band will be Carlton Main, but relying on trying to find Mahler's Disney inspired lachrymose heart was always going to be as dodgy as Professor Higgins making Arnold Schwarzenegger sound like Laurence Olivier. Both were miles out, and on this occasion Russell Gray's insistence on idealistic musicality seemed misplaced.
Happier

Leaving a darn sight happier would have been the other Scottish contenders, Co-operative Funeralcare and Kirkintilloch.
Neither band had enough about them to suggest they would push for a mention off the stage, but it was puzzling to hear two such inconsistently executed performances hold their own to such an extent that they finished in 8th and 9th place.
Co-op had the better of the technical issues under Michael Fowles, whilst Kirky's very idiosyncratic approach under Selmer Simonsen never seemed to find a happy medium between the intensity and the wit. The pair may not be so lucky next time.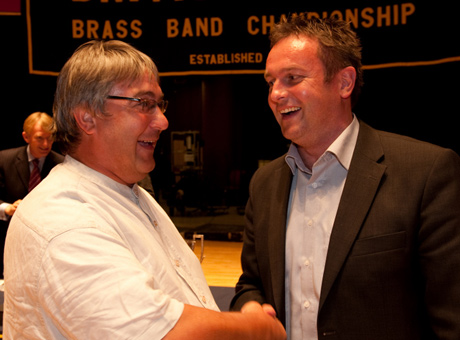 Titan duo: Bob Childs and composer Hermann Pallhuber meet up
Picture: Ian Clowes

Deserved

For the rest it was a question of getting what they deserved.
Brisbane's long haul to the UK ended in a solid 10th place – perhaps a place or two higher than pre contest expectations, but an outcome based on an eminently sensible musical approach by MD Howard Taylor, and individual performances of stoicism from his players.
Nothing outlandish, just pluckish Aussie determination to see a job through to the end.
So too Fairey, whose deliberate artisan approach didn't quite reap the reward it deserved. It meant that they had to endure an uncomfortable few minutes at the end of the contest, but Phil Chalk would have been joined by the rest of his band in jumping in the Birmingham ship canal if they had come any lower than their eventual 12th place, and were condemned to a May day trip to Blackpool.
Fairey continue to build with solid appreciation of the basics of good contesting form, even if on this occasion the result was a disappointment. Next year they have more latitude to strike for a higher finish.
Par

For Hepworth (Cookson Homes) and Virtuosi GUS, 11th and 14th was par for the course. Both held initial promise but failed to deliver it with consistency as they progressed.
Ian Porthouse wore a slightly exasperated expression by Hepworth's close knowing that an ever increasing catalogue of annoying clips took the polish of their potential to close in on a top six place.
Meanwhile, GUS started well, but found their assault on a top ten finish punctured by tiredness and sloppy concentration (which manifested itself in a very peculiar sounding last few bars). Like a boxer dropping his guard with a minute to go in the last round only to find his noggin hit off by a vicious right hook, GUS very nearly found themselves knocked out with the safety of the final bell in sight.
Debates

That was it for another year and the debates and arguments from supporters and critics alike. We opted for Dyke, Cory, Leyland, Brighouse, Rothwell, Fairey, Whitburn and Grimethorpe, with Desford and Fodens making up our top 10.
Bob Kerwick cleared his throat and the fates were declared – with a sharp collective intake of breath resounded around the hall when Black Dyke was announced in second place.
Pandemonium

Within a moment there was Welsh pandemonium – starting with Cory's Band Manager Austin Davies leaping like a second row forward into the air (he is a big lad you know) before composing himself to accept the Gold Shield on behalf of his all conquering band.
Another trophy won; another step towards banding immortality.
Iwan Fox