2009 National Championships of Great Britain - The Regionals remembered
12-Oct-2009
There were plenty of winners and losers around the country this year as Gilbert Vinter's 'Salute to Youth' tested the bands to the full.
---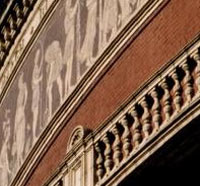 Before a note had been blown in the battle to gain a qualification place at the Royal Albert Hall, many people thought that Gilbert Vinter's 'Salute to Youth' would prove to be a bit of a 'leveller' around the eight Areas.
The desire to commemorate the 100th anniversary of Vinter's birth was laudable, but there was concern that the piece, written nearly half a century ago wasn't hard enough. How wrong the sceptics turned out to be.
Difficult

Just a few weeks before the series of Area contests began in Blackpool on the first weekend of March, some of the best bands in the land had shown just how difficult and relevant Vinter's music remained at the RNCM Festival of Brass.
The composer's exquisite canon – from 'Salute to Youth' to 'Spectrum' laid bare some pretty top rate banding conductors and performers that weekend – and that from a list that included Black Dyke, Leyland, Fairey, Desford, Foden's and Brighouse.
It seemed that we had forgotten how to play Vinter.
A few weeks later, some substantial reputations had been dented – and only Foden's and Desford emerged from the qualification process as regional champions. Two failed to qualify, Dyke came fourth and owed their trip to Kensington to their defending champion status.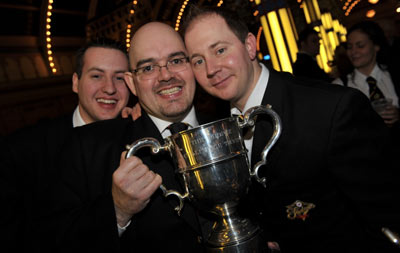 Fodens make it four in a row
Picture: Ian Clowes

Blackpool start
The qualification for London started in Blackpool.
With David Read in the box, the bookies on the Golden Mile were confident of making a few bob on a win for the short priced favourites from Sandbach. They had a scare though.
Foden's duly took the North West title for a record 16th time – their fourth victory in a row, but didn't play well, and they knew it.
That it was still good enough to win told you everything and nothing though.
Audible gasp
Fairey, building in confidence, but still a promising work in progress under Phil Chalk, ran them to a length or two of the finishing tape and were well pleased with their qualification, as moments before there had been an audible gasp in the hall as the name of Pemberton Old Wigan had been announced in that priceless third place.
Someone was going to miss out then, and that someone was a bemused and bewildered Leyland and Jason Katsikaris – although for the Australian the feeling was to hit him in the pit of the stomach again just a fortnight later in Wales.
One Area over and done with – one result that got the opinions flying over the internet airwaves.
Yorkshire discontent
Seven days later and the qualification bandwagon pulled in at Bradford.
There was a self satisfied glow about the good folk of the White Rose county prior to the contest on the Sunday, especially as they could boast the fact that two of their best bands were already through to London.
The pressure was off reigning National Champion Black Dyke and Carlton Main, and the consensus in the bars of St George's Hall was that Grimethorpe and Brighouse – the two remaining heavyweight contenders, would join them at the Albert Hall.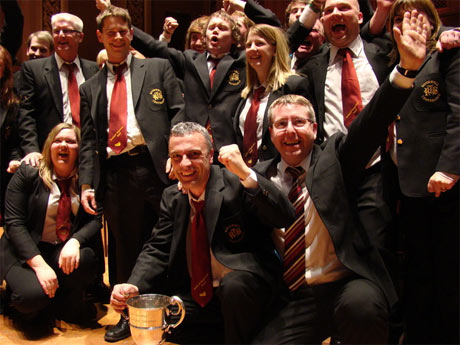 Out of the shadows: Rothwell win in Bradford

Not to plan
Once again, things didn't quite go to plan – and the only glow on some faces after the announcement of the results came from a mixture of embarrassment and undisguised rage.
With two men in the box (and the first mutterings of discontent already being heard at the selection of Nigel Boddice and Steve Sykes – more of which later) the contest seemingly panned out as most people expected it would. Not so though.
Vacuum
The intake of breath in St George's Hall's very nearly created a vacuum as Black Dyke was announced in fourth. That was just the start of it - Grimethorpe supporters were gagging for air after they were announced in third; blue with oxygen deprivation when first Hepworth, then Rothwell, was announced as runners up and winners – and crucially, qualifiers for Kensington.
Both Grimethorpe and Brighouse (who came 5th) were dead in the water.
Bradford was bubbling that Sunday night – especially with the joy of Rothwell supporters and players, who had once again emerged from the shadows to take a major title under Dave Roberts.
Cut off at the neck
Two 'Areas' gone – three top rated bands cut off at the neck.
A week later and three stopping off points in Swansea, Bedworth and Torquay. Would there be any more surprises in store?

One of the best: Cory regain Welsh title

Wales woe?
Not in Wales – well not quite anyway.
Pre qualified Cory regained their title with a performance later described as 'one of the best he had ever heard' by adjudicator David Read, with Tredegar a margin behind.
Just as in Blackpool though, Jason Katsikaris's approach to Vinter found no favour with the movement's top judge and the Australian missed out again – this time with BTM pipped by a rejuvenated Northop under Thomas Wyss.
Another fancied contender was gone.
West of England curse
Meanwhile, in Torquay the curse of reigning champions failing to retain their title struck for the 13th time in a row.
Camborne took the victors laurels for the first time since 2003 under Garry Cutt – his second Area win of the year, and confirmed that he was one MD who knew his Vinter better than just about anyone else.
With Flowers finding form under Roy Newsome to join them on the trip up the M4, there were further mutterings heard over pints of cider in the Riviera Centre as some people queried a result that saw the unheralded Lydbrook in third.
Their MD was Steve Sykes – the man in the box was Nigel Boddice. A week before they had shared thoughts and opinions in Bradford. Some supporters were not best pleased by his perceived 'conflict of interest'.
Midlands problems?
No such problems in the all together calmer surroundings of Bedworth, where the Midlands Area had found itself a sparkling new home.
Well, slightly calmer perhaps.
Adjudicators Derek Broadbent and Brian Buckley had a pretty horrid time of it separating out a raft of bands all of whom found it easier to lose a contest there for the taking than to actually win it.
In the end, Desford came out top with Newstead Welfare joining them in qualification. Neutral observers were of the opinion though that the result could have gone any one of five ways on a day when 'Salute to Youth' caused musical mayhem. Not even King Solomon could have emerged from the box after this contest safe in the knowledge he had pleased everyone with his decision.
London pride?
Surely there would be no problems in Stevenage as two of the firmest pre contest favourites for qualification took to the stage.
Redbridge duly wrapped up the title for the sixth time in seven years to extend their run of good early season form, but behind them it was a different story.
Regular qualifiers Aveley & Newham certainly didn't impress adjudicator Philip Sparke and left the door to the Albert Hall wide enough open to let through Zone One Brass.
Another fancied band had been waylaid by Vinter.
Changing ways in Darlington
A couple of hundred miles up the road, the natural order of things was about to change in Darlington too.
In what became a contest of Vinter plagiarism, the battle between the brother's Childs resulted in the older sibling directing his old alma mater, EYMS to their first Area title since 2001, ending Reg Vardy's seven-year hegemony in the process.
It was the Cory MD's second Area success of the 2009 series (both courtesy of David Read), the Black Dyke man's third failure to add to his tally of 19 regional victories.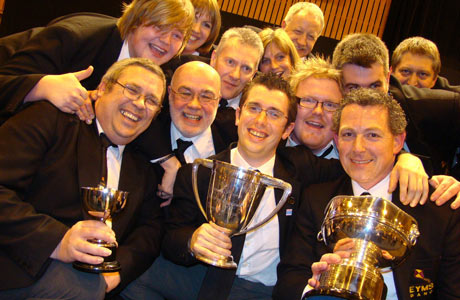 Changing places: EYMS take the North East title

Scottish conundrum
That just left Scotland, and the continuing conundrum of three into two not going.
With the Scots unable to get an additional qualifying spot at the Albert Hall since 1998, one of the big three of reigning champion Whitburn, Scottish Co-op and Kirkintilloch was surely going to miss out – and this time it was Whitburn.
The adjudication duo of Alan Morrison and Graham Jones opted for Russell Gray and Co-op (soon to be reborn as Co-operative Funeralcare) by a one-point margin over Kirky in the only Area that still used points to separate the bands out.
Once again, opinions filled the bars in Dundee and the internet pages of 4BR, as yet another pre contest favourite bit the dust.
All over
The 2009 Regional Championships were over though – and just 12 bands (including the four that pre qualified from 2008) had made it back to the Royal Albert Hall once again.
There were winners and losers all right.
However, everyone knew that despite its age, Gilbert Vinter's 'Salute to Youth' had caused no end of problems – and those who had perhaps under estimated it way back before a note had been blown in anger, were the ones that would be listening to the Finals in October from the sidelines.
Iwan Fox