2009 National Championships of Great Britain - Introduction & Prediction
12-Oct-2009
There are no givens at a brass band contest - not even for Cory as they head to Kensington to try and win the 2009 National title.
---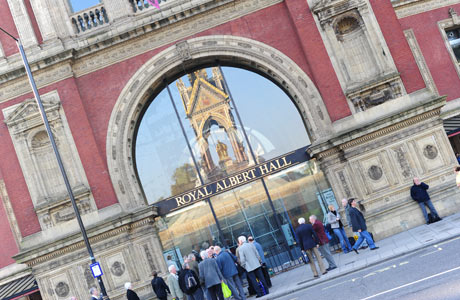 Albert awaits: All eyes will be on Kensington this weekend
Picture: Ian Clowes

There are no givens at a brass band contest. Just look what happened to Grimethorpe at the Royal Albert Hall twelve months ago.
A place in the pantheon of banding immortality awaited – right up until the moment Band Manager Terry Webster pulled out Kelly's Eye from the velvet bag. Then it all went pear shaped.
You can bet Cory's Austin Davies has been practicing his Artful Dodger pick pocket technique in the run up to London – sandpapering the tips of his fingers to ensure that he can read Braille with boxing gloves on. Fate has a lot to answer for.
Plan

If everything does go according to plan this year's National Finals could turn into a cracker of a contest – and not just for the adjudication team of David Read, David King and Derek Broadbent (a reprise of 2007).
First there is the test piece – and if you are a lover of Eric Ball's music then Peter Graham's affectionate bit of musical pastiche will have the majority of listeners stuck to their seats in the hall from first band to last.
It may not be the most original work from the talented Scotsman's pen, but it may well prove to be his most popular.
A bit like Mozart, it takes a special talent to mess up old Eric's music, and Peter Graham has ensured that he hasn't strayed too far off the symphonic variant track to even contemplate doing that. There will be more happy whistlers after this one than can be found on a building site after a busty blond has just wiggled past.
There is also more than enough in 'Torchbearers' to separate the best from the rest when it comes to the competing bands.
Disappointed punters

Looking at the line up this year, there will be some disappointed punters who would have loved to have seen Grimethorpe, Leyland and Brighouse strutting their stuff in Kensington, but fate played its capricious part at the Regional qualifiers.
It has meant though that on paper there appears to be three distinct levels of competitor battling to win the 2009 National title.
Top trio

At the top come the trio of reigning champion Black Dyke, Masters Champion Foden's and champions of just about everything else in the banding universe, Cory.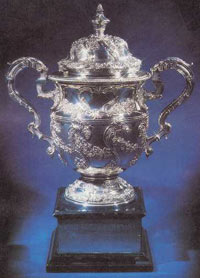 Given that at least one of the these bands has come in the podium places here every year since 1999 (including five victories), it would be a pretty safe bet to place a few quid each way on the famous silver pot ending up on the mantelpiece of Garry Cutt, Nicholas or Bob Childs.
Given that all three filled the podium slots last year, it wouldn't be that much of an outside bet if that occurred again either. It is hard to think of another band really being able to raise their game (and there are only 11 British Open bands here too) to edge any of them out this year.
With Cory plotting their own course to immortality, Black Dyke will be more determined than ever to impose their claim to greatness at the contest, whilst Foden's will know that it is now a decade since they last lifted the National Trophy in triumph. You can guarantee there won't be too quick departures for a cup of tea when one of these three bands takes to the stage.
Realistic ambitions

Behind these three come a set of bands who will travel with realistic ambitions for glory, with Desford, Rothwell and Hepworth offering decent odds on at least a mention off the stage come the results.
The Midlanders in particular impressed at the British Open and under James Gourlay this could well be a piece that suits his elegant musical interpretative style to a tee. Victory would be a surprise, but an automatic invite back next year or even a podium finish could be on the horizon.
Rothwell's more rugged approach didn't find purchase in the box at Birmingham, but their darker hued tone may well suit the more accommodating acoustic of the Albert Hall.
David Roberts will have his band as well prepared as any and a repeat of last year's top six finish should be the least of their ambitions on the weekend.
Hepworth meanwhile have opted for the experience of Frank Renton at the helm, and that could prove to be a bit of a trump card if they can rid themselves of the high error count that blighted their assault at the Open.
They were way off the mark on their last visit on 2007, but you sense they could well force their way into the prizes this time if they hit top form.
Other bands

Other bands who will travel with hopes of a possible top six finish will include the batch of well matched bands such as Fairey, Tredegar, Kirkintilloch, Co-operative Funeralcare and Carlton Main.
Fairey showed more evidence of substantive progress at Symphony Hall and came 5th here last year, so another strong performance from Phil Chalk and his band should be on the cards.
Not quite ready for a repeat of the 2002/2003 double triumph perhaps, but a dark horse for a strong finish for sure.
Tredegar has had a bit of a mixed year so far, not quite making the progress they would have hoped. They have a fine record over the past decade, but last year failed to sparkle in coming 15th. They will need to up their game if they are to push for a mention off the stage.
So too Kirkintilloch, who produced a very strange performance at Birmingham, even though it ended up in them coming in the top 10. MD Selmer Simonsen will know that it could have been a lot worse, but will also know that the potential is there for a lot better here too. Ones to keep an eye on though.
Much the same could be said for Co-operative Funeralcare too – a bit bland in Birmingham, but with the solid basics in place to perhaps find themselves in and around the top 10 here if they can just add a touch of sparkle to their performance.
For Carlton Main, a season of consistent midfield mediocrity has been nothing to write home about, but this test piece could offer Russell Gray the chance to really shine, and if his players respond hopes of another top six finish can't be discounted.
These would appear to be the bands in with a realistic chance of a top 10 finish on the weekend, and whilst the rest of the contenders cannot be totally discounted, it would be a surprise if more than one really broke into the frame.
Solid outfits

There are other solid outfits however with the likes of Flowers, EYMS and Reg Vardy offering the best each way bet for a place in the top half of the results.
The West Country band has been rebuilding of late under the baton of Paul Holland but has made solid progress in the past few months, with an encouraging performance at the English National.
EYMS meanwhile could be well worth a bob or two if they can repeat the form they showed in taking the North East regional title earlier this year. Full of confidence and with Jason Katsikaris at the helm they could be set to post another top 10 finish here.
Reg Vardy has also shown signs of a return to form of late, but they are still lacking consistency at the majors and haven't done anything of note here since 2004. They will need to be on top form to push for a top 10 finish then.
High hopes

There would have been high hopes of Redbridge making a real impression here this year, but the glorious early form of 2009 seems a while ago now. Jeremy Wise has a talented band under his command, but somehow they will have to find that missing touch of self confidence if they are to feature highly on the weekend.
Pemberton Old return to the National Final for the first time in over a century, and they won't be lacking confidence that's for sure. Whether it will be misplaced once they are faced with walking out onto the big Albert Hall Stage we will have to wait and see, but they should have enough about them to more than hold their own.
Camborne make the trip up the M4 as West of England Champion, and with Richard Evans at the helm they should have no problem in getting to grips with the required style of the test piece. Whether that will be enough though is another question.
Solid

The same perhaps goes for Newstead too, with Duncan Beckley at the helm. Their last appearance here was in 2006 when they came 17th, and a solid midfield finish may well be as good as it gets against this standard of opposition.
Northop make their long awaited return to the Albert Hall (their last showing was in 1996), and whilst their contesting progress has grown in stature under Thomas Wyss a midfield finish may be the best they can hope for.
Finally, Zone One Brass and Richard Ward, who make their debut at the contest. For a band formed in 2002 to make it here is some achievement but given their resources and fluid make up of personnel they could be something of a dark horse to at least take a handful of higher ranked scalps.
As for a winner?
Hard to see beyond one of the 'Big Three' of Cory, Black Dyke and Foden's, and if the Cory Band Manager's sticky digit doesn't pick out a very early draw, it is hard to bet against Cory winning the title for the first time since the turn of the Millennium.
Black Dyke will move heaven and earth to stop them and Foden's will be right there in the mix.
Desford look a good each way bet to post a top six finish, with Rothwell and Fairey. Hepworth is our dark horse.
4BR Prediction:
1. Cory
2. Black Dyke
3. Fodens
4. Desford
5. Rothwell
6. Fairey
Dark Horse: Hepworth