2009 British Open Solo & Quartet Championship - Intermediate Slow Melody retrospective
3-Nov-2009
A cracking contest with a cracking winner - and a player we will be hearing more of in the future for sure...
---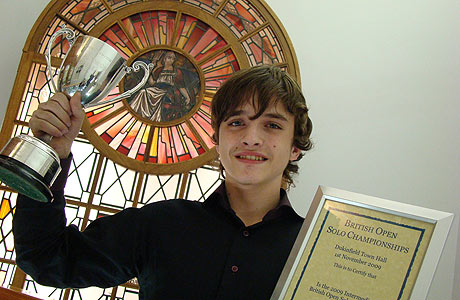 A young man with a great future: Lode Violet celebrates his victory

Nineteen young players set out in search of the Intermediate Slow Melody title on Sunday morning with Michael Fowles and Jason Katsikaris faced with the difficult task of selecting five players to join the defending champion, Charlotte Heaven in the final, later in the day.
Cracker

The end result, was just as Jason remarked before the announcement of the results, a 'cracker of a contest', and there was little to disagree with him about the standard of playing that had been heard not just from the finalists themselves.
"Any of the finalists could come play in our bands," he remarked, as alarm bells rang in band secretaries minds that they would now have to start fending off potential transfer requests form their star performers.

The dogs...

The Australian was joined by Dr Nicholas Childs for the final, which was won by a performance from Lode Violet from Brass Band Willebroek, that Jason gleefully remarked , ".. stood out like the dog's…", before he managed to curb his colourful analogy in time.
It was hard to disagree with him though, as the overall standard in both the preliminary round and the Final was very high – and the winner was exceptional.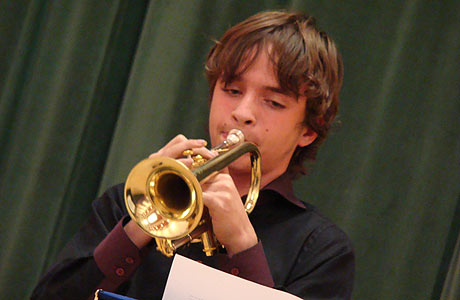 Standing out: Lode Violet in action...

Stood out

Little things stood out – the composure of many players who took time before they started their performances for instance, or the control and musicality of the best players especially when stamina waned – they kept their cool.

Such was the quality it proved a tough job to rank those who didn't go through to the final (with none putting in an under-par performances), but Jason did make the point that selecting those to go through wasn't impossibly difficult, with the top two taking risks that paid off and the remainder falling clearly into place.
Those that didn't make it through may be a little disappointed, but this was a keenly fought contest, and the overall standard was very high indeed.
Finalists

The five competitors eventually chosen with defending champion Charlotte Heaven were Jonathan Bates (Brighouse & Rastrick) on horn, Joshua Flynn (Oldham Lees) on Eb tuba, Jamie Smith (Hammonds Saltaire) on cornet, Ben Stratford (Forest of Dean) on baritone and Lode Violet (Brass Band Willebroek) on cornet.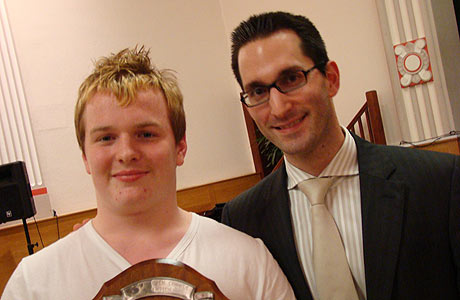 Brighouse boy: Jonathan Bates takes second place

Full value

The final certainly maintained the standard set in the morning, with Lode Violet from Brass Band Willebroek producing an outstanding performance of 'Rusalka's Song to the Moon' that was full value for the victory.
Lode, the son of Willebroek's conductor, Frans Violet, gave a commanding performance that was delivered with supreme confidence, a wonderful technique and a real understanding of the musical line. There was no doubt he was a worthy champion and a player who we will be hearing much, much more of in the coming years at the very highest level.
Confident

At just 14, Jonathan Bates finds himself playing for Brighouse & Rastrick, and they must be delighted that they have such an outstanding talent in the making in their ranks.
Jonathan's confident delivery stood out during his performance of 'Star of Bethlehem' to take the runner up prize. He may have been tired after arriving home in the early hours after playing with Brighouse in London the previous evening, but he didn't show one iota of fatigue on the day. It was a very impressive playing.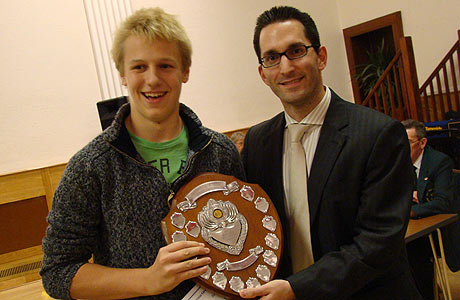 Baritone Ben: Third placed Ben Stratford

High standard

Third placed Ben Stratford was the only baritone player to make it through to the final, and he set the very high standard for the others to beat with his lyrical performance of 'Vocalise' .
Once again, as with the other prize winners, this was a confident young performer with a well honed technique and a quick witted musical mind, playing with a maturity beyond his years.
Impressive

The Oldham (Lees) Band was well represented throughout the day at the contests (and showed just why they are such an impressive outfit at present) and their representatives did their band proud.
Tuba player Joshua Flynn chose the classic 'Iceberg' for his challenge and he certainly caught the ear with a well rounded sound and that all important ability to make his tone vibrant and full in the depths below the stave.
Meanwhile, defending champion Charlotte Heaven produced a fine defence of her title with a lovely performance of 'Softly Awakes My Heart'. That it didn't quite make it into the prizes told you a great deal about the standard of rivals she was up against this year.
Stood out

Finally, cornetist Jamie Smith of Hammonds Saltaire, who was a touch uncertain whether he'd get through the earlier round, but who showed that he deserved to do so with a nicely portrayed rendition of 'Rusalka's Song to the Moon' that had real emotion about it.
In the end though one performance stood head and shoulders above the rest – and young Lode Violet was the young man who delivered it.
He is some player in the making – and his signature will be one of the most sought after in European banding from now on. Willebroek's MD will have to keep him under lock and key.
Malcolm Wood