2009 US Open Brass Band Championship - Introduction and predictions
6-Nov-2009
4BR will once again be in Illinois for the US Open Brass Band Championships - a North American contest with international flair.
---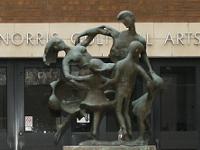 U.S. Open Brass Band Championships
Saturday, November 7th

Doors Open: 8:40am
Starts: 9:10am
Ends: 4:10pm (after announcement of "Best Cornet"

Norris Cultural Arts Center
St. Charles, Illinois
Adjudicators:
John Phillips, William Himes and Dr. John Bell

Prizes to be awarded include:
Grand Champion: Trophy and $1000, sponsored by Buffet Crampon
Second Prize: Trophy and $500, sponsored by Denis Wick
Most Entertaining: $250
Best Featured Brass Soloist: Custom engraved instrument, sponsored by Buffet Crampon
Best Cornet of the Day: Custom engraved cornet, sponsored by Buffet Crampon
Most Outstanding Percussion Section: $250
Best Performance of a March: $250
Best New Composition or Arrangement: $250, sponsored by Smith-Watkins
Buskers Award: Top Hat full of loose bills
Grand Champion band also gets invited to compete at Brass in Concert Championship in 2010
---
This year's U.S. Open is not only the largest ever, with 9 competing bands, but it is arguably the strongest ever too.
All of last year's podium prize winners – champion, Fountain City, Central Florida, and Eastern Iowa return, but will find stiff competition in their quest to retain their prizes as they are joined last year's contenders, Ohio, Madison, Prairie and Milwaukee, as well as returnees Motor City and debutants Weston Silver Band.
International once again
Weston Silver Band hails from Ontario, Canada and are regarded as one of the nations finest secular bands. Weston has been out of the competition scene for a while (their last full contest appearance was the North American Championships in 1996) but they will be determined to return in fine style. However, with the recent establishment of the Hannaford Cup (which they won in 2008), they have been testing the domestic contesting waters and they should provide a good show.
International Exposure
Last year, the U.S. Open formed a partnership with the Brass in Concert Championship in the UK, with the winners of each event being invited to each other's contest.
As soon as they compete here, Fountain City will be bringing their brand of brass band entertainment to The Sage, in Gateshead, and they will be keen to leave these shores as triple champions.
The last band to represent North America at BiC was Central Florida with their superb 4th place finish in 2006 and there will be no doubt Fountain City will be keen to will be eager to show how much the brass bands on this side of the pond have improved over the past three years.
Solo Prizes up for grabs
As always at the US Open there are a number of prestigious individual awards that are up for grabs.
The 'Best Featured Brass Soloist' has perennially gone to Fountain City, so seeing their featured soloist is invariably a must! However, there is a great deal of talent spread throughout this field and it should make for a highly competitive 'contest within a contest' to see who takes the award this year.
Meanwhile, the 'Best Cornet of the Day' has been evenly distributed over its brief history with winners in the past three years from Ohio, Fountain City and Prairie.
Additional prizes

Amongst the other prizes, the 'Best Performance of a March' will be up for grabs in a category that UK bands have dominated over the years. Last year Central Florida took the prize, but it will be interesting to see if the Weston Silver Band will be able to add another march trophy to their 2008 Hannaford Cup win.
Central Florida will of course present a strong challenge for the overall top prize on the weekend, and will also hope to regain their 'Best Percussion' title after being pipped by first-timers, Ohio Brass Band last year.
Ohio themselves put an end to Fountain City's three-year streak as 'Most Entertaining' band and will surely put up another full value show, but the favourites from Fountain City may take the title back as they out the finishing touches to their programme for Brass in Concert.
One of the most enjoyable prizes up for grabs is that for 'Best New Composition or Arrangement.'
First of all, composers/arrangers from four different bands have taken home the prize over the past four years and the standard of repertoire that has been produced is nothing short of highest quality. The prize has also allowed the arrangers and composers to seek real innovation too and this has resulted in bands experimenting with various stagings and styles of musical and visual entertainment.
Favourites
Once again the heavyweight pairing of Fountain City and Central Florida will enter the contest as the two clear-cut pre contest favourites. Both bands are full of experienced performers, headed by talented MDs, and have gained valuable experience in playing against opposition overseas.
Fountain City has now won five straight domestic contests and will hope to head to the UK with a double hat trick to their name, whilst Central Florida will look to get back on track after two successive years as being the bridesmaid here. Both these bands know just what is needed to win, but their days of clear dominance could be nearing an end.
Party Crashers?
Eastern Iowa (EIBB) has made tremendous improvements under MD Casey Thomas, and has been quietly climbing the brass band ladder and could be poised to make the breakthrough that many people think is close this weekend.
Western Silver wouldn't be making the trip south of the border if they were not confident of playing very well, whilst, 2005 runners-up Motor City, last year's most entertaining band, Ohio, Madison, Milwaukee, and hosts, Prairie have all been improving over the past couple of years and closing the gap on their rivals.
We could be in for a real treat this year as a clutch of bands battle it out for the podium finishes.
Buskers Upgrade
In one of the great, and still, unique traditions of the U.S. Open, various buskers from the bands will perform on Friday night. Spectators outgrew last year's venue and so the U.S. Open has moved to a much larger watering hole at Real Time Sports.
The Busker's Preview as well as the Awards Banquet have really helped build camaraderie between band members and it now forms such an important part of the contest weekend that to lose it would be unthinkable.
4BR Prediction
As for the main contest itself?
It will be interesting to see if there are any 'tricks' left over from Halloween last weekend, or just 'treats' for the two pre contest favourites.
Fountain City will certainly be running at full tilt in preparation for their UK tour, whilst Central Florida will be ever more determined to put a dent in their musical fender before they fly off.
It could really go down to the wire this year and much will depend on how their performances are viewed by the experienced adjudication team.
Eastern Iowa, may crash the party, but if they don't, we put them as odds on favourites for third place. However, there are a whole slew of contenders including debutantes Weston Silver, the always entertaining Ohio Brass, as well as others that hope to get in the mix.
4BR Prediction:
1. Fountain City Brass Band
2. Brass Band of Central Florida
3. Eastern Iowa Brass Band
Dark Horse: Weston Silver