4BR Band under the spotlight - Fountain City
7-Nov-2009
4BR puts the current US Open and US National Champion under the spotlight as they get ready to make their debut at Brass in Concert.
---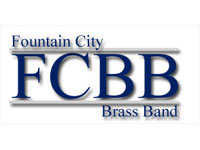 Band: Fountain City Brass Band
Website: http://www.fcbb.net

Country: USA
Major Honours:
North American Brass Band Association Championship: Winners - 2007/08/09
United States Open Brass Band Championship: Winners - 2007/08/09
All England Masters: 2007 (9th place)
Nominated for 4BR Newcomer of the Year 2007
---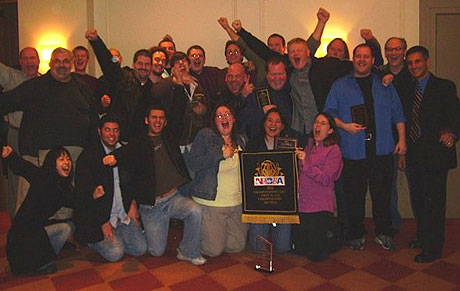 First Major: Fountain City celebrate after winning the 2007 US National title

Band History:
Fountain City can lay genuine claim to being one of the most successful bands in the USA over the past 5 years.
The Fountain City Band was founded in 2002, by the band's principal Euphonium player, Lee Harrelson and takes its rather unusual name from the fact that its home town of Kansas City has the largest number of working fountains in the world.
First title

In 2007 they won their first national title at the North American Brass Band Championship and have since been a driving force in the development of brass banding in the USA, winning an unprecedented five consecutive National titles.
One of the bands highlights and biggest challenges of its short career was preparing for its first trip to the UK, in May of 2007. Following an invite from Philip Biggs, the band travelled to England to compete at the All England Masters Championship (coming 9th) and also took the opportunity to compete in the Whit Friday Marches.
The 2008-2009 season saw the band enter a partnership with MidAmerica Nazarene University where they continue to be artists-in-residence as well as perform a very successful concert series.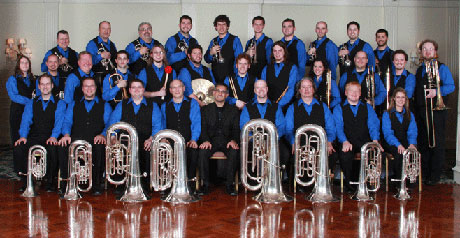 The current squad: Fountain City 2009

Major role

The band has also been asked to play a major musical role in the prestigious Missouri Music Educators Association Conference-President's Concerts and has hosted a number of internationally known brass soloists and clinicians, including Patrick Sheridan, Steven Mead, Charles Villarubia, Roger Oyster, Stephen Bulla, Gary Schutza and Helen Tyler.
Members of the band have have performed with prestigious ensembles such as the New York Philharmonic, St. Louis Symphony, Kansas City Symphony, Detroit Symphony, Metropolitan Opera and , New York City Ballet as well as numerous top grade University orchestras.

With their victory at the recent US Open Championships they have now won six consecutive major titles in their homeland.
---
Statistics:
Current USA ranking: 1
Current 4BR ranking: 51
2009 Contesting record:
North American Brass Band Association Championship: Winners
US Open Championship: Winners
2008 Contesting record:
North American Brass Band Association Championship: Winners
US Open Championship: Winners
---
4BR Six Year Ranking Progress: (World of Brass/4BR Ranking to November 2009)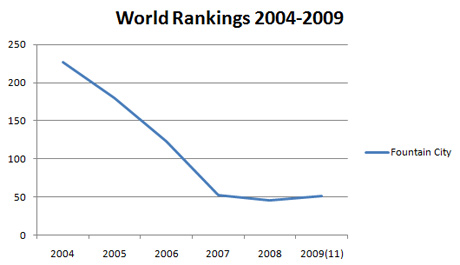 When the 4BR rankings first started in 2001, Fountain City wasn't even formed, so it was not until the end of the 2004 season that they finally gained a ranking - 227th.

Since then they have climbed towards the top 50 bands in the world at a remarkable rate given their general lack of contesting. At the end of 2005 they were ranked 180th, before climbing to 123rd, 52 and then 46th in following seasons.

They are currently ranked 51 in the world, but this will climb again following their most recent success at the US Open and their forthcoing appearances at Brass in Concert and Scottish Open.
---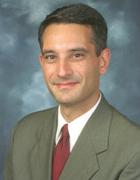 Professional Conductor: Joseph Parisi
Joseph Parisi is an assistant professor at the University of Missouri-Kansas City Conservatory of Music and Dance.
He has international experience as a conductor, performer, and adjudicator as well as a presenter and researcher at state, regional, national and international meetings of groups such as Music Educators National Conference, College Band Directors National Association, and the International Association for Jazz Education.
His work has been published in various professional journals and books and he is currently the Editor of the Missouri Journal of Research in Music Education.
Previously Fountain City's solo cornet player, Parisi was invited to become MD in 2006. Since that time, the band has grown in stature and has enjoyed considerable artistic and contesting success.
Parisi received a bachelor's degree in music education from the State University of New York at Potsdam (Crane School of Music); a masters degree in trumpet performance from the Florida State University and a PhD in Instrumental Conducting / Music Education from the Florida State University. Dr. Parisi is also a member of a number of prestigious musical organisations.
He has been nominated for the Kauffman Excellence in Teaching Award, Research Award and received the Kauffman Excellence in Teaching Award in 2009 and the Outstanding Service Award in 2005.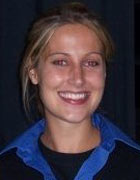 Current Players:

Principal Cornet: Chris Larios
Front Row Cornets: Stan Smith, Peter Pirotte, Tim Thomas, Raquel Rodriquez
Back Row Cornets: Ron Stinson, Paul Bessetti, Kenny DeCoursey, Matt Willis
Soprano: Ryan Sharp
Repiano: Michael Averett
Flugel: Matthew Vangjel
Solo Horn: TJ Menges
1st Horn: Sarah Tarrant
2nd Horn: Jenny Akhtar
Solo Euphonium: Lee Harrelson
2nd Euphonium: Nate Gay
Solo Baritone: Helen Tyler (right)
2nd Baritone: Ben McMillan, Brian Scott
Solo Trombone: Karen Zawacki
2nd Trombone: Dave Vance, Will Hess
Bass Trombone: Andy Schwartz
Eb Bass: Mark Norman, Charles Page, Tom Stein
Bb Bass: Scott Watson, Brent Harvey, Jamey Mitchell
Percussion: Theo Musick, Jason Degenhardt, Calvin Dugan, Chris Howard
---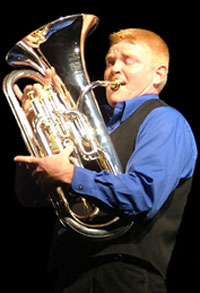 Aims and objectives:

Contesting front:
Lee Harrelson (right) told 4BR: "First and foremost the band's contesting goals are to defend our two national titles. We have had a remarkable success at the U.S. Open Brass Band and North America Brass Band Championships over that last few years and take great pride in being at the forefront of brass band development in America.
The level of banding is rapidly growing over here and each contest becomes more difficult than the next.

We are very excited about our opportunity to compete at Brass in Concert and at the Scottish Open. Possibly the highest long-term goal the band has as far as competitions are concerned is to be the first American band to win a competition on U.K. soil.
With a clear understanding and respect for the incredible tradition and superior levels of artistry by bands in the U.K. we know that this trip will be a valuable learning experience towards this goal."


Non-contesting front:
Helen Tyler informed 4BR: "Away from the contesting stage we hope to continue to educate our public about the genre of brass banding. Our Youth Brass Academy and education team continues to grow and we have recently added the expertise of Mark Norman and Matt Willis to the ranks.
At the beginning of the year, the band entered a partnership with Besson USA and we are looking forward to working with them in future projects.
We are also committed to our partnership and concert series with Mid America Nazarene University and look to expand our concert series to other cities such as Topeka and St. Joseph. We also eagerly await the release our first two CD's."
---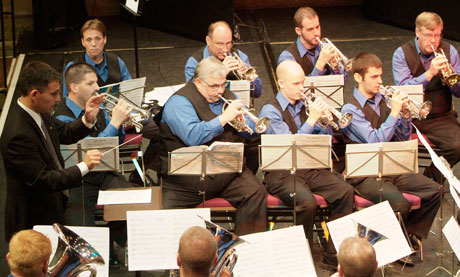 Last appearance: Fountain City's last appearance in the UK - The Masters 2007

4BR Predictions:
Fountain City seem to sum up the American 'can do' approach: The ambition seems limitless – as does the desire to succeed
In less than a decade they have become the driving force of banding in the USA, combining contesting success with antistatic excellence – all in a musical environment that is cosmopolitan and kaleidoscopically varied.
Their appearances outside the USA have opened their eyes to the possibilities that confront them, and their current UK tour should provide a further boost not just to morale, but to their insatiable appetite to improve.
Although contesting success is important (the have just won the US Open again), they will also know that it is not the be all and end all of what they wish to achieve.
Their appearance at Brass in Concert should be enlightening, and although they will look to improve on the result achieved by their rivals Brass Band of Central Florida who came 4th at The Sage a few years back, they will also know that they are competing against a very high class field indeed.
Their appearance at the Scottish Open at the end of the month however should enable them to gauge more accurately just where they stand as a top flight contesting band - and that could very well surprise quite a few people this side of the Atlantic Ocean.