2009 Brass in Concert Championship - The Adjudicators
10-Nov-2009
These are the men and one woman the bands and soloists have to impress this year.
---
Music adjudicators: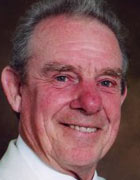 Derek Broadbent:
Derek commenced playing the cornet at the age of 9 with the Thornton Cleveleys Silver Band. After a services career spanning almost nine years, during which time he studied at Kneller Hall, the Royal Military School of Music, he returned to civilian life as a professional arranger.
He returned to the world of brass bands as a conductor in 1966 and in 1973 became Resident conductor of the internationally famous Brighouse and Rastrick Band. In his ten years with Brighouse, Derek enjoyed enormous success and in 1980 conduction them to a premier place in the National Championships. He was also responsible for their chart topping success of "The Floral Dance".
In 1984 he moved to the equally famous Black Dyke Mills Band and played an integral part in their 1985 "Grand Slam", a year which saw them take every major title in brass band contesting. Since 1990 Derek has worked as a freelance conductor, composer, arranger and adjudicator not only in the United Kingdom but all over the world.
He was also Associate Professional Conductor with the Williams Fairey Band who also won every major title in the years 1993/1994.
His association with the Manx Youth Band commenced in 1984 and has been relatively unbroken ever since. He conducted the band on their successful tour of New Zealand's North Island in 1990 as Ian Clague was unavailable owing to the illness of his father.
Apart from composing the Youth Band's signature March, Derek has also produced two major works commissioned by the Douglas Corporation "Music for a Centenary" for the 1996 Centenary of the Corporation and "Millennium Fanfare and Variations" premiered in 1999, both these works being for Band and Choir.
Derek now spends much of his time training bands all over the globe. Much of his time is devoted to the youth of the brass band movement.
He is also the Music Editor for Wright and Round Ltd. and in 1988 was awarded the prestigious Isle's Medal from the Worshipful Company of Musicians for his services to brass music and youth education.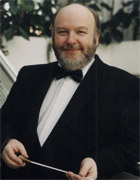 Nigel Boddice:

Nigel Boddice, Hon A.R.A.M, enjoys a busy, impressive and enterprising international conducting career. Among the highlights so far, are concerts, recordings and a live CD project for Naxos with the BBC Scottish Symphony Orchestra and some highly enjoyable children's concerts with the Ulster Orchestra in Northern Ireland.
For the last seven years he has been regularly commuting to Norway, having accepted the role as Chief Conductor to the Royal Norwegian Navy Band [ K.N.M.M.], and led the ensemble to a new and much admired international standing.
He studied at the Royal Academy of Music, London and later with both the distinguished Scot Sir Alexander Gibson and the Polish Maestro Jerzy Maksymuick.
Currently he is on the staff at the Royal Scottish Academy of Music and Drama. Nigel has been honoured in the past by the Worshipful Company of Musicians, London, being the inaugural recipient of the Mortimer Medal for his beloved work in musical education principally for West Lothian, and also by the Society of Scottish Composers for his prolific presentation of contemporary works.
Over the last five years he has worked with countless orchestras and bands of every combination, which has formed the basis of a strong repertoire in several mediums.
He has recorded much for Radio and TV and has also completed several CD`s for Naxos, Doyen and Polyphonic. Recently, through his Scandinavian connections, he has been especially lucky to have collaborated with Ole Edvard Antonsen, Christian Linberg, Michaela Petri and Solveig Kringlebotn.
Back home in the UK, Nigel has continued with his distinctly versatile approach to work by directing and presenting the Salon Orchestra throughout Scotland and making New Year's Day appearances with the Philharmonica of Scotland.
Throughout the years, choral music has been an additional interest and featured in many a concert with for example, the Edinburgh Royal Choral Union, the National Norwegian Girls Choir from Oslo and Norway's legendary Silverboys.
Future travel and concerts are planned and anticipated in Argentina, Germany and Denmark. Future Summer Schools include return visits to the National Youth Wind Ensemble of Scotland, Glasgow Schools Orchestra , Moray and the R.S.A.M.D. Junior Orchestra.
Finally a brand new venture has just newly developed in Molde, where Nigel will direct their three orchestras amid the panoramic mountain landscapes of Middle Norway.
---
Entertainment adjudicators: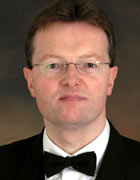 Chris Wormald:

Chris Wormald has adjudicated all over the World since 1991 including the inaugural English National Brass Band Championship at The Lowry in 2006 and again at Preston in 2008, the Scottish Open in 2004 and again in 2008, Grand Shield (Senior Cup and Senior Trophy), National Finals in Harrogate, Yorkshire, North West, Scottish and London Area Contests, Muse Festival (Singapore), Wilkinson Northern Open, Pontins, Carnegie Trust, NWCBBA Preston Guildhall, Leicestershire Association, BBL (Northern Ireland), Scottish Borders, Buxton, Ebbw Vale, Easingwold, Skipton, Fleetwood, Hardraw Scar, Minsthorpe, Rhyl and the British Open Solo & Quartet Championships.
Chris has been a long time member of the National Association of Brass Band Adjudicators (A.B.B.A.) and National Association of Brass Band Conductors (N.A.B.B.C.) and has won numerous contests, competitions, festivals and awards as a conductor, horn player, teacher and arranger.
He has been an Assistant Headteacher at Smithills School in Bolton since 2003 and prior to that was Director of Music at Smithills from 1990, the year he also joined James Shepherd Versatile Brass.
He is formerly a member of the National Youth Brass Band of Great Britain alongside Ian Bousefield, Nick Childs, Steven Mead and Martin Winter and was Head of Brass Instrumental Teaching for Bolton MBC from 1983 to 1990 during which time he also taught at the Royal Northern College of Music in Manchester.
In 1998 Chris conducted at the All England Masters and British Open, where he was presented with the Mortimer Medal from the Worshipful Company of Musicians on stage at Symphony Hall, Birmingham.
Chris has conducted many of the country's leading bands in concert including Grimethorpe and Brighouse & Rastrick and as Musical Director has amassed numerous contest victories, concert highlights, broadcasts, CD recordings and national titles.
Chris formed his internationally renowned Smithills School Senior Brass Band in 1992, since when they have won over forty major national competitions including three more in 2008. He has conducted Smithills all over the World, from Norway to New Zealand and Japan to the USA (three times) in addition to seven times at the Royal Albert Hall in London.
As an orchestral horn player, Chris made his professional London debut in the Philharmonia Orchestra at The Barbican as recently as 2003 after two decades of freelancing throughout the UK.
In 2001 Chris was named Classic FM Music Teacher of The Year, since when he has won both the Brian Hicks Memorial and Gerald Taylor Awards for continued outstanding dedication to brass bands. His arrangements for band continue to be published by Wright & Round, Studio Music and, most recently, Obrasso.
In 2009 Chris has accepted invitations to adjudicate at the Yorkshire and Midlands area contests and at Weston Super Mare in May.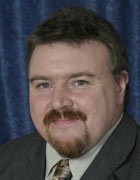 Alan Fernie:

Alan Fernie hails from Newtongrange, where he joined the local brass band as a youngster. He went on to study trombone at the Royal Scottish Academy of Music and Drama and played for many of Scotland's leading orchestras.
Today, he is best known as one of the UK's leading arrangers and composers of brass band music.

It is virtually impossible to find a brass band anywhere in Britain that has not played at least one of Alan's arrangements, and he continues to be asked to write new material for the UK's leading brass bands (e.g. arranging numbers for the celebrated Brass in Concert championships at Spennymoor).
Meanwhile, his work as a conductor has taken him all over Scotland and abroad. He regularly travels to Norway to conduct a band in the Norwegian Championships.
Having first taken up the baton at Jedburgh some five years ago, Alan Fernie has lifted the standard of the band to unknown heights for which we respect him enormously.

Alan is a consummate entertainer, and is extremely popular with band members and audiences alike.
---
Soloist Award: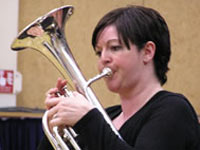 Sheona White:

Sheona was born in Scotland and began to play the tenor horn at the age of ten, she then went on to become Junior Solo Champion of Scotland and was appointed Principal Horn of the National Youth Brass Band of Scotland.

Between 1992 and 1996 Sheona studied with Professor David King at the University of Salford, graduating with a BA (Hons) and distinction in performance studies. Sheona was also awarded the 'Harry Mortimer Performance Prize' in 1996.

During her studies at the University of Salford Sheona became the first tenor horn player, first Scot and first female to be declared British Open Solo Champion and in 1996 also won the coveted title BBC Radio 2 Young Musician of the Year. Sheona subsequently made several broadcasts and recordings as guest soloist with the BBC Concert Orchestra.

In 1997 she performed in Westminster Abbey for the Commonwealth Day Observance Concert in the presence of Her Majesty the Queen.

In 1998 Sheona was selected as a finalist in the Cosmopolitan Women of Achievement Awards and has received a Platinum Disc for her solo role in the world-acclaimed CD 'Perfect Day'.

Sheona also recorded her first highly acclaimed solo CD 'Voice of the Tenor Horn' in 2000 and as Principal Horn with the YBS Band for 12 years recorded numerous award winning commercial CDs including the 'Essays for Brass' series, 'Bourgeois in Brass' and 'Music of the Spheres' and 'Alpha & Omega' and 'Festive Impressions'.

During the 'YBS era', Sheona shared in the band's huge success worldwide. This included winning the All England Masters 3 times, the British Open 4 times and representing England in the European 'EBBA' festival on ten occasions, winning the European Championships an unprecedented eight times in the ten appearances. She also performed in the Sydney Opera House as part of the YBS 'Kings of Europe' Tour in 2005.

She is regularly invited as a guest soloist/tutor throughout Europe and worldwide, including visits to Australia, Canada, Japan and USA where she was a member of the Brass Band of Battle Creek between 2000 and 2003. As well as performing and teaching Sheona is regularly asked to adjudicate events such as the NABBA Championships (USA), the National Youth Brass Band Championships of Great Britain, and the BBC Young Brass Musician of the Year.

Over the last decade Sheona has been at the forefront of developing new repertoire for the Tenor Horn including the 'Concerto for Tenor Horn' by Derek Bourgeois. Recent recording projects included being featured on the Mercury Prize winning album 'The Seldom Seen Kid' by the distinguished Manchester band 'Elbow'.

Sheona is Tenor Horn tutor at the University of Salford, University of Liverpool and University of Manchester and holds the position of Head of Music at Lowton High School.

Sheona is a Yamaha Artist and has been actively involved over the last 3 years with the Yamaha team in developing the new Yamaha prototype professional model Tenor Horn, due for release on the world market in April 2010.