2009 Brass in Concert Championship - An entertaining weekend?
10-Nov-2009
4BR looks at what will be and what hopefully won't be on offer at The Sage this weekend.
---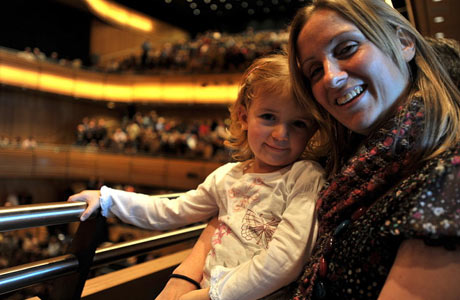 There is something to enjoy for everyone at Brass in Concert
Picture: Ian Clowes

With the competing bands putting the final touches of glitz and glamour to their preparations for the Brass in Concert Contest on the Sunday, there will still be plenty to enjoy at The Sage on the Saturday.
The Gala Concert on the Saturday night has now become an enjoyable feature of the weekend, with the bands taking the chance to enjoy a slightly more relaxed stage atmosphere.
Defensive preparations

As has become the norm, the reigning BiC champion takes time out of their defensive preparations to showcase their talents once more (and on occasions to give elements of their Sunday programme a quick run out).
This year then the all conquering Cory (very nearly that is until their Gotterdammerung at London that is) will be joined by the band that ended their pursuit of their elusive 'Grand Slam' aspirations, Black Dyke, and another band that can lay claim to be just as successful as both of them in their own homeland of the USA, Fountain City.
As an aperitif, the Gala Concert is as tasty they come – remember the deliciously off beat contributions of the Norwegians of Eikanger Bjorsvik and Stavanger in the past couple of years.
Cory and Dyke are as slickly polished as any concert band, and with their array of top class soloists to call upon there should be plenty to enjoy from the two heavyweight rivals.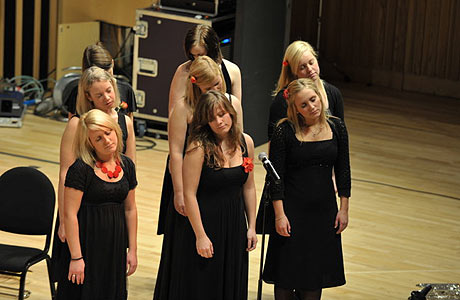 Don't fall asleep: Stavanger kept everyone awake last year at the Gala Concert
Picture: Ian Clowes

Dip the toes

What is also interesting is to see whether or not this will be the first step towards seeing the current National Champions dip their toes into the contest waters at Brass in Concert too.
For years Dyke has resisted the chance to show off their concert 'contesting' talents, but there seems to be a willingness we understand to perhaps accept an invitation in the future. That would be another massive boost to the contest.
Meanwhile, Fountain City will be an intriguing morsel of Stateside musicality – not as flash as the Floridians under Michael J Garasi a few years back, but just as well prepared and innovative and with a host of top notch performers in the ranks whose day jobs playing their skills with some of the leading orchestras and professional ensembles in the USA.
All this and there is the added bonus of hearing one of the very best young trombone players in the UK – Stephen Sykes, the 2009 BBC Radio 2 Young Brass Musician of the Year. As top notch talents go, this lad takes some beating.
Workshops

Before a note has been played in the Gala Concert, those wishing to enjoy a bit of brass and percussion inspired fun and games should get along to The Sage on Saturday morning, where a host of star tutors such as Richard Marshall, David Thornton, Brett Baker, local lad Joe Cook and Paul Lovatt-Cooper amongst others, will be providing tuition and direction to as many people who wish to come along to the Brass & Percussion Workshops.
After a day of hard work and plenty of fun, everyone will come together on the fabulous concourse of the main complex to provide an impromptu concert – and show just how much they have learnt.
This year, all those who take part will have the chance to be conducted by Dr Nicholas Childs, MD, of the Black Dyke Band in that concert by the 'Workshop Band' – so you can see it is not an opportunity to be missed – and it only costs a fiver!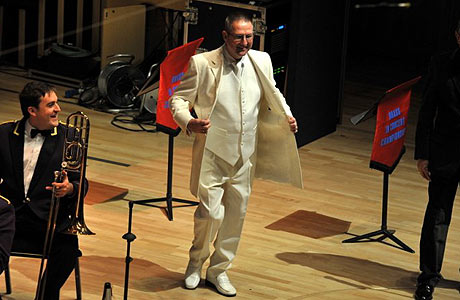 Something a bit different: Alan Morrison is all white
Picture: Ian Clowes

Youth Brass 2000

And just in case you haven't had your fill of bands on both the Saturday or the Sunday, then take the opportunity to listen to one of the very best youth ensembles in the land – the brilliant Action Research Entertainment Champions, Youth Brass 2000 under the direction of Chris Jeans.
They will be providing their own brand of brass entertainment on Saturday afternoon and again before the announcement of the results on the Sunday.
With all this to look forward, it will be interesting to see how the bands at the contest itself approach the 'X Factor' of entertainment.
New and different

Wasn't it just over a year ago that a host of adjudicators were queuing up to support David Read's opinion that the judges at entertainment contests wanted to reward what he referred to as '…something new and different in a brass band context', and not, '…something that has been played over and over again these last ten years.'
Well we certainly got that from a few bands last November – including truly memorable efforts from Stavanger and Fairey in particular. They went out on something of a limb (or in Fairey's case, almost a severed one with accompanying blood and gore) and provided great visual as well as musical entertainment.
Both inventive concert sets didn't meet with the approval of the more conservative elements in the audience at The Sage though (and there are still quite a large number of those) and it will be interesting to find out just how many bands will be prepared to risk something a bit different this time around.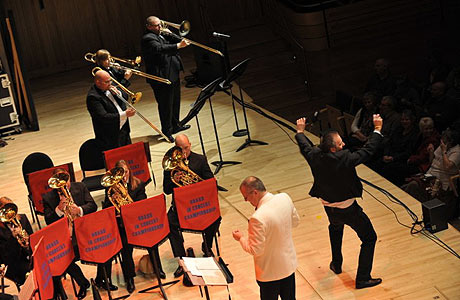 Not to be repeated... Desford's answer to Jimmy Carr
Picture: Ian Clowes

Rumours

Rumours suggest a return to more traditional fare this year, although some bands are rumoured to be contemplating a slightly different approach to the confines of presentation.
It's also hoped that we are seeing the ember days of slapstick humour too – although last year there was still a depressing amount of embarrassing attempts with cheap costumes and even cheaper dancing theatrics. Bands are learning their lessons on the humour front – all be it very slowly in some cases.
Still, some people like the comedian Jimmy Carr, so there is no accounting for humorous taste.
What we should hopefully get though is something with a touch of class and wit (Frank Renton at his best does this rather well) so we may be in for a surprise or two.
Iwan Fox