2009 US Open Brass Band Championship - Postcard from St Charles
12-Nov-2009
There was plenty to enjoy at the bigger and better US open last weekend - even the grub at the Buskers Preview was supersize!
---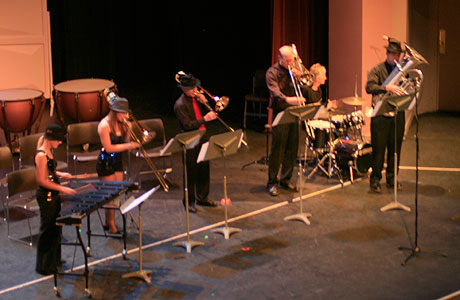 Busking away: Motor City show just how it should be done on stage

The US Open Brass Band Championship continues to grow in strength and prestige.
That was without doubt the only conclusion you could draw from St. Charles in Illinois this year, where the 2009 edition saw the largest field of competitors ever and performances bigger and better than ever as well.
Busker's Preview
Whilst the contest venue was the same, the Friday evening Busker's Preview was moved to Real Time Sports Bar – an appropriately named top notch joint as they say in these parts for such an occasion full of fun and games.
The preview venue may have lacked some of the charm of McNally's in years past, but the move has definitely proved to be a winner. There was ample room for all the patrons to watch and listen and also a well-appointed stage area for the players too.
Buskers could be seen from the ground floor or the upper level, although only those crazy Canadians could chose to sit 'north' of the 49th Parallel.
Food!

The seating also made it easy to get a good view of the eventual winning Buskers group from Motor City, who really got into the spirit of things, even if some wag remarked that some of the female members looked more like they were ready for a night out in Sheffield rather than to play their instruments!
The selection of food and adult beverages was also more than enough to ensure that nobody went home hungry or thirsty either – much to the amusement of some of the Brits present who were amazed at the dietary requirements of the people this side of the Atlantic Ocean!
Showdown for first
When it came to the actual serious contesting business, Fountain City and Central Florida once again set themselves apart from the rest of the pack – although it is now a hard chasing pack snapping at their heels.
However, when it came to deciding the title itself, this one wasn't all that close with Fountain City securing top marks from all three adjudicators in both the music and entertainment categories.
There may be a few dissenters as to how the results turned out, but not many, and by the time you read this retrospective Fountain City will be packed aboard a Jumbo jet heading to try their luck at Brass in Concert in Gateshead full of justifiable confidence: They are a very fine band who will do the USA proud.
Florida has set the benchmark, but now Fountain is in the ascendant, and Florida knows they will have to up even their impressive game a notch or two if they are to regain their title next year.
The middle of the pack
Meanwhile, Eastern Iowa (EIBB) continues to improve every year. This year EIBB not only maintained their strong musical form but concluded their programme with some well thought-out choreography too.
However, as luck would have it, they found themselves last in the group of 3rd, 4th and 5th place, but they are a band rapidly progressing in standard.
So too Ohio Brass who leapfrogged EIBB with their much improved musicianship (they went from last to 5th this year, and once again won best cornet with Kim Dekay's superb soprano playing) whilst still maintaining their unique brand of witty entertainment.
It was however Weston Silver who really made the most striking impression on many listeners. Even though they didn't quite have enough overall quality to win the title this year, they seem to have all the right ingredients in place for the future.
This was a serious band playing seriously well, especially their two soloists, and if they keep improving then we could see a cracking three-way battle for the top prize next year.
More to offer
The bands finishing in the bottom four also had some great moments, and continue to show that the overall standard of playing in the contest is improving in leaps and bounds each year.
As with many UK based contests, its consistency in execution that is the key and perhaps some of the bands are a little guilty of trying to make every piece an absolute 110% 'stunner' instead of just taking stock and playing to their undoubted strengths.
Motor City once again showed their potential (especially their soloists), whilst Prairie featured an exciting new piece entitled "Go!" written by Lucy Pankhurst, one of the UK's rising compositional stars – and you could hear just why.
Madison meanwhile produced a wonderful performance of Saint-Saens "Pas Redouble" arranged by their MD and Milwaukee had a fabulously entertaining Buskers Group.
Wall Street

Almost every band continues to improve tremendously upon the previous year's performances – and it is fair to say not one band has remained static, with their stock rising quicker than a portfolio of Steve Jobs Apple shares on Wall Street.
The US Open has now become such an important contesting weekend in the US brass band calendar that you wonder what its next move will be. It must retain that friendly atmosphere and sense of adventure (the Buskers event is quite brilliant) but it must also try and push even further forward with a professional outlook towards improving serious musical standards even more.
The good news, as was seen at St Charles, was that it appears that is just what is happening.
Pat Herak